Ale Invite 2016 Confirmed Riders
Following the aftermath of 2015, Kevin and Tor are hyped for the return of the the Ale Invite in 2016 and the globally available live stream on February 13th.
With an arsenal of Snowboarders armed to the teeth and the acceptance of all genders in the event for the first time, the duo are feeling confident this will be the year to remember. Check out the confirmed list and tell us we're mistaken.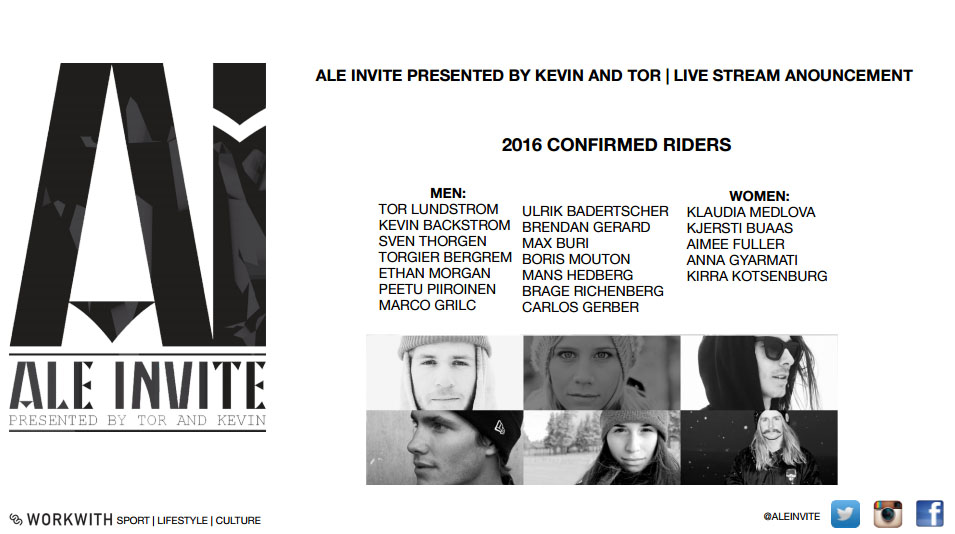 For 2016, the Ale Invite live stream will be hosted by Henry Jackson and new for 2016 Justin Leveille, most commonly known as 'Stan' from the satirical news show 'Hateline'.
The Ale Invite Live Stream will be going live at 15.00pm CET (14.00 GMT) with a 2 and half hour show direct from the Ale Invite hill. If you didn't catch the feast of bangers from last year, taste some of the leftovers that were served.
THE ALE INVITE IS PROUD TO BE AN OFFICIAL 'INTERNATIONAL' STOP ON THE WORLD SNOWBOARD TOUR