Glass Eye - ANTON STENNABB
Anton Stennabb has quietly been gathering pace in the world of snowboard filming, and after his recent work with the unstoppable Joonas Eloranta we thought it was the right time to shine the lights back on him. He's a super motivated individual with an insatiable desire to learn, progress and teach himself new skills, and we think that should be rewarded. Last winter he worked super hard and filmed a bunch of clips for the second Vimana snowboards movie, as well as a series of park edits for Rodeo Parks. It sounds like he's got some big plans for the impending winter, so get familiar with Anton's mind, you'll be seeing your favourite Finns shred through his glass eye more than you realise over the next few months.
Words: William Sleigh. Photos: Anton Stennabb and Mikko Kempas.
When did you first start filming snowboarding?
Approx 7 years ago I bought my first camera and took it to the slopes. It was love at first sight. To tell you the story, I was seriously injured in a motorcycle accident back in 2010. And therefore I couldn't shred so filming was a way to hang out with the boys, you know.

What was your first camera setup?
I think it was Canon Legria Handycam with an Opteka fish eye. The classic way to start with? It didn't last long before it was stolen in Barcelona during a skateboarding trip. After that, I've been idiot safe with my gear as you always should. Note: Never leave your camera bag for even 2 seconds at Macba.
Did anyone teach you how to edit? Or did you teach yourself?
I started to edit with my talented homie Daniel who dropped out from the scene and started a techno club in Helsinki later on. He really showed me some nice tips although I'm not using Sony Vegas anymore. So yeah, I got the basics and then started to learn myself. Nowadays, I'm using the mighty Adobe Premiere and After Effects.
How did you meet Joonas?
We met in Kuopio last February while I was filming Aapo Enqvist for Vimana snowboard's second movie. Joonas came to help for the last few days and obviously got some shots himself. I was stunned how he could take risks like that and walk away as a winner from the spot, after just a couple of tries he would land the trick. During this time, we noticed that our chemistry works so we kept on going.
How much did you film with Joonas this winter?
Actually not much. After Kuopio, we sat down, started to plan the spring Talma edit and shot it.
For next season we have some bigger plans. Hope everything goes like in Strömsö (as planned/ stupid Finnish saying)! You will see!
What gear do you mainly use for filming now?
Nikon d7500 & d610 DSLR cameras. I tried a Panasonic HC-x1 but I wasn't that happy. Maybe someday I will level up for these "semi pro" monsters haha!
What sources of snowboard edits do you follow apart from Instagram?
Following legends on Vimeo and sometimes checking out feeds. I like to check out my favourite movies over and over looking for new details and ways to do this!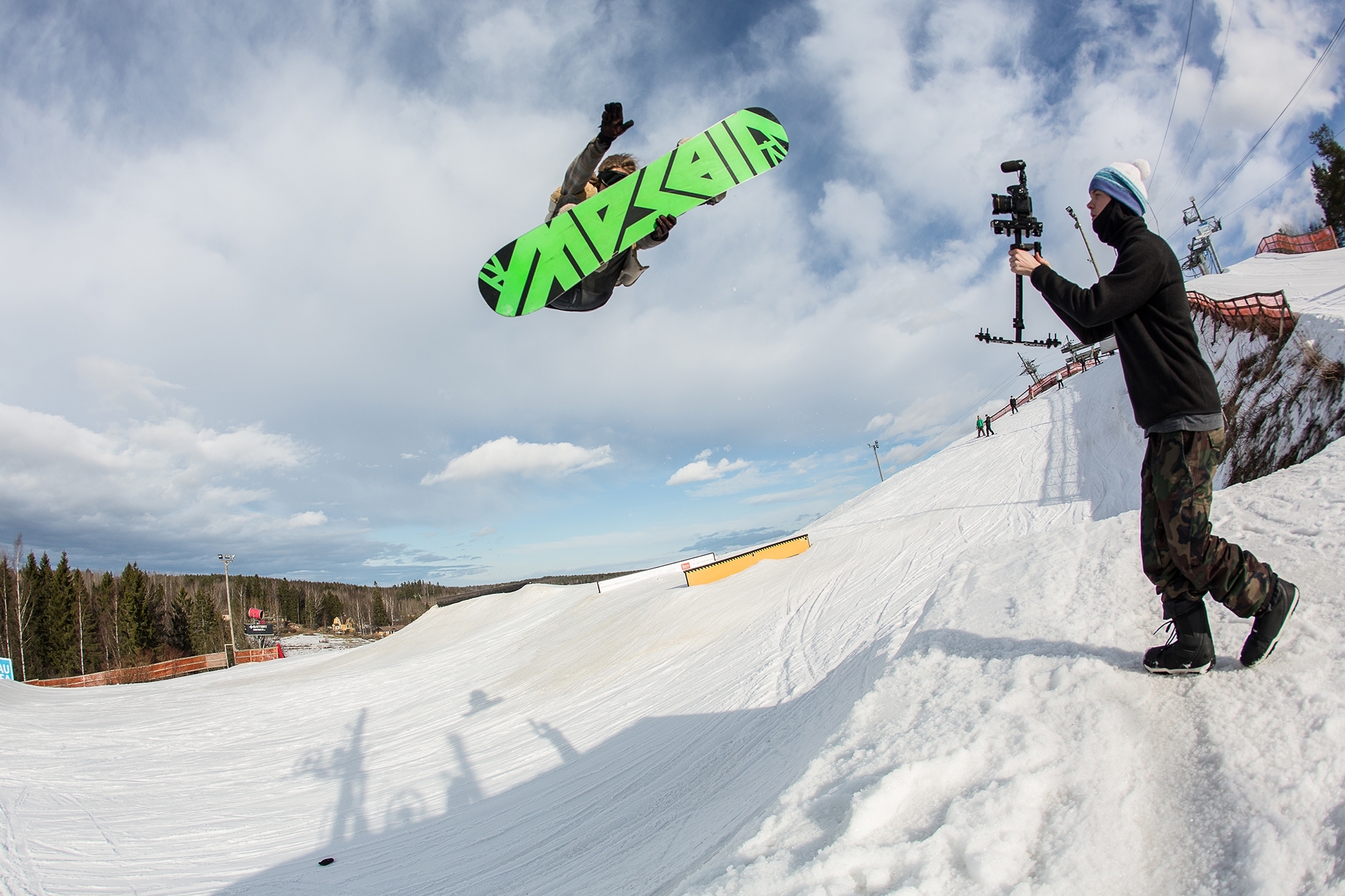 What do you think will change about snowboard movies in the next few years? What will never change?
I hope a lot will stay, especially that people would still do full movies! But also for filming standards (Fish-eye, tele-hero, close-ups etc.). There's nothing like a proper HD edit with a nice soundtrack (Big up Colton Feldman (KTC), Jake Durham (MFOD), Morandi (DVP), Hayden Rensch & Greg Desjardins (Dejá Vu). Anyway, I would love to see that the quality of the edits and movies (not high video quality) are going forward. More tricky filming and editing, track choices, post production effects and stuff like that. It keeps me excited and learning.
What other sides of film making and editing are you interested in?
Soundtrack design! I was honoured to do a track for Kerkelä and Koskinen for their X Games Real snow project. Still really thankful!

Have you been filming for any other projects this winter?
Besides all earlier mentioned I've shot and edited all Rodeo park raids (Finnish snow mag Rodeo Park series) with my man, Arttu Lahti. By the way, Arttu is cooking a big ender to my third project this winter, Motaboiz promo, which is dropping late fall. Motaboiz is basically a street version of Rodeo Park raid crew.
Check out Anton's website here and his Vimeo here.