Mars 2020 - Highly Confidential
This story was printed in Issue 20.2.
The low hanging sun painted distant cliffs deeply red and orange, and Aspen Rain Weaver jumped out of the rig and splitboarded towards a monolith on the horizon. Bode Merrill dropped the rig into 4-low and ripped back up the road, viscious earth flying everywhere as the truck powered through deep mud puddles. We didn't have much time, so we split the crew to reconnoiter the area more efficiently. We parked and began our hike across a steam of frozen mud, meandering through sage and juniper towards an imposing wall of red rock with a single crack, a hallway into its bowels. A psychedelic pyramid rose into the tangerine sky beyond the buttress, spines and ledges on its north-face still held snow… it's southern aspect was nearly bone dry.


Last winter was especially generous to the Lower 48 - CA, UT, WY, CO all enjoyed record breaking snowfall, but the real star was the Southern US. Arizona was firing, and the side effect was a couple of storms that hammered the Mars-like dessert terrain of Southern Utah.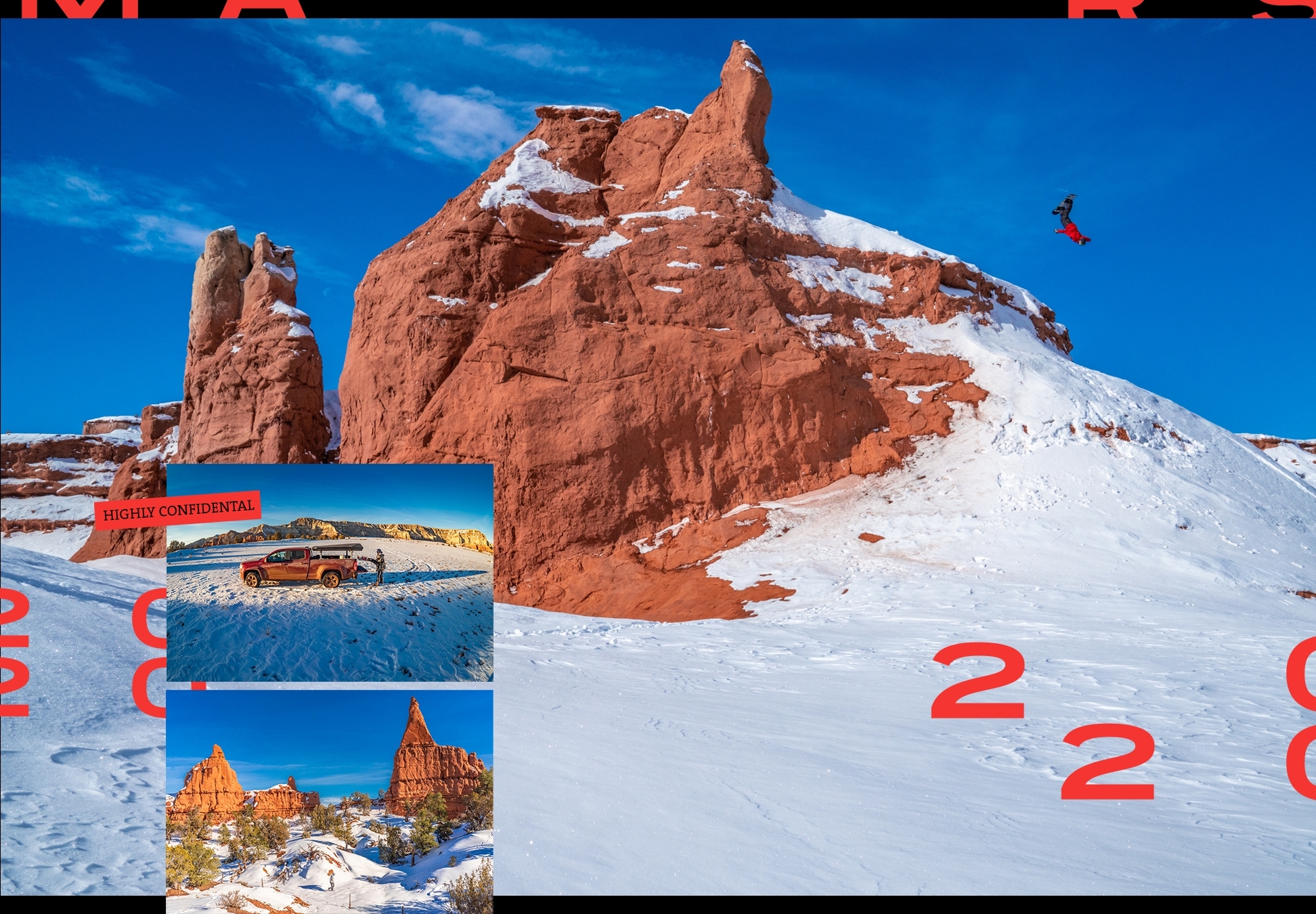 I saw the storms and I couldn't sit still. Who's in town right now? Freeriders? Jibbers? Jumpers? Most of SLC's pro-shred community was scattered across the globe. The trophy lines down there had already been hit. I kept pacing, and started hammering my phone. Aspen Rain Weaver was the first on my list. He's one of the most adventurous people I know, and he was raised in New Mexico. Perfect. The kid has a special connection the the desert, and we had already agreed to head South if the chance arose. He answered the phone first ring… he was in Oregon, his gear was in Tahoe, and the snow was in Utah, and temps were due to start rising in 5 days. He drove all day and night to get his gear together in Tahoe, and he was on a 6am flight out of Reno the next day.


I kept going down the list.
"I'm in Europe,"
"no way will that work,"
"injured,"
"headed to a contest,"
"wait what?,"
"In Jackson waiting for the sun,"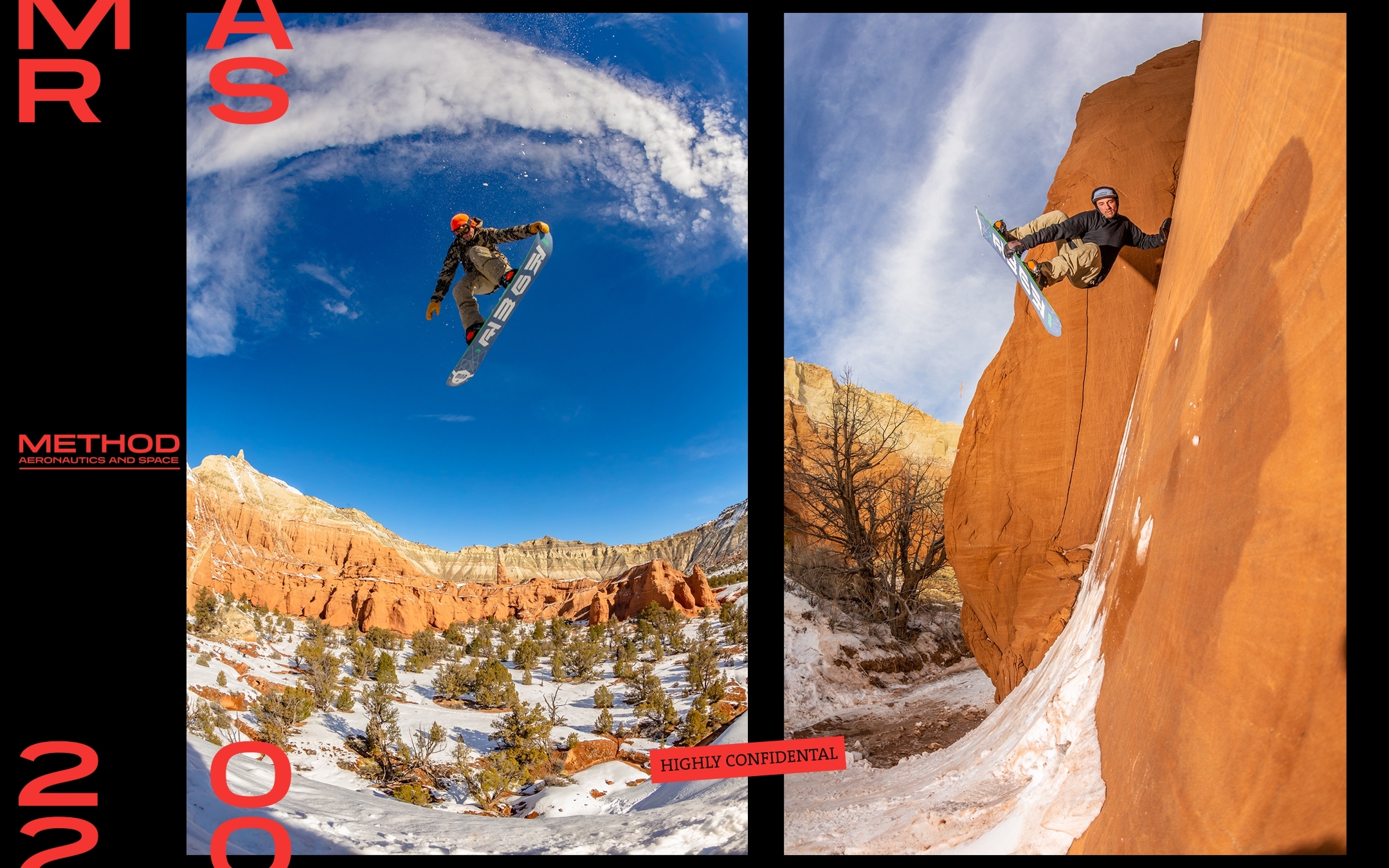 Let me make one thing clear… Tim Zimmerman said it best, being a snowboard photographer is akin to being a professional cat-herder. Following these little kitties is usually the easiest way to do it, but vision of a jib-trip to mars demanded some effort to lead some talent to something snowboarding has never seen. I would go down there with just Aspen if it came down to it. He was on his way, and I was researching zones online, looking for the perfect combo of skatepark -esque terrain, crazy desert rock formations, BLM land, and elevation. Just then Bode Merrill texted me back - "I'm down."


I can barely remember the last time I shot a session where a video camera was not partially dictating the pace and flow of a shoot. Thats ok, video has always been the foundation of pro snowboard careers, and I respect that. I went down the list of video guys, from industry veterans to aspiring shooters, and couldn't dredge up anyone. It was mostly skepticism, the consensus was that it was too risky, that a little bit of art wasn't worth it, that we were too late, blah blah blah blah. We packed Bode's truck, and drove south without a filmer.
As we approached the buttress, the crack we had seen from drone recon flights appeared, a gateway into the earth. The entrance was imposing, slick, sheer sandstone on either side, rising hundred of feet into the air. The only sound aside from our footsteps and breathing was nothing. Temps dropped 20+ degrees when we entered the slot canyon. Boundless sky overhead was compressed into a serrated strip, and suddenly the canyon walls suddenly opened up, forming an amphitheater directly at the base of the pyramid shaped peak. Neck deep snowdrifts had formed in the few places where winds could reach. One hundred million years of erosion had formed this temple, and we would be mankind's first snowboarders to ride here.


Humanity is just a single grain of sand in a massive hourglass, and the opportunity to bring snowboarding somewhere new was something I'll always remember. Wind, rain, snow, and ice, are the primary forces of erosion in the desert, and now Bode and Aspen are a part of what shaped this landscape. (Before you get mad about the bases of snowboards scuffing up some rocks, consider the millions of holes that rock climbers punch in rock every year) What could have been a goose chase turned into a photographic goldmine. Yeah, we could have brought a bigger crew, a winch, and been there scoping before the snow hit, but spur of the minute road trips chasing storms with friends will always be one of the things I like the most about snowboarding.


Bode, Aspen - I love you guys, thanks for being down to jump in a truck and go on a goose chase, this is the type of thing that will keep us young forever.
The cover of Issue 20.2, Bode Merrill handplants the red Utah rock. Shot by Sean Sullivan.