Gimpl Takes Another One in Barcelona
After taking gold at the season's first big air in London last week, Stefan Gimpl also celebrated victory at the second in-city event of the 2010 LG Snowboard FIS World Cup. At the first ever big air on Spanish soil, the Austrian veteran (52.3 points) relegated Switzerland's Gian-Luca Cavigelli again to the second rank (51.3). In front of 20,000 spectators at Barcelona's Estadio Olimpico of 1992, Gjermund Braaten from Norway rounded out the podium as third (49.5) thus securing his career's second top-3 finish after more than one and a half years.


Olympic Stadium in Montjuic packed with 20,000 spectators Photo: ADT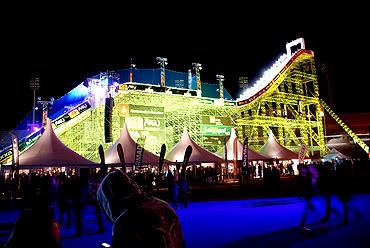 Snowler-Coaster. Photo: ADT
Gimpl sends it for the win. Photo: FIS – Oliver Kraus
Gian-Luca Cavigelli stylin' out. Photo: FIS – Oliver Kraus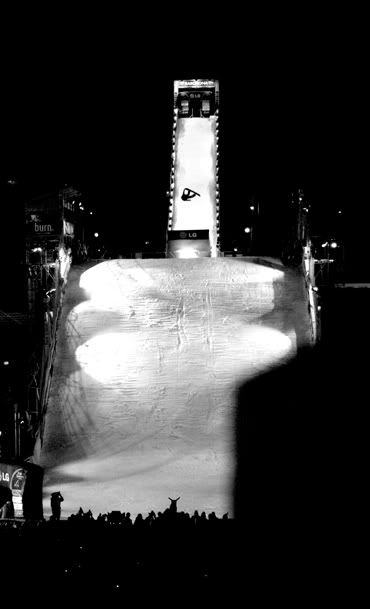 UFO getting upside-downy in Barciebabylonia Photo: ADT
But that Gimpl once again clinched another World Cup win was even surprising to the 30-year-old as the best three riders of the day were only divided by two-tenths of a point before entering the third and decisive final jump. Just like last week at Battersea Power Station, Gimpl was in the lead after he had earned 26.8 points for his frontside 900. Right breathing to his neck with only one tenth behind was runner-up Cavigelli who had scored 26.7 points for his backside 1080 – and with 26.6 in third was Braaten due to an amazing backside 1080 double cork. And after the 2009 World Championships Bronze medallist had showcased a final cab 900 – just like his Swiss talented competitor before – the tide turned in Gimpl's favour who said: "This is amazing. This was so close. Gian-Luca (Cavigelli) and me, we were even. I mean our last jumps were the same level." Then he added with a smile that his nine year younger opponent from Switzerland "still has some more years to win some contests."
Gjermund Braaten floats a meat helicopter during practice. Photo: FIS – Oliver Kraus
Maybe it's time for Cavigelli in two weeks when the World Cup circus heads to Stockholm for this winter's third big air as today's winner doesn't expect a top result there. But the second of the World Cup ranking is more into enjoying the momentum before giving it another try: "I'm really pleased how everything goes at the moment. It's awesome to place second two times in a row." But besides all coolness, the 21-year-old heads to Sweden self-assured: "I'm absolutely motivated. It would be nice if I could grab Gold in Stockholm in two weeks."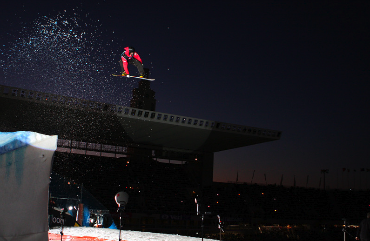 Mario Kaepelli blasts one out. photo: Photo: FIS – Oliver Kraus
Little man rockin' out on his K2 guitar, trying to win the "Got Rocker" contest. Click here to here to find out how can participate the contest.Photo: ADT

However, this won't be an easy task to fulfil as the beginning of this season shows that even making it to the finals isn't a sure-fire success what Gjermund Braaten confirms. "The level of riding is getting better every year. It's very difficult to survive the qualifiers – just like today. Therefore I'm absolutely happy with the result" the 19-year-old said who had earned big ups of the crowd – besides his fellow countryman Ulrik Badertscher (double frontflip) for his backside 1080 double cork.