London Freeze Big Air this Saturday!
The LG Snowboard FIS World Cup returns to London. Right next to the iconic towers of Battersea Power Station, at the Thames riverside, the first big air of the 2010 season will take place. After the World Cup kicked off in down under with a halfpipe contest in New Zealand two months ago, it's now time for more than 50 riders coming from 12 nations to showcasing their talent at the London Freeze festival. The big air show will mark the highlight of the three days lasting festival on Saturday, October 31st. This year's festival will also see some music acts taking on the stage featuring for example Orbital and Friendly Fires. Check out the event homepage for further information on the festival and ticket prices on www.londonfreeze.com.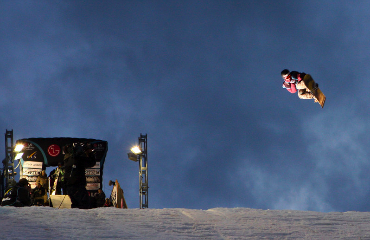 Peetu Piiroinen
At the sole World Cup stop on British soil the spectators can look forward to witnessing some outstanding riding performed by some of the world's most talented riders. This year's contest features the likes of Austrian style master Stefan Gimpl, Swiss young gun Iouri Podladtchikov as well as several big names coming from the Far North. A Finnish armada led by 2003 World Champion Risto Mattila and top shredder Janne Korpi is always on fire for some good results. The same is true for Norway's Kim-Rune Hansen, Tore Holvik and Roger Kleivdal or Chris Sorman from Sweden.
However, there are also some other riders who have called for some attention last winter. Seppe Smits (BEL) claimed Silver at the 2009 World Championships in Korea while Slovenia's Marko Grilc and Matevz Petek also had some good results in the past. But the crowd at site will mainly focus on their fellow countrymen who also have some talents in store. The biggest hopes might be pinned on Ben Kilner and Dom Harrington who aim for a spot in the finals.
Stefan Gimpl
The set-up for the riders is as spectacular as it should be. Next to the impressive Battersea power station which is one of Europe's biggest brick buildings, a massive ramp was built. The overall length from the top of this steel monster in 32 metres to the landing will be 110 metres. In addition, the ramp plus the area around was covered with 500 tons of real snow.
Big Air time schedule World Cup London, England – All local times:
Saturday, October 31st:
Qualifications                  at 11:15 AM
Finals                               at 5:00 PM