UPDATED w/ VIDEO: Grilo Wins Air & Style and is New TTR Points Leader!
Marko Grilc is new Lord of the Ring
Highlights:
Full FINALS:
The comeback of the legendary straight jump format to the Bergisel Stadium in Innsbruck was a full success. 11.500 fans witnessed their snowboard heroes at the Billabong Air & Style Innsbruck-Tirol 09/ II. On the perfectly shaped kicker which replaced the quarterpipe of last year, Slovenian rider Marko Grilc ruled the final of four with a switch backside 1080 double cork mute grab and 281 points. He only recently entered the starting the field of 16 riders after Sebastien Toutant from Canada had to forfeit due to an unfortunate injury. Peetu Piroiinen placed second and Andreas Wiig came in third. Swiss rider Iouri Podladtchikov finished in fourth.
Grilo MEGA switch back 10 double cork FTW!
Local rider Werni Stock from the Zillertal finished the event successfully in sixth place, closely followed by Elias Elhardt from Germany. Three-time winner of the Air & Style, Stefan Gimpl from Leogang and Austrian superstar Gigi Rüf were eliminated by Peetu Piroiinen and Elias Elhardt in the first round. In the Rookie competition, which consisted of 12 riders, it was 18-year old Seppe Smits from Belgium who went home with the win. His reward: a spot in next year's starting field of 16 riders at the Billlabong Air & Style 2010.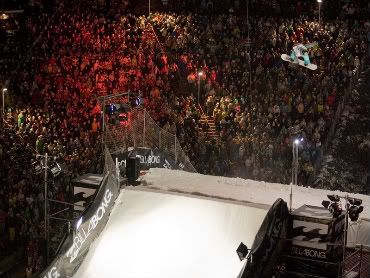 Peetu was runner-up this time, back 10 double corker
As the first 6Star Swatch TTR World snowboard Tour event of the season, the Billabong Air & Style gives out the first stack of 1000 TTR ranking points and as such causes significant changes on the world ranking list. Marko Grilc (SLO) not only won his first 6Star title but is also new Swatch TTR Tour leader after today.
Grilo claiming the win after riding away clean
Again, the Air & Style Innsbruck fascinated the crowds with its unique atmosphere, amazing riding and live music acts such as K.I.Z. and The Hives.
Billabong Air & Style Innsbruck-Tirol 09/II Final Results:
1 Marko Grilc SLO 281 Pts. Switch Backside 1080 Double Cork Mute Grab
2 Peetu Piroiinen FIN 268 Pts. Backside 1080 Double Cork Mute Grab
3 Andreas Wiig NOR 251 Pts. Frontside 1080 Double Flip
4 Iouri Podladtchikov SUI 54 Pts.
5 Eero Ettala FIN
6 Werner Stock AUT
7 Elias Elhardt GER
8 Torstein Horgmo NOR
9 Antti Autti FIN
10 Marc Swoboda AUT
11 Chas Guldemond USA
12 Stefan Gimpl AUT
13 Risto Mattila FIN
14 Tim Humphreys USA
15 Travis Rice USA
16 Gigi Rüf AUT
Billabong Air & Style Innsbruck-Tirol 09/II Rookie Challenge Final Results
1 Seppe Smits BEL 254 Pts. Backside 1260 Mute
2 Tom Klocker AUT 244 Pts. Frontside 1080 Indy
3 Niki Korpela FIN 239 Pts. Frontside 1440 Melon
Photos by Carlos Blanchard