A conversation with Forest Bailey
With his breakout parts in Givin' One and Too, plentiful clips earned on trips with the adidas crew, and his Transworld and Snowboarder Mag parts, we've always loved watching Forest Bailey ride a snowboard. But, little did we know that he could be so eloquent and insightful, especially when talking about his artwork. We were lucky enough to catch up with the Gnu space case and all-around creative wizard that is Forest Bailey while he was in Europe for the Laax Banked Slalom earlier this winter. We spoke about his season, coming back from injury, everything to do with art –painting, drawing, pens and pencils, pro model graphics, his side project frontside backside – living life in Portland and his plans for the future. Forest is an exceptionally creative individual and proves that there can be so much more to life than just turning a board. Creativity can shine through in so many ways, from drawing a doodle to painting huge canvases, from a humble ollie to a huge pow booter. He's an inspirational artist and board rider quickly reaching the status of those like Jamie Lynn and Mark Gonzales.
Photos: Tim Zimmerman. Words: William Sleigh. Interview: Will Radula-Scott.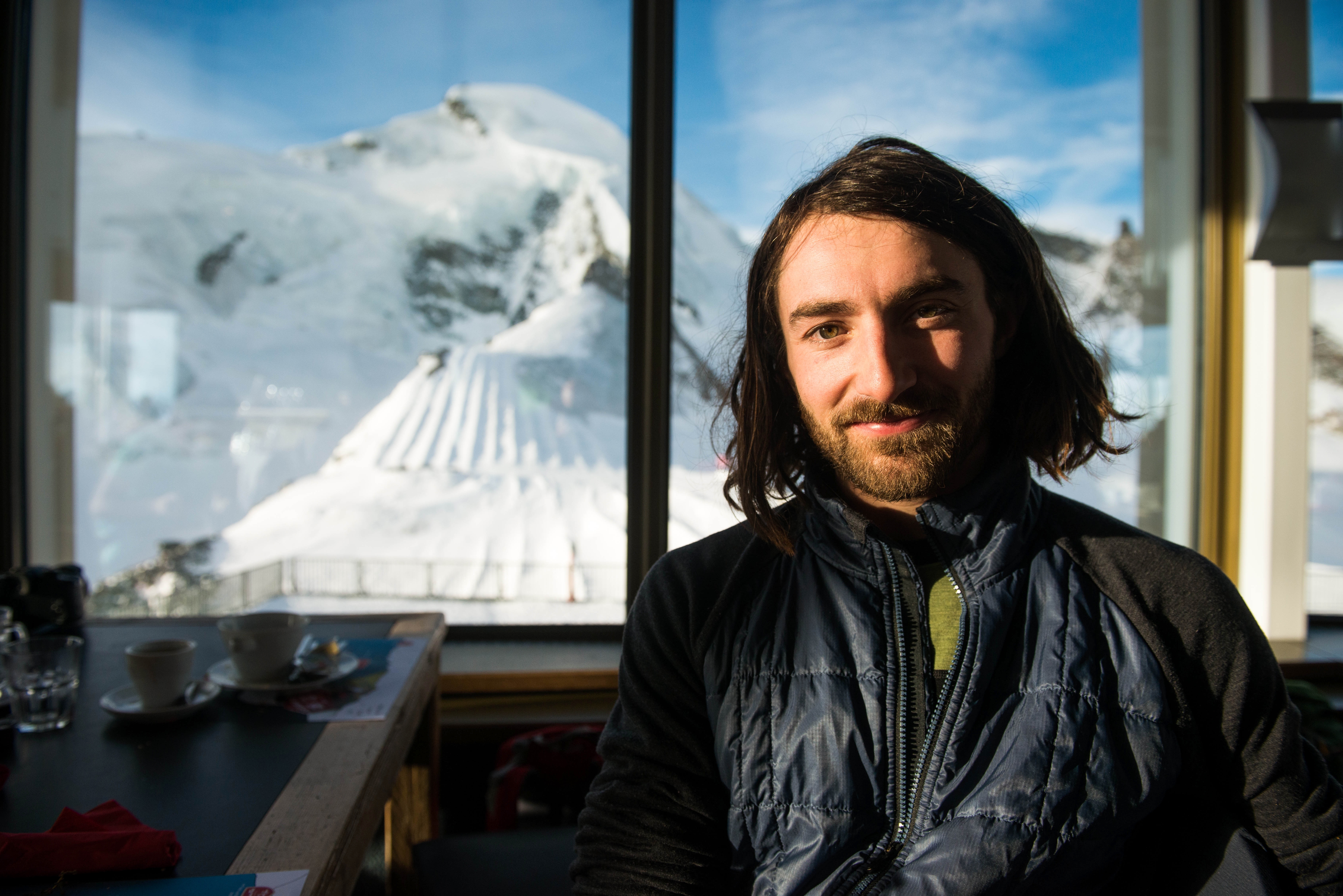 How is it being over in Europe and how much time have you spent here before?
It's great to be in Europe, I love it over here. I've spent… [Talking to a waiter "Do you guys only have pizza in here? Do you have salads or anything?") I think I came here for the first time when I was 16, I've probably been here like five times I would say. Always just to skate and snowboard and hang out, always met a tonne of cool people and had a tonne of great experiences over here, I love it.
Is it pretty different here compared to the States?
Yeah, for sure it's different. Luckily with snowboarding, wherever we go we can meet people with similar interests. In that sense, you're always hanging out with good people. It's snowboard language. It's a great way to meet people. Same with skating.
What's your take on the banked slalom events?
I love them! I think it's pretty cool because it's a simple, true test of snowboard ability you know, and with where contests are at these days I don't care. I'd rather watch a banked slalom event than watch a halfpipe event these days just because you see raw style without even having to leave the ground. It's also a true test of how strong your legs are and how good you are at board control and turning. I never did a lot of races growing up but it's such a different type of race, it looks really cool and is super fun to ride. I'm so down. I did the banked slalom in Mount Baker for the first time when I was like 16 too, and then I've done it a few times since then, and yeah it's the sickest.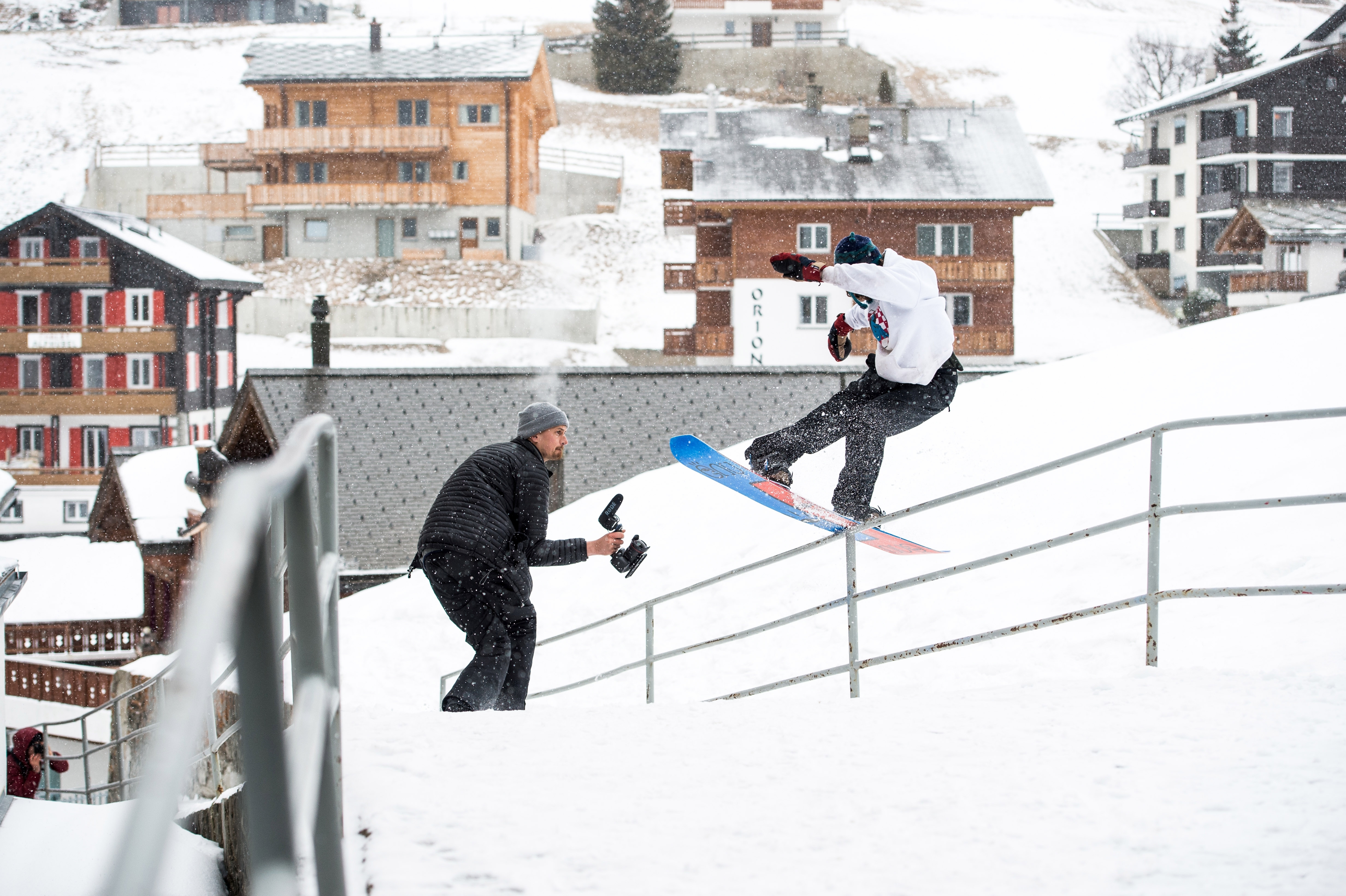 What do you think of Laax so far?
I like it, obviously, I've only been here for a few days. I got here the night before the banked slalom and I've stayed two nights so. It's way different to Saas-Fee where we were before, there's way more of a scene here in Laax. There are way more snowboarders here, they know what's up. It's more of a village and big mountain people [in Saas-Fee]. Just different vibes here, but they're both really cool places. I want to spend more time out here, hopefully, I'll come back.
How's your season going so far and what happened with your injury?
Basically, winter is going really good. I've just been slowly coming back from an ACL surgery which I actually did a repeat on - I got surgery, then eight months later I tore it again so, now I'm a year out of my second surgery and feeling super strong and good. Just trying to stay healthy and keep it mellow for this year, do all the rehab for a long time. I'm just going to keep on working on it until I feel as good as I can. I work with a personal trainer/physio in Portland. Just a couple of days a week, I ride my bike and go skate, push around and stuff. I never went to the gym until I got hurt. I would never work on my body until I got hurt. It's all so I can do what I love to do for the rest of my life.
Are you filming for anything right now?
I'm not working on a full part right now, if I get a lot of stuff maybe I'll put it together. I've kinda just been taking it slow and enjoying being on trips, I'll be in a couple of other things. Like adidas is doing a little project that will come out next fall that I'll have some stuff in that, then just random stuff and maybe I'll put some clips together. I think next year I'll hopefully be back filming full time again.
Who are your favourite guys to ride with from the Mervin team?
From Mervin? Umm, this year I've ridden with those guys a lot. Basically, Alex Lopez, he's on Gnu and he's the shit. Me, Tucker Andrews and A-Lo went up to Baker for the banked slalom and we all stayed at this big Mervin house. I love riding with everybody on the squad. There's such a big crew between Gnu and Lib Tech. It's the sickest. The Warbingtons, Temple Cummins, Jamie Lynn, Blair Habenicht, J-Rob, Nicolas [Muller], everybody is so sick. Between that and the adidas squad, I get to ride with some of my favourite boarders, who also happen to be some of my favourite people. I'm definitely surrounded by a lot of awesome people. I'm super grateful for it.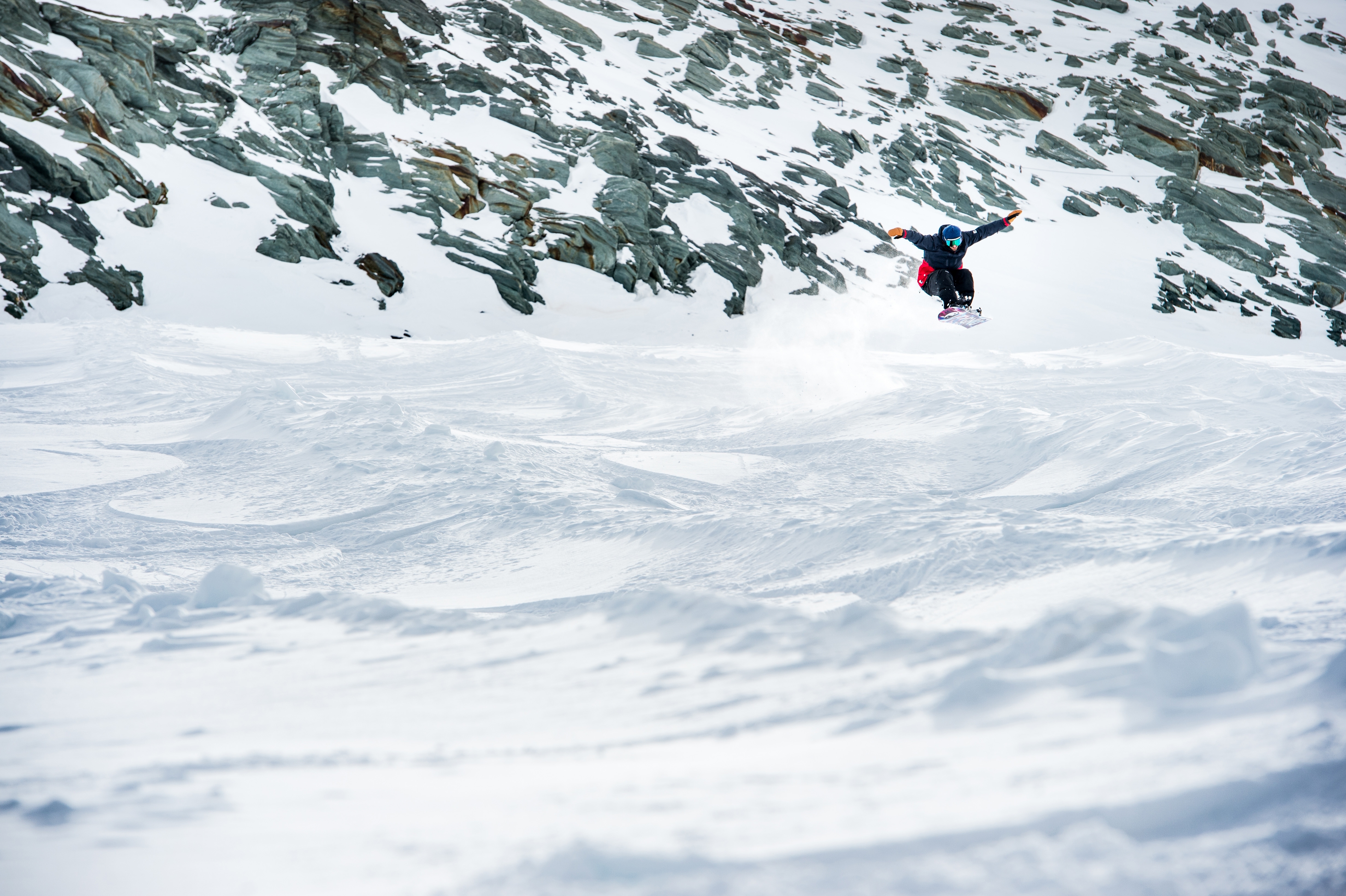 Would you say that getting injured is sometimes a blessing in disguise because it allows you to focus your creative energy on projects outside of snowboarding?
Yeah, it definitely gave me a lot of time to work on other stuff. I started snowboarding when I was five and never had any serious injuries until I was twenty-three so before that I would always draw and stuff but all of a sudden the two main things – skating and snowboarding – are gone. And it's like, OK, now what am I going to do. I definitely focussed a lot. I knew I was coming out with Pro model boards and clothing and goggles and everything. I always wanted to do my own graphics and my own artwork for everything, it took a while. I've been making art forever, but it took a while for me to feel confident putting my art onto anything. I was just practising. I still feel like I have so much to do within in.
Did it take you a while to develop your own style?
Yeah totally. It took 24 years! You don't notice how big an impact all the times you pick up a pencil and doodle throughout your life will have when you actually start to paint and create something more than just a drawing on a piece of paper, when you concept a painting and have an idea of how you want it to look and feel, what you want it to be. I don't know man, I just like to paint. It's fun.
Have you always been a creative person, or did you unlock your talent and passion for painting and drawing through skateboarding and snowboarding?
I was thinking the other night, art is positive or negative. It's like the glass half full situation. Either you think nothing is art, or everything is art. A lot of people will say how a person turns their snowboard is a creative thing, or how you ollie your skateboard, or how you push on your skateboard, or ride down the mountain, what isn't creativity? It's human expression, self-expression. When you think about everything as how you're moving your body, it's all self-expression and that's unique to yourself so when you're on your snowboard or skateboard or whether you're sitting trying to paint or draw or take a photo, no-one is going to do it how you are.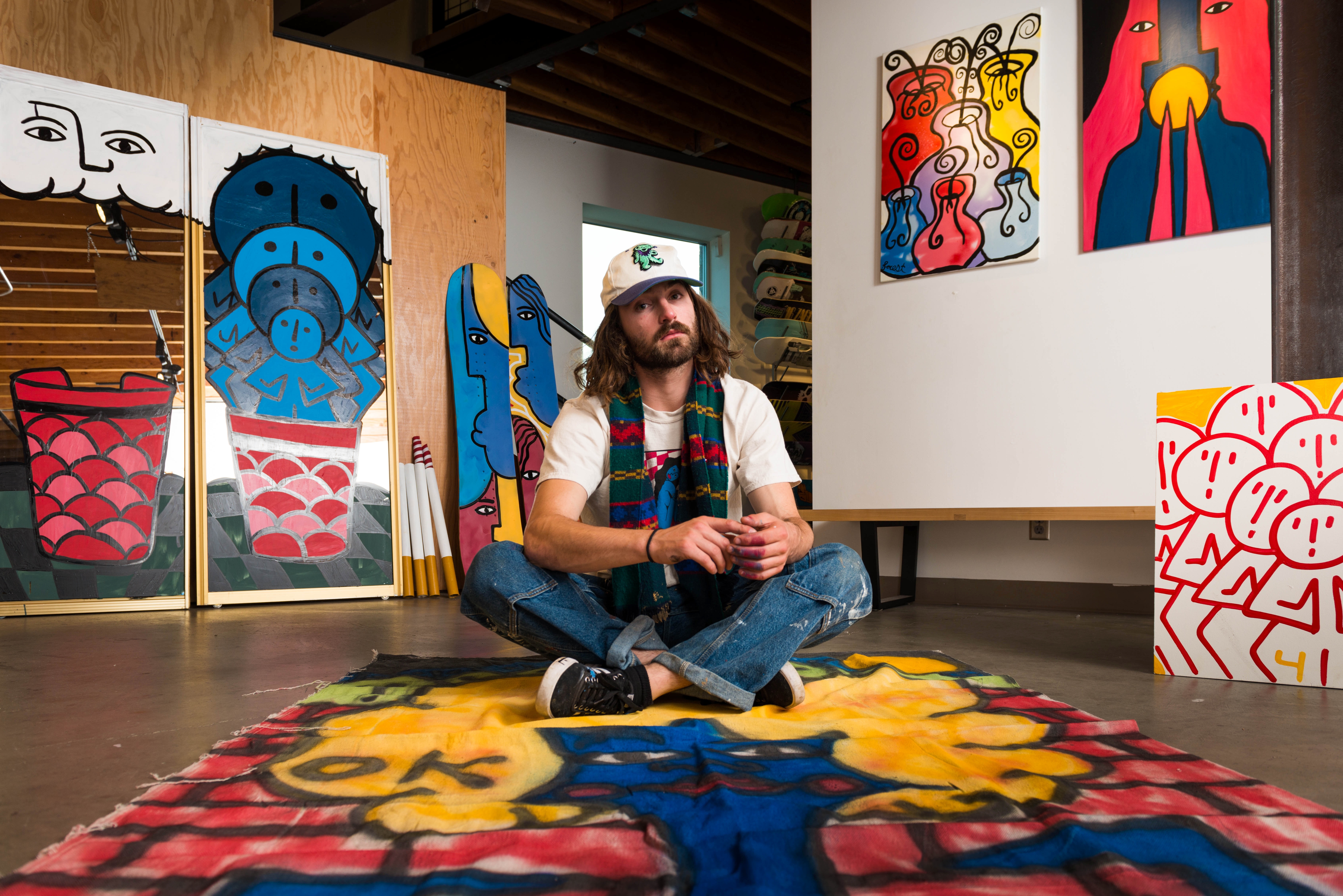 Can you tell us about FSBS (frontside backside)? How did it start, why did you choose clothing and apparel as an outlet for your art?
It's an easy way to distribute artwork, especially to people who don't really buy paintings or even prints. It's hard to get people to buy that. As soon as you put a piece of art on a tee shirt, everybody wants to wear it. It's disposable but you keep it for as long as you can before you eventually have to get rid of it. It turns into functional art, which is sick. Same with the boards too.
Frontside backside was basically started from me doing a little painting, the original one, the fronts and the backs you know. And then I wrote frontside backside under it and then I put it on a tee. I got 80 made and then sent them to all my homies, that was the first thing I did. I was posting them and a lot of people were showing interest in buying them so eventually, I did another run and made a little website that's super easy and simple and then I sold a tonne of stuff. I don't have anything left. I just do small runs and sell out of it pretty quick and usually, I put it up and get a load of orders on the first night. I do everything. From the art and then putting it in the computer and vectorising it, send it to the screen printers right in Portland, I work with small businesses in Portland and then put it on the website and ship it. I always write little notes with the stuff I send, it's super chill. Everybody has been stoked on it. I don't know, it's a fun side project, there's no pressure, I'm not trying to make a Volcom or Burton or something. This whole world is just run on corporations so it's more like a fun art project, just keep it small and see. I've only done like three runs now, so I want to do some more, hopefully, this Spring I'll get another little line going.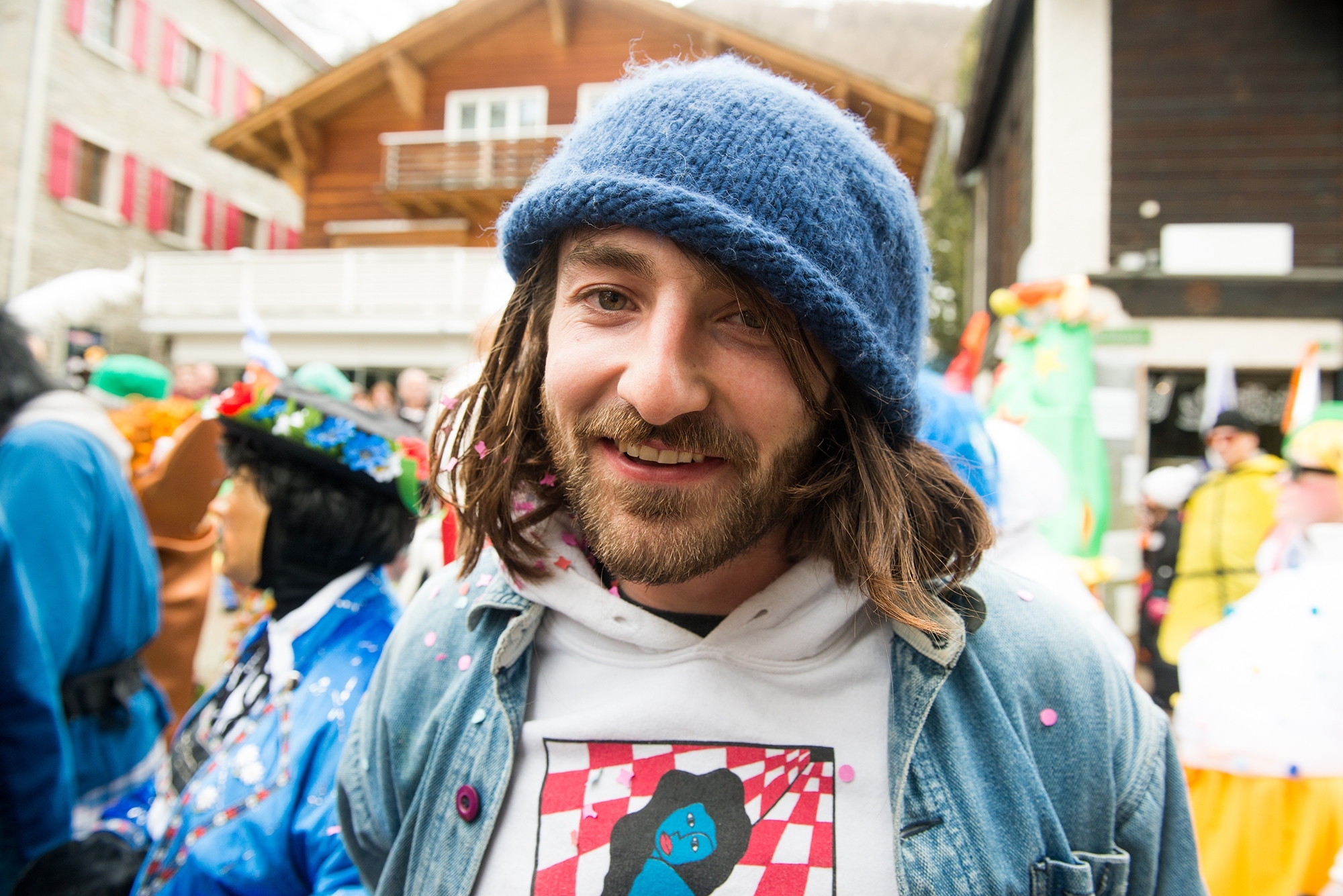 What's your favourite medium to work with?
I've been painting a lot, just like acrylic mostly on canvas, which I've been stretching myself as well. Building frames and stretching canvas. So that's been my main thing but really I just like to experiment. If there's stuff in front of me I'll pick it up and use it. I never draw with a pencil really, usually pens. With pens, if you fuck up you just move on, with a pencil it's just different. And, you have to sharpen it, I don't have time for that. [Laughs] No, mostly I just find weird little art supplies wherever I go, I like to leave drawings behind with people I meet too. I haven't done very much art on this trip, it's hard on trips to be creative and snowboard all the time. Usually, when I'm home I go skate and go to my little art studio in Portland that I share with my buddy. I used to paint where I live but it just took over my entire house. It would get super messy and crazy. It's like a 15-20 minute skate so I'll just cruise down there. It's right next to the burnside skatepark as well so it's sick.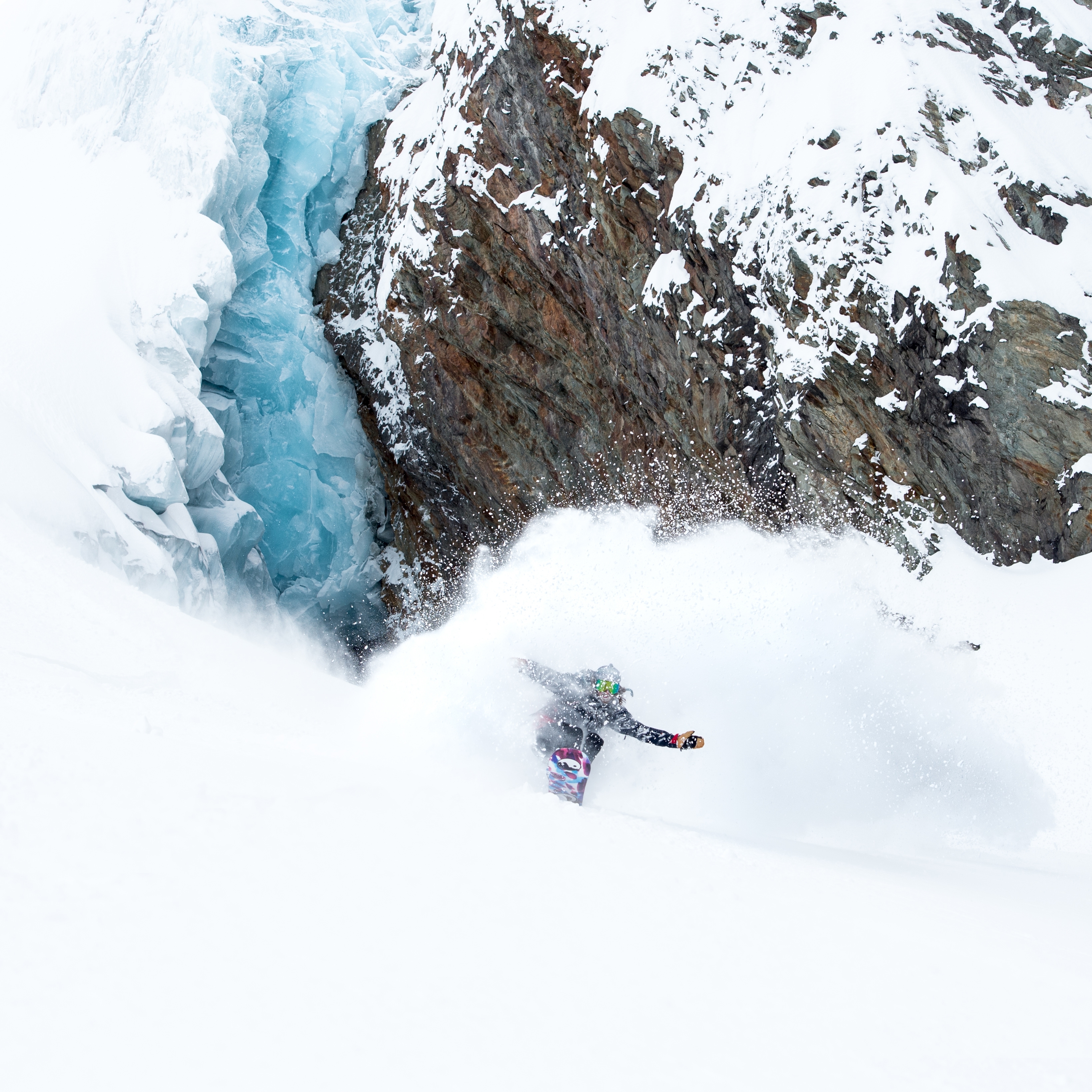 Have you got any plans for new board designs and graphics with Gnu?
I'm still doing the Space Case and the Head Space boards. I'm doing the artwork for both of those now but I kind of need to get moving on it a bit. I need to start working on it a little harder probably. I'm also doing stuff for my Dragon goggles and 686 outerwear.
I also really wanna make a new, little bit more aggressive board. I'll ride the Mullair a lot as well because it's a little better in the backcountry or all around the mountain. I love my boards but mostly just for riding park and street and cruising, they're super fun and super playful and you can do whatever you want on them, they're really soft and super fun. So, yeah Head Space is camber, Space Case is reverse camber, C2. They're both asymmetrical. But yeah, there's a couple of new projects in the works.
You're also on Bent Metal now, what are your thoughts?
Yeah, they're great, I haven't had any issues with them. It's been a long kinda in and out with Bent Metal because they stopped making them for a couple of years, and I was riding whatever bindings I could get my hands on and now they made them again, we've got a little team going and it seems to be growing. There's going to be a lot more energy put into them in the future. I've been enjoying riding them, they're really good bindings. I got a little pro model which I get to do some artwork on as well, to spice up the boring snowboard world, nah, I'm just kidding [laughs].