Artist's Vision : Schoph Chats Vans Collection and More
Last week at the House Of Vans in London during the Vans Snow Night we sat down on the couch with UK artist Schoph. With a tinnie in hand we chatted about his first artist collection with Vans spanning across the Snow and Classic catogories seen on Snowboard boots, Sk8-Hi, Slip-ons and more. As well, we found out more about his artwork being seen worldwide in galleries and throughout the snowboarding industry including collaborating with art and shred legends...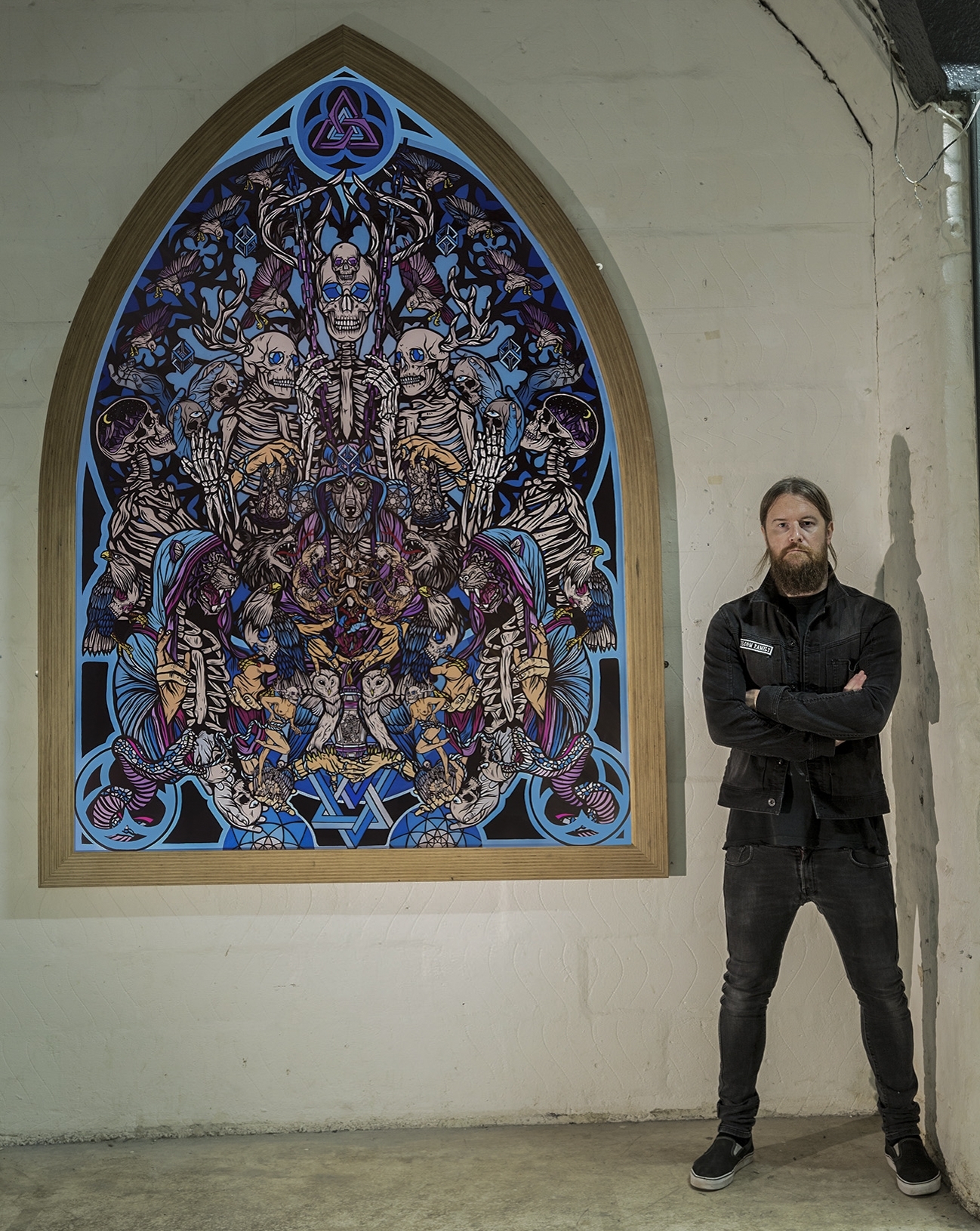 How did the collaboration between Vans and yourself first come about?
It came about through a mate called Matt Patti, at the time I met him we were in Mammoth 3 years ago , I was on trip with Elm company and he worked for Arbor Snowboards, we hit it off, on the same page about certain shit and drank the same drink. I found out he started working for Vans (currently the Global Snow category manager), so called him up to congratulate him and it turned out he wanted to speak to me anyway about a new artist collection series in the Snow department. It had worked well in the other categories but hardly or never really been done in Snow. He said he wanted to start working on it with a collection with me.
Have you had a close relationship with Vans in the past?
As a snowboarder, back and forth for over 15 years. Pretty much when me and Thrashmore came up with Dalikfodda brand and we were planning the 'Shithouse Tour' across the alps, I was like fuck, who's gonna support me and 18 mates to go on the piss for 3 weeks with 2 or 3 metal bands…? Nick Street at Vans stepped up as well as several other companies in the industry . After 4 years of the tour the bands went from pretty much unknown to every Tom, Dick and Harry in British snowboarding knowing who they were. It was a good time, friendships were made and bonds were built. That was how my relationship with Vans started.

Was the collection always going to include a snowboard boot, Skate hi and slip on when the proposal was first set?
So initially Matt suggested a Hi-Standard snowboard boot and MTE Sk8-Hi , then there was suggestions to build this into a series for more artists to collaborate on down the line, this opened it up to introducing a Sk8-Hi and a Slip-On, in addition to the Hi-Standard boot. It all fell into place.
So what is the full collection you've collaborated on with Vans?
So there's the Hi-Standard snowboard boot, Sk8-Hi, Slip-On and then, because the artwork translated so well into everything else we tried it with they were like, well lets just use it on apparel too, so they did a long sleeve tee and a snow sock.
From an artists' perspective what's it like working with a brand like Vans? How much creative freedom and direction do they offer?
It was killer, they gave me total artistic rein on it, they were like "Schoph what do you think", so I was like lets do this, this and this and they all agreed. "This is a collection we've never really done in snow category before, so what do you reckon?" It all worked out really from my initial ideas to working with the in house design team.
How much input did Vans have in choosing the designs or was it just left up to you?
We had a meeting at Vans, discussed a few ideas how we were gonna work it out, I mentioned to Matt I had this piece in mind over in Huntington Beach, so we picked it up and got it in front of us all and it just started to work out, what bits would go where on the collection. It was pretty straight forward, a no-brainer.
You've found yourself working closely with Jamie Lynn this pass few years. How did that come about?
Well we first met back in 2006 or 7 and it was actually on the Dalifodda Shithouse Tour that Vans and Dragon were supporting, Dragon linked us up with Kandi Coded, Jamie's band at the time, to do several shows on the tour as well as a big ender at our last stop in Laax. I guess we just hit it off straight away, talking about music and art and nothing really about snowboarding. The following year Lib Tech wanted to take me on as a graphic artist and there was just that link that worked with me and Jim, we were just on the same page.
You guys have a number of mutual brands that you're connected with?
Yeah, each one I work with as an artist; Jim's been a part of their furniture since most began.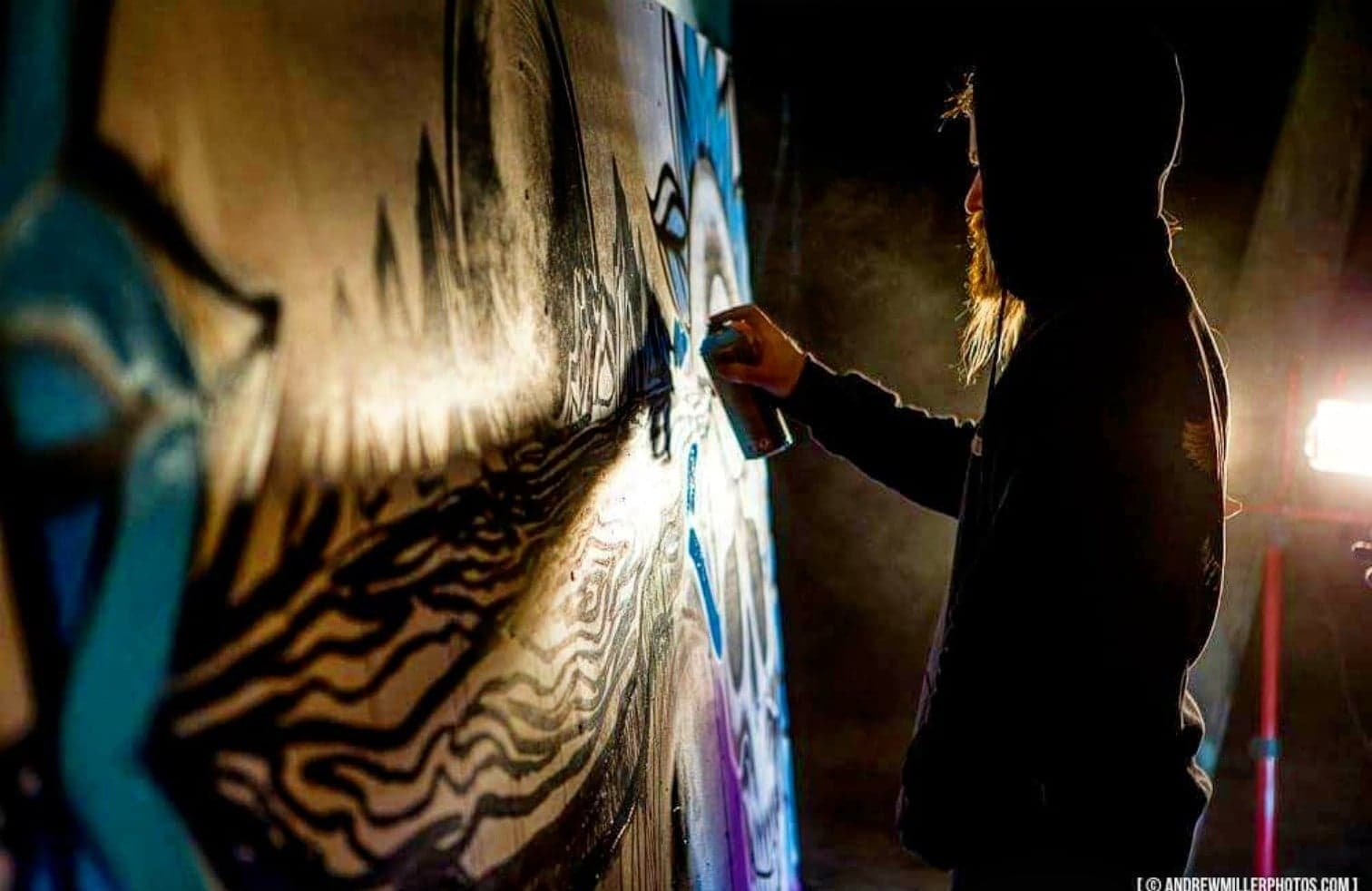 Can you tell us a bit about your "1910" colab with Jamie Lynn?
Fast forward 10 years or so from when we first met, we were painting from a space we both work from in Costa Mesa at Volcom. By this point we had a good connection working together, working on personal pieces and jobs for Volcom and the rest of our hook ups. A close friend of ours Scotty Daniels who's been with Volcom for time began talking with us about doing something, at the time Jamie was in the workshop and he'd already come up with 1910 as a name. 19 being the S for Schoph in the alphabet and 10 being J. So yeh, we don't know exactly where it's going but it's organic and it could grow into something, but if not we'll keep on doing it regardless, no pressure on it, just making art and having a good time doing it. I bring the Guinness, he brings the smoke.
Any future plans with 1910?
Yeah we're looking to have a show the night before SIA in Denver, to basically push our apparel, prints and selected artworks. To create a buzz whilst we're there. At the same time we've both got other shit going on so leaving it kinda open for any opportunity down the line. Zero fucks, on call 24/7.
Will we be seeing any other Schoph collections from other brands this winter?
Not collections as such but continuing to work with Lib Tech along with some colabs with Volcom and the rest of my hook ups. Working with Halldor for another year with Lobster Snowboards, as well as some other projects in the pipe line with him. Other than that I cant really say much more at this time but stoked on how 2018/19 is panning out.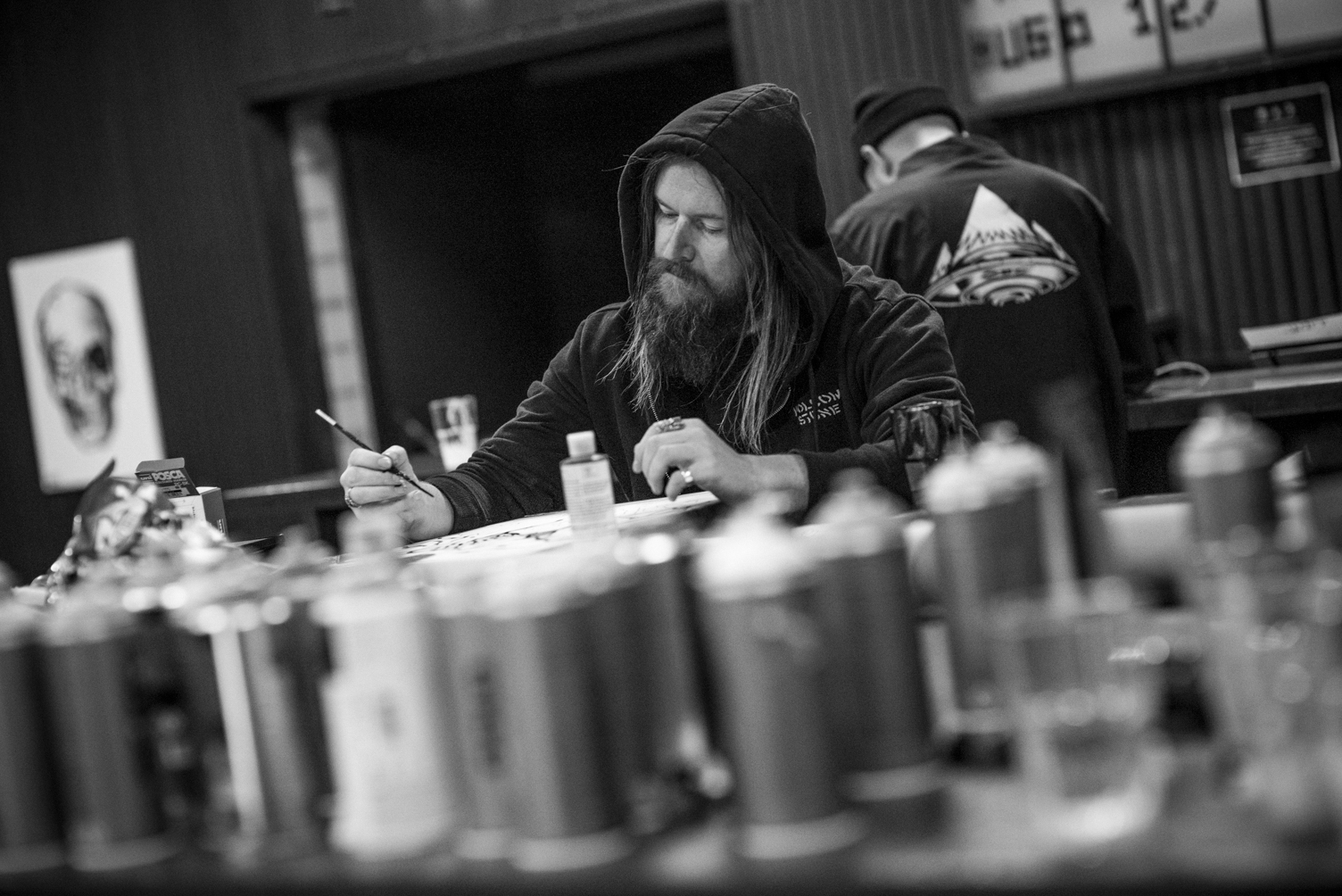 What has inspired your style of art and do you have certain artists that you look up to and take inspiration from? Or would like to work with in the future?
Music. Music is my biggest inspiration. I don't really let other art get in my head or artists inspire my work as I like to just make what I want to make, and want to see, without thinking it should be influenced with any other style. I appreciate and respect every kind of artist, but at the same time try and stay away from what I see others working on. Which in turn I feel stops a lot of mind fucks that a lot of artists deal with. Regards working with other artists, anyone who's down to put the time in and get involved.
What are your plans for the winter ahead? Where is your art taking you and will you get some shredding in?
My next show will be this November for Vans in LA. Then back home to Europe, recalibrate and figure my next move. Then a show in the UK running up to the New Year, Denver in January for the 1910 gig. After that is Laax for the Tidal show in March with the art family I show a lot with, currated by the talented and top lad Aaron Schwartz. In between the shows, work on painting for different jobs and make sure I give plenty of time for shredding. I love snowboarding as much as I do art and think balance is important in every aspect of life, otherwise it's just gonna fuck you off.
Thanks for the chat Schoph and have a killer winter.
Cheers, all the best.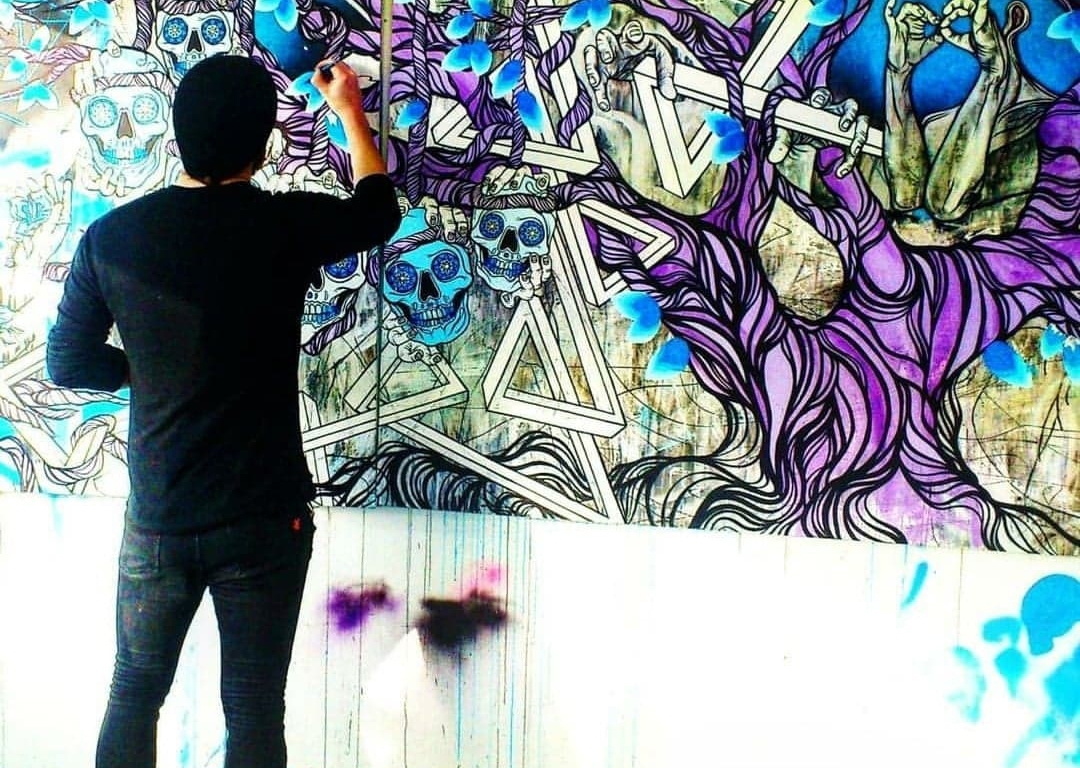 Photo Credit: James Sweet, Aaron Schwartz, Andrew Miller and Sam Mellish