Billabong's "INAKA" - The Wolle Nyvelt Interview
Billabong set out on an adventure with riders Bode Merill, Garrett Warnick and Wolle Nyvelt to the mystic land of Iwanaii on the North island of Japan, known as Hokkiado to test out the new Adventure Division Series Outerwear and just explore the mountains and surf. We caught up with legend Wolle Nyvelt to fill us in on the trip and more. Enjoy.
Hey Wolle! Where are you at right now and has your winter started?
All good man! I'm at home in Mayrhofen plugging away in the workshop and riding the Hintertux Glacier. The usual fall rhythm really, building boards for Äsmo and Salomon's Hillside Project. We've had the first snowfall up high so you can definitely smell the winter creeping in.
Sick! So let's talk about this trip you did with Billabong to Japan last season?
Yes, in February we went to Japan's North Island Hokkaido for a Billabong team trip. We shot for Billabong's Adventure Division Series which basically meant we were supposed to shred pow and go check the surf.
The crew was Bode (Merrill), Worm (Garret Warnick), and myself as riders. On filming duties were Elli Thor and Andreas "Mone" Monsberger and on the photos was Chris Burkard. Chris also had a couple of assistants with him and Risto Scott our TM from Billabong so we were quite a solid crew.
Chris hooked up the spot at Iwanaii, a Resort close to the Japanese Sea which has its higher elevation lifts shut down and only accessible with Cat Skiing. We all stayed right at the bottom of the mountain and rode there pretty much every day for a week which was absolutely beautiful. Mone, Bode, Worm, and I stayed for another week close to Niseko and did some road trips to all the hiking spots in the vicinity. It was not the best year snow wise but honestly, I cannot get enough of japan and go back there anytime an opportunity arises.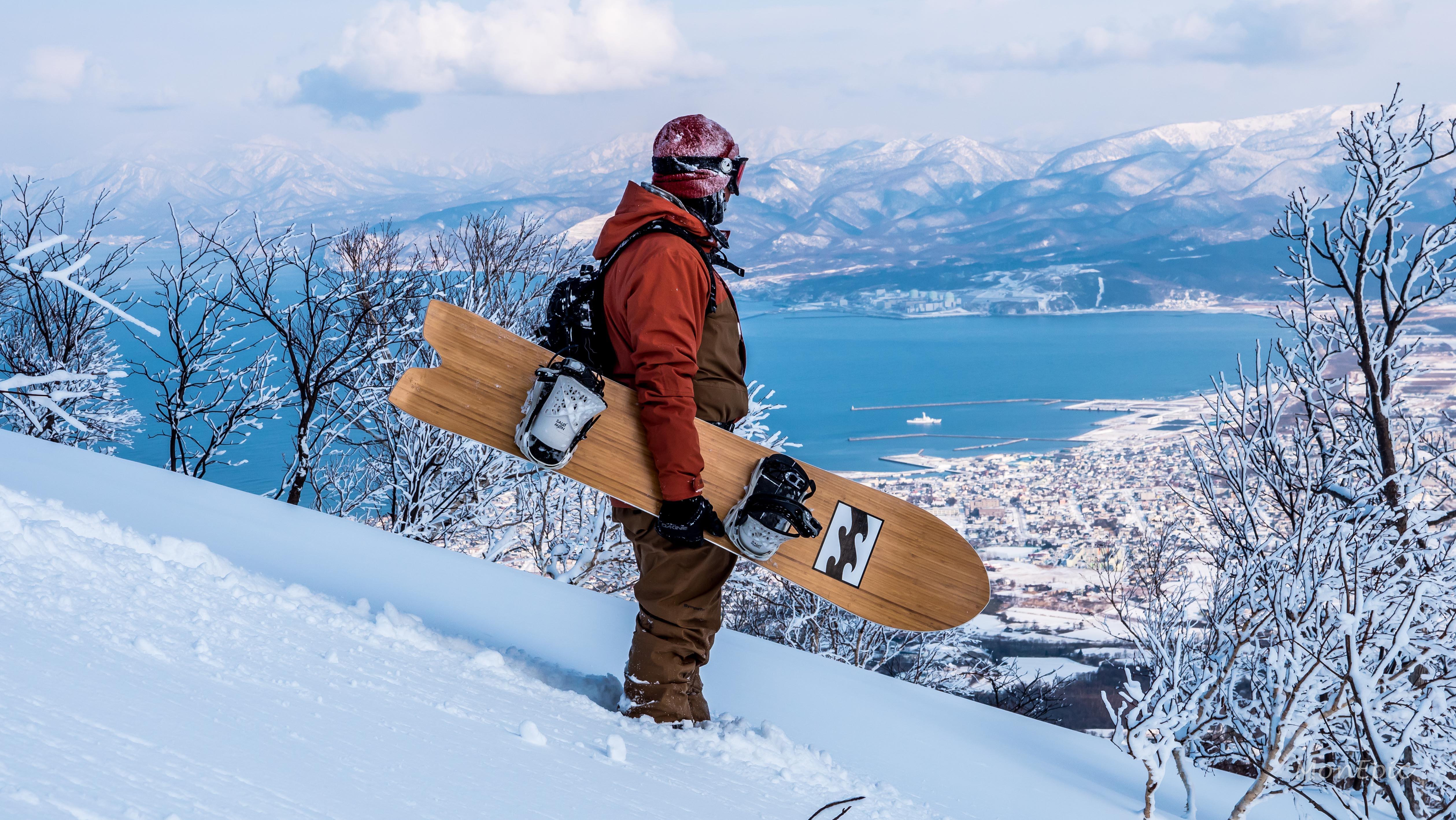 Sounds like an all time crew. Chris Burkard shoots mostly surfing and travel-based images, what was it like having his perspective on snowboarding?
It was! Riding with Bode and Worm is always so fun, and those guys are at it all the time. Non-stop laughing and obviously, I shoot with Mone a bunch so it was super sweet to have him on the Trip. With Chris and Elli I think this is the first time we all shoot. Before I left I was definitely curious about how this would go down. If we would charge after the most beautiful light if we would wake up super early, sleep on the mountain, or what the rhythm for these guys would be like. At the end of the day, it's not that different from ours, were just at it all day, every day! Chris and Elli are definitely super motivated all the time and are always stoked to spend time in nature.
Was the shooting experience different from what you're used to?
Hard to say if this is how Chris' usual shoots go in far-out places as I would not compare Japan with the Aleutian Islands or something. I would assume it's a bit of a different vibe. But, I guess in general we're all out there hunting, we were looking for the perfect spot and Chris was searching for that perfect light. You could see him going 'mental' (which seemed to be one of his favourite words to use) when the light got crazy! His heart rate probably went up to 200 bpm and you could see how anxious he got not to miss those perfect moments.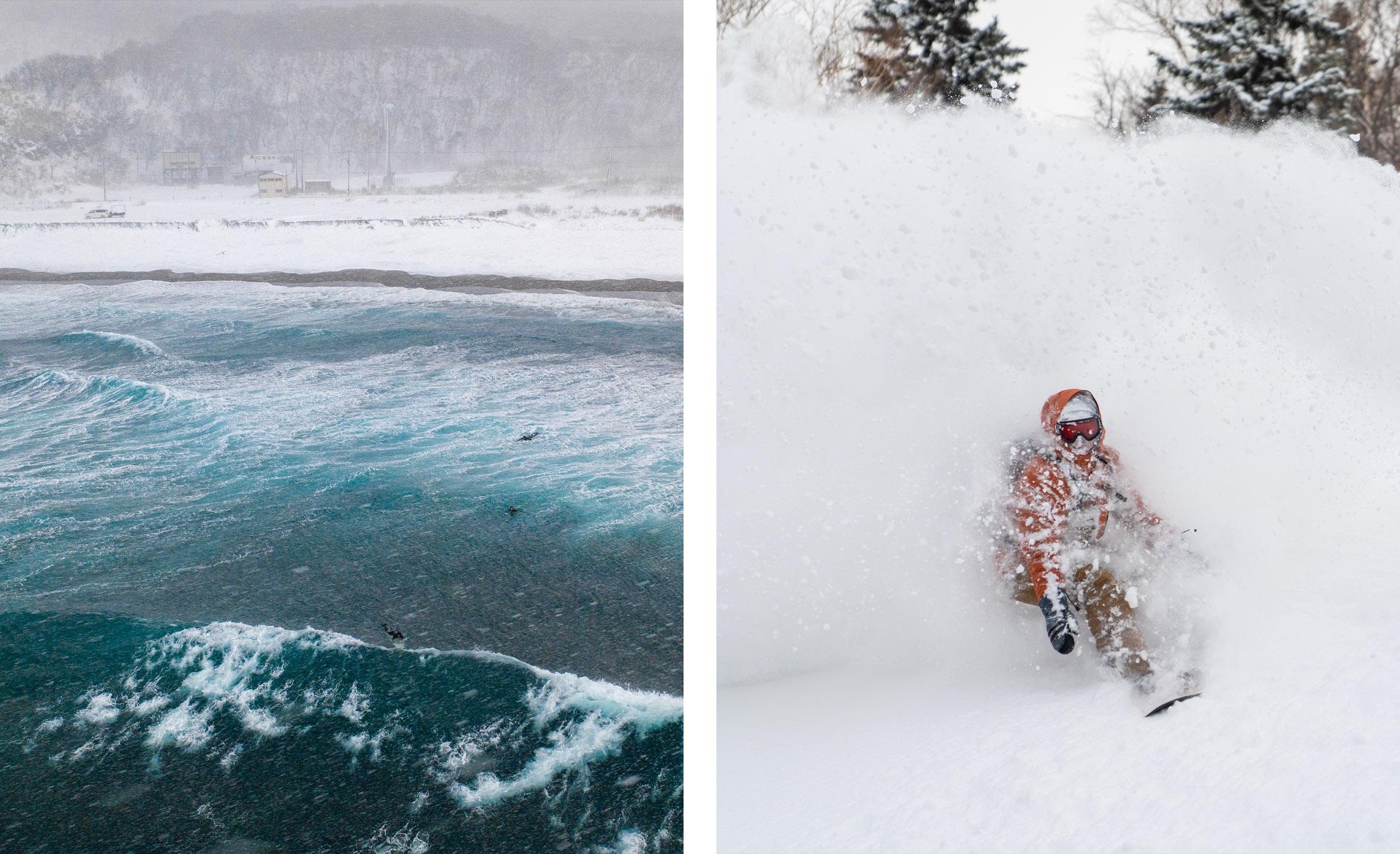 I guess there aren't too many places where you can see the beach within sight of the mountain. Did you manage to snowboard and surf on the same day? How were the waves?
Japan is special for sure and there were a couple of days when we had nice weather and rode the higher alpine and you could see it was pumping out there. We didn't get to surf those days but we managed to get another good day in later on the trip after the crew had left. It's always tricky out there as weather and winds change so fast. We did jump in once after riding and it was kind of the craziest conditions I ever paddled out in. Risto brought some 5mm super warm wetsuits and we paddled out in the craziest snowstorm. The waves weren't big or anything but when we were in the water you could barely see the land anymore, it felt pretty surreal.
How was the Iwanai terrain for the Äsmo?
Honestly, Japan and especially Hokkaido are made for it, and getting to use it in combination with Catboarding is just a dream as you can switch your board all the time. The terrain in Iwanai through their main bowl is really sick and we had some insane days even though it was one of the shallowest years I've been.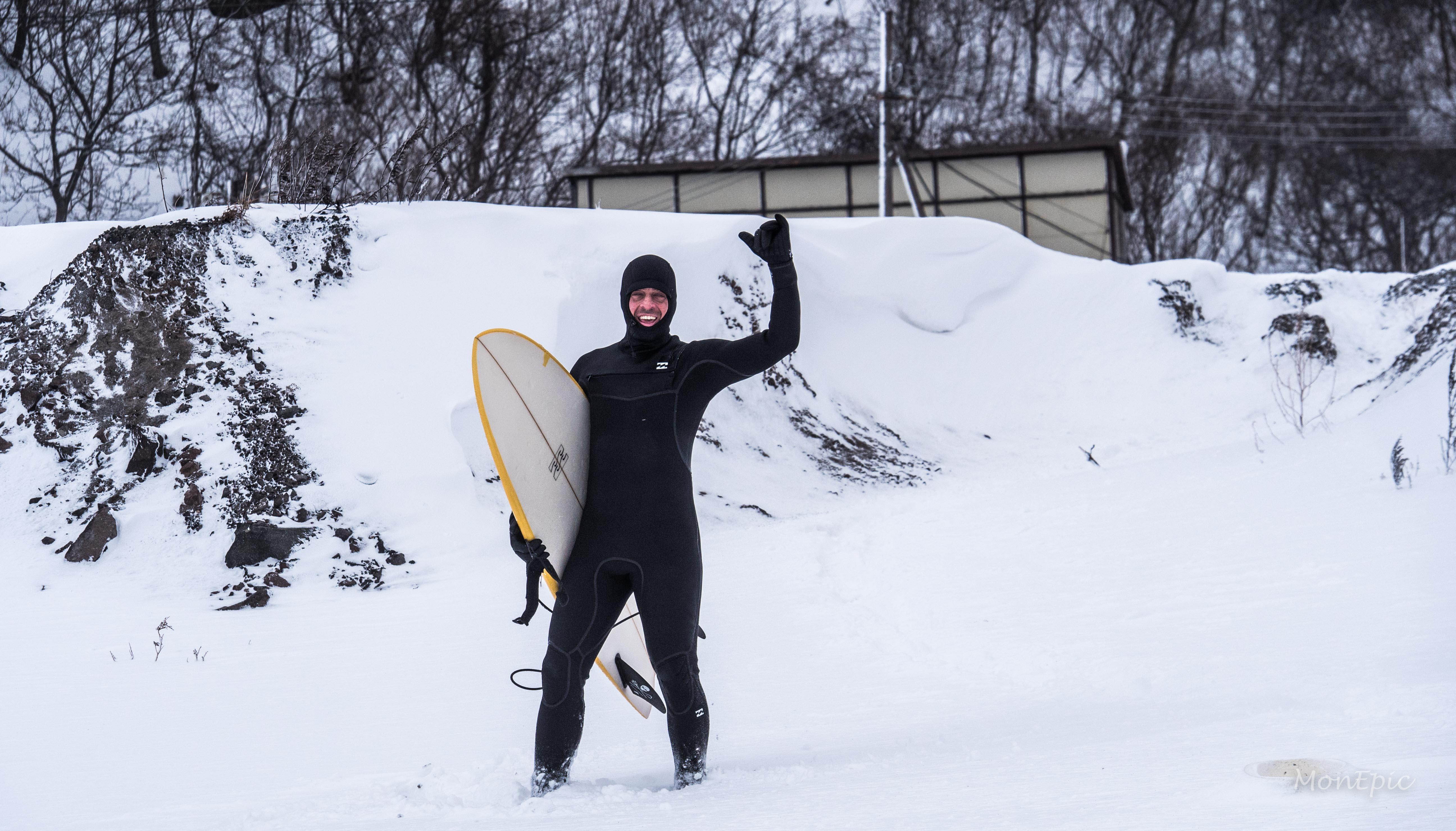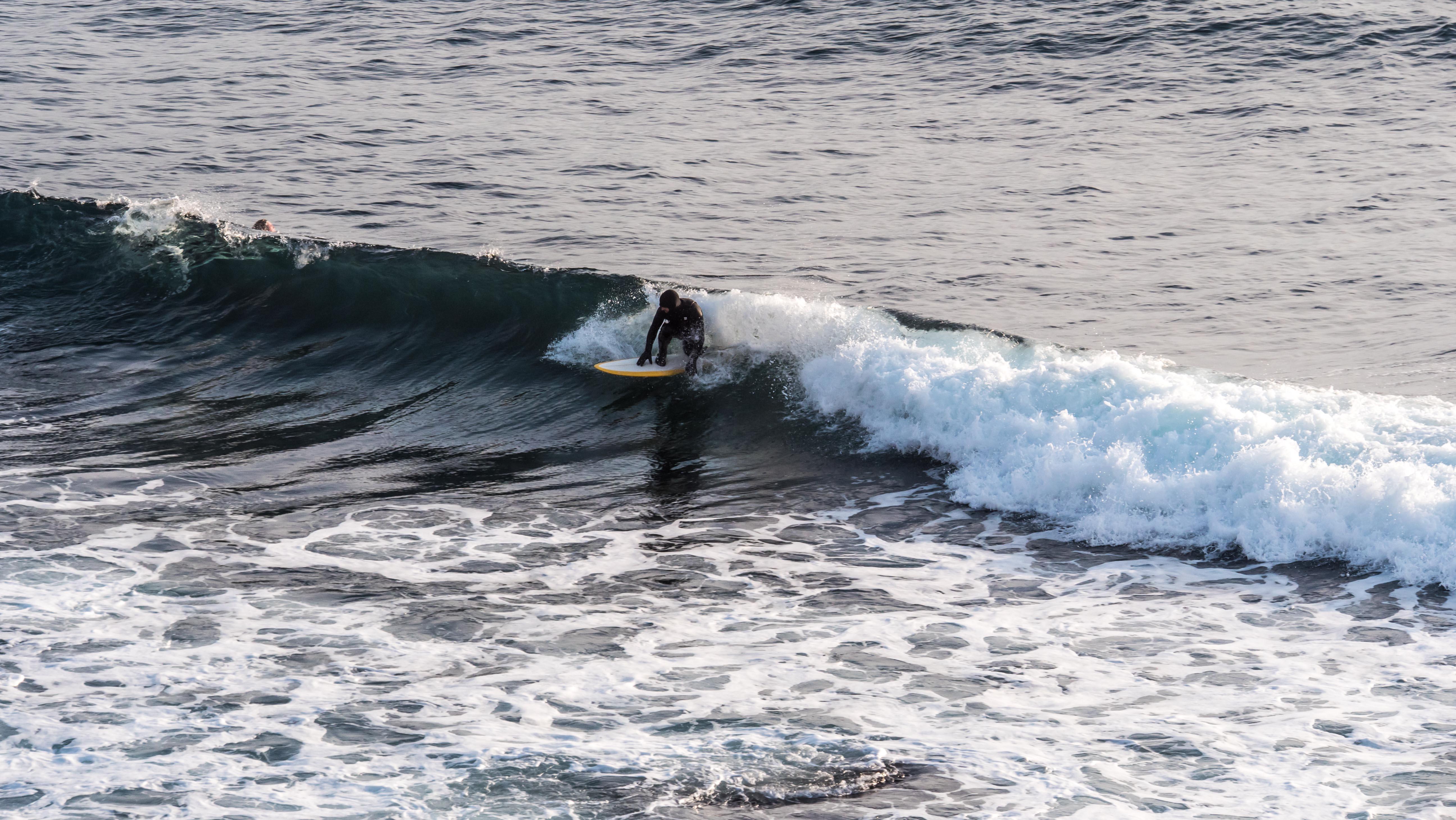 Can you tell us what the Billabong Adventure Division is?
Well, Adventure Division is the brainchild of Francois Liets and Benjamin Sanchis. These guys are always charging after the biggest waves and Benjamin being the legend that he is getting the craziest bombs of his life. Francois is not only setting up these trips, but he's also developing and providing the best gear. On top of that, he's a crazy charger himself getting bombs, driving the skies out there, and whatnot. I think that approach in needing the best gear for their missions over the years and going out to score inspired everybody at Billabong to adopt that same philosophy into outerwear as well.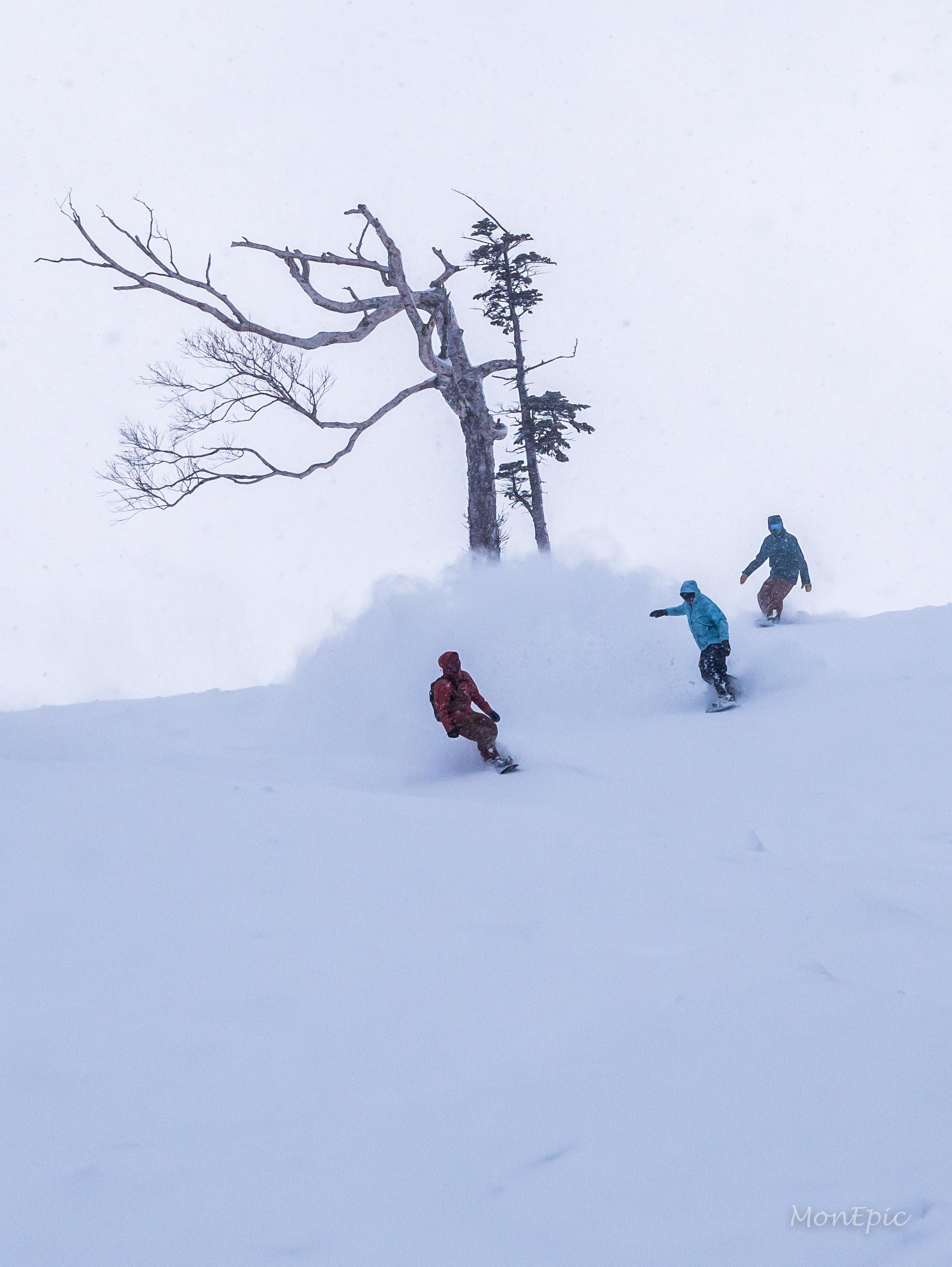 What was the most Japanese thing you saw and ate?
As always, we ate at a bunch of Minimarts haha. No for real the Locals took good care of us and took us to some of their favourite spots to eat. My personal favourite is Ramen and we hit some really good spots throughout the trip.
Any other Adv Div projects in the pipeline?
Honestly not sure when the time to travel starts again, I haven't heard of anything solid yet, but we will see. There were some sick places on the list so let's hope so...
Watch Billabong's INAKA short film from their trip to Iwanaii in Hokkaido, Japan here: