On the Road in the Good Vibes Vintage Van
We all know that Jessi and Tobi are straight rippers when it comes to riding a board, with extra doses of style and always bigger smiles. But what you might not know is that they spend the summer cruising in a VW Camper in search of the miraculous, the vintage and the very best vibes out there. We hit them up to talk about their journey, how they came to be selling vintage clothing in the heart of Oslo, summer shred missions, rail parks, camping hacks and a whole lot more.
You have to hand it to them, their plan is solid. There are plenty of shitty jobs out there than can help to pay the bills over the summer, but if you can work out how to take your job on the road with you, the good vibes will roll in, for sure. Just think, if you sold a van's worth of vintage clothing, you could get that flight to Japan.
@goodvibesvintagevan @jessialfredo @tobiashimmelstrup
Words: William Sleigh. Photos: Tobi, Jessi and Mikkel Fykse
---
How did the Good Vibes Vintage Van start? Where do you get the clothes and do you price them up enough so you can live off your sales?
It all started with a volunteer job for a British vintage store called Blue Rinse at the Danish festival Roskilde. Work three days in exchange for a festival ticket, it sounded like a sweet deal. In the beginning, we didn't think much of the job, it was just a way for us to get the ticket. But after a few days, we realized how much we enjoy talking to people and selling vintage gear. We could pretty much pick out whatever we wanted for our self, and suddenly we had a bunch of really cool clothing.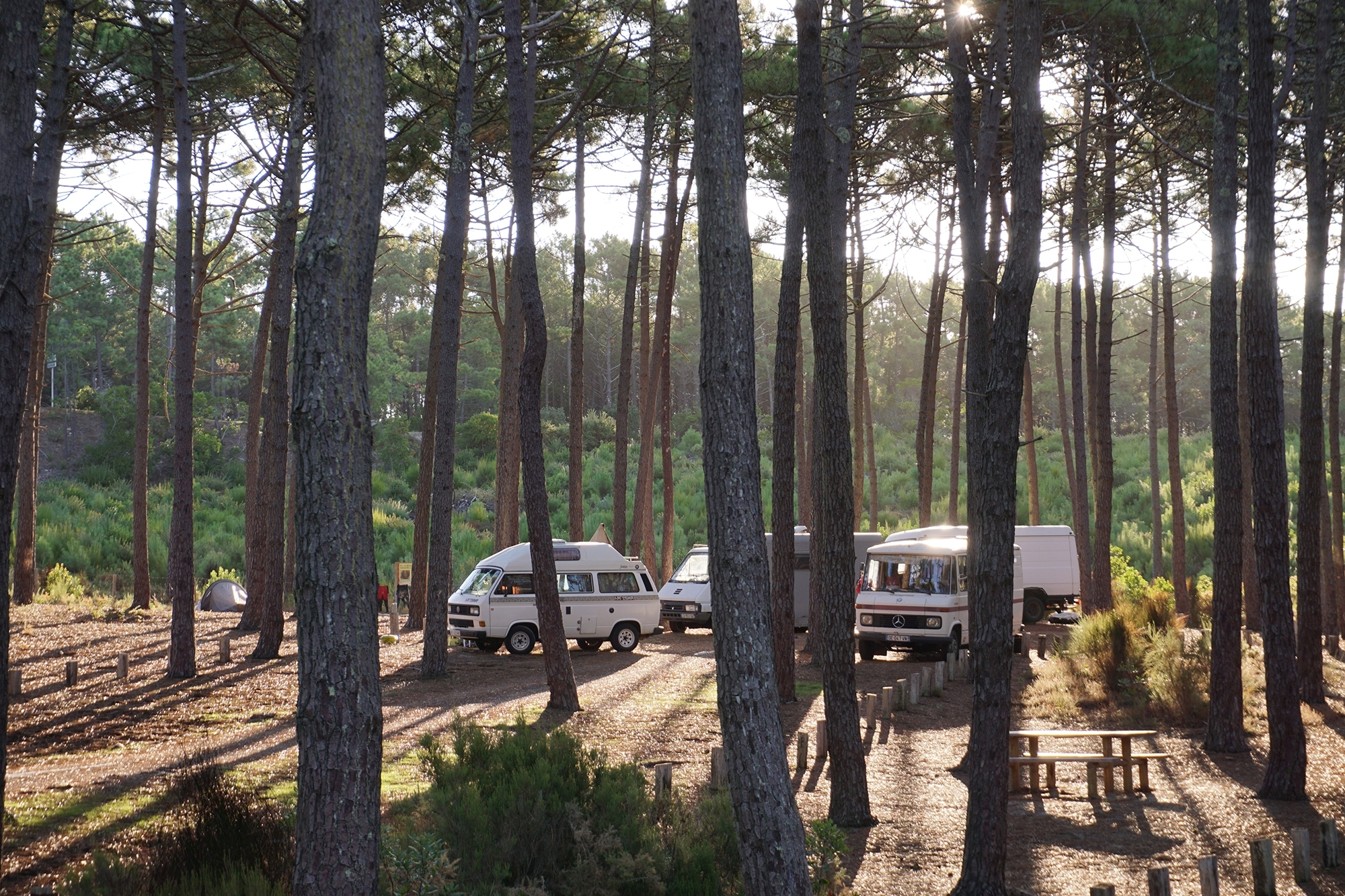 A year flew by and we kept talking about how we should get a van and start a little vintage company. One day we got a phone call from Blue Rinse asking if we wanted to do the same as last year but work the whole festival (9 days) and get paid. We told them about our vintage dreams and they said we could work for a bunch of clothing, hangers and what ever you need to open a little store, instead of getting paid. We were down immediately!
Our friend Stian has an amazing van that we have been looking at with envy for years. After a few months of internet searching, we found the perfect van like Stian. We went and bought it just a week before the festival. We did the festival, packed the car up with our new clothing, spent some hard days sorting it out and started selling clothing at flea markets in Copenhagen. We didn't make much money at all. The places we sold at in the beginning people didn't want to pay what we asked for. We tried a few places in Europe, it was a blast and we gained a lot of experience but it became very stressful.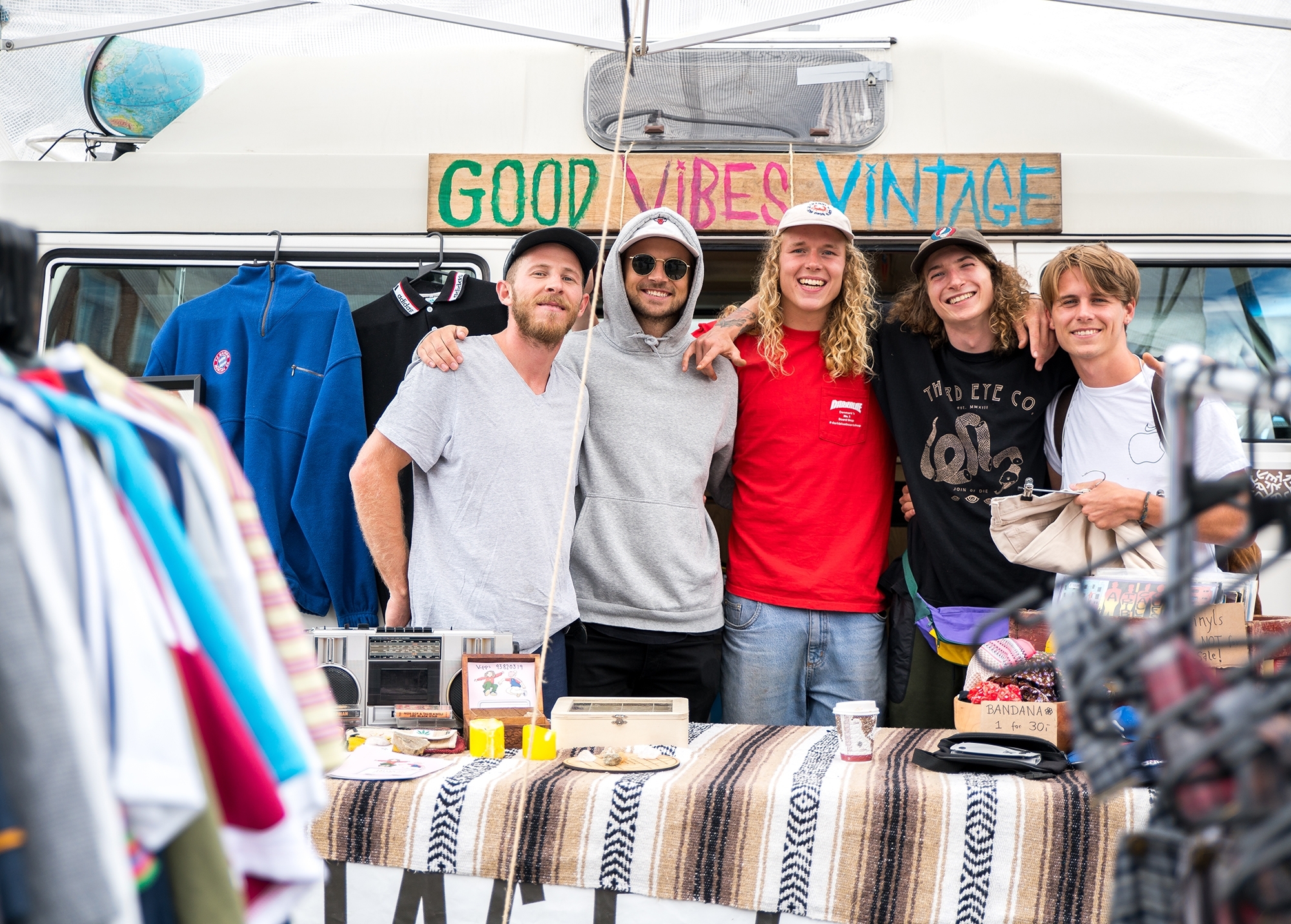 At the end of summer, we went to Oslo and found a few spots in the middle of the city where we could sell our clothing. People were so hyped on what we were doing and loved our concept. We made more money that week than we did if you combine all the other spots we did in Europe. We figured that the next year we would work at the festival to get clothing and then just stay in Oslo for the rest of the summer. It's been 6 days in Oslo so far selling clothing and it's been great. Mostly because our shop has become a meeting point for all our friends and we get to link up with homies we haven't seen in a while.
How did you guys meet?
We met in Big Bear, California five years ago. We were both friends with Rasmus Nielsen. Toby and Ras stayed at the Danish house and Jessi stayed with some Swedish friends and Stephen, the homie from LA. We would hang out a lot in the different houses and the friendship kinda started really organic with out any of us thinking too much about it. We both randomly moved to Hemsedal (a mountain in Norway) for a season. That's when we really started hanging out. After that we both got a job in a mountain next to Hemsedal, shaping the park together. We've just been good friends from the start and now we are more like brothers who kick it and fight over stupid shit.
What's your recipe for good vibes?
Respect for others and good music. Good friends are the most important thing we have in our lives and music is also playing a major key for our good attitude and IRY vibes. And, of course, try to skate at least once a day after work.
Where did you get the van and what have you done to fix her up?
We got it at a VW bus club in Kristiansand, Norway. These guys are a group of super enthusiasts, that lives for the old VW T3 vans. They had spent many months fixing our lovely van up, so when we got it it was more or less mint. Our longest drive together was from Norway to Holland and back again. We spend four weeks on this trip, selling clothing, hanging out with homies and shredding the indoors.
What's the longest drive you did in it? Do you live in the van full time?
Toby and his girlfriend once drove to southern France in the van. A three-week trip through Denmark, Germany, Holland, Belgium and down to the French southwest coast. We do not live full-time in the van, we mostly stay in it during long drives and when we are trying to go camping.
Where have you been this summer and where are you planning to go to?
First, we went with the van to Folgefonna (the Norwegian glacier) for a month or two. Camping, snowboarding and fishing. Then both of us went to Roskilde Festival and after that, Jessi went to France to snowboard, and Toby stayed in Copenhagen to catch up with friends and to skate. Right now we are trying to stay in Oslo for the rest of summer. It's way less stressful not having to stay in the car with all of our clothing, we get to skate with our friends and we have a solid place to sell where people don't mind paying what we ask for (which is cheaper than all the other vintage shops in Norway).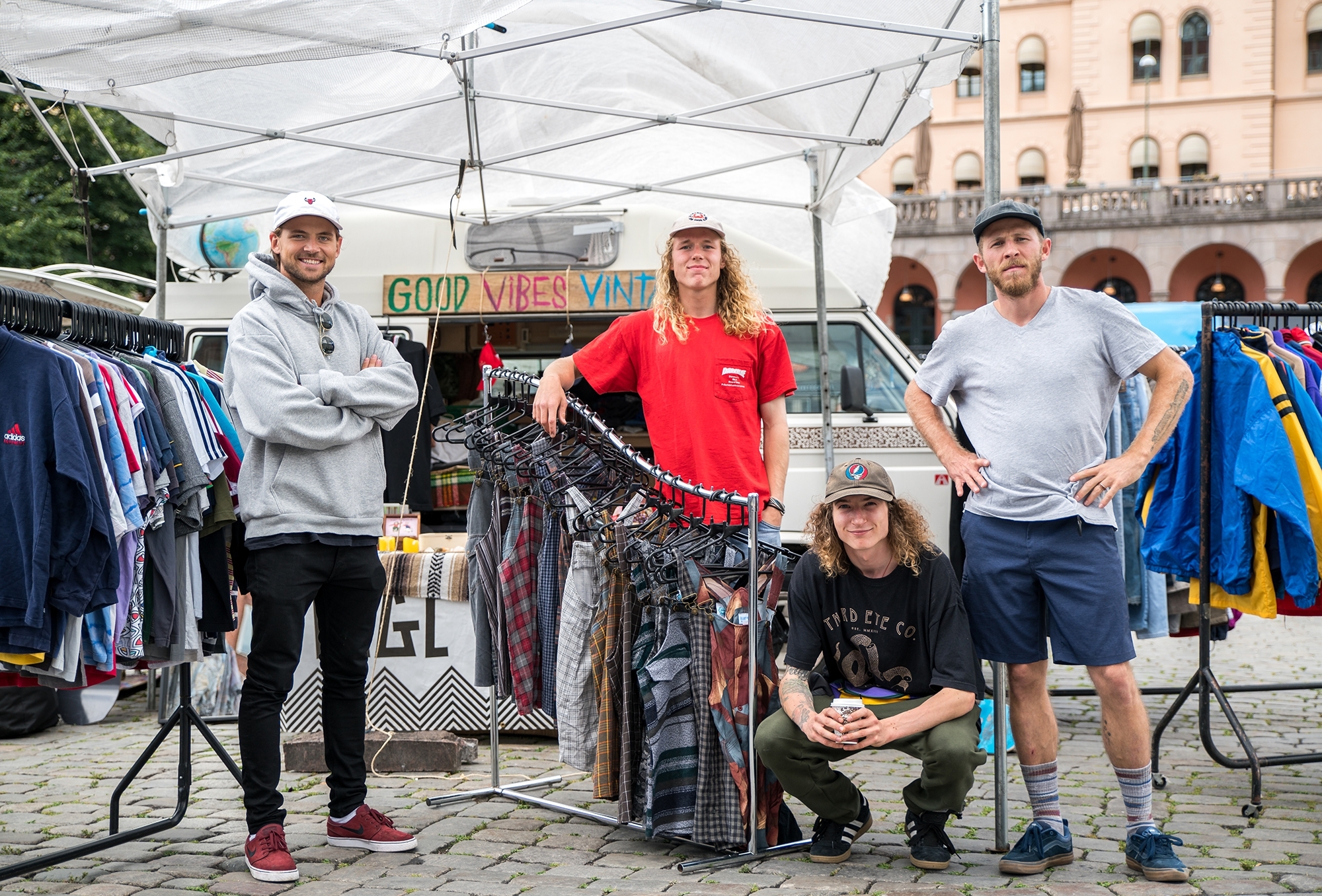 Do you have any plans for more pop up shops at all?
We want to stay in Oslo for sure. Maybe do a couple of pop ups in other towns in Norway. At the moment we are actually looking for a shop location in Oslo. Our big dream is to make this van project into a real shop one day. It would be very fun to own a shop, being able to collab with friends, and have the option to support our homies local brands through the store. At the moment we are working with Jahlife, Third Eye Company, LA River and Stinky Socks. We've also been talking with Perry about Benchpress and he is hyped.
Where can people find you right now? How long are you going to be in that space?
Right now you can find us at Youngstorget in Oslo Sentrum. It's a nice little market place in the heart of Oslo. We will stay here for the rest of the summer. If we are lucky enough we can open up a shop before the winter, if not we will see what happens next summer.
What is life like on the road? Have you got any good camping hacks to share with us?
When we're on the road we travel around in our beloved Volkswagen Camper from 86, which is equipped with kitchen, fridge, bed, basically everything for an easy time on the road.
Any spare time camping trips with friends are whats up. Our camper seems to get a lot of attention on the road and we always end up meeting a lot of new people. The best thing about camping in the van is the free living space and the nature we get to experience. Going from market to market the van is packed with clothing, rails and hangers, so it's not the comfiest way to travel, which also is the reason why we decided to station our self in Oslo. Lately, we are not on the road as much as we originally planned but we have plenty of camping hacks for you.
1. Always make sure your camper is rich on water, fuel, gas and oil.
2. Clean your fridge, it can get gross!
3. Never camp in the same spots more than a few times, that way you get to experience more.
4. Never pay for parking, rather go to the woods.
5. Bring a tent or hammock, if new friends arrive or just to mix it up a little bit.
6. Keep it neat. When you live in such a small space, you need it organized or you will go crazy.
7. You can never bring too many CDs! The road is long, and good music is what you need.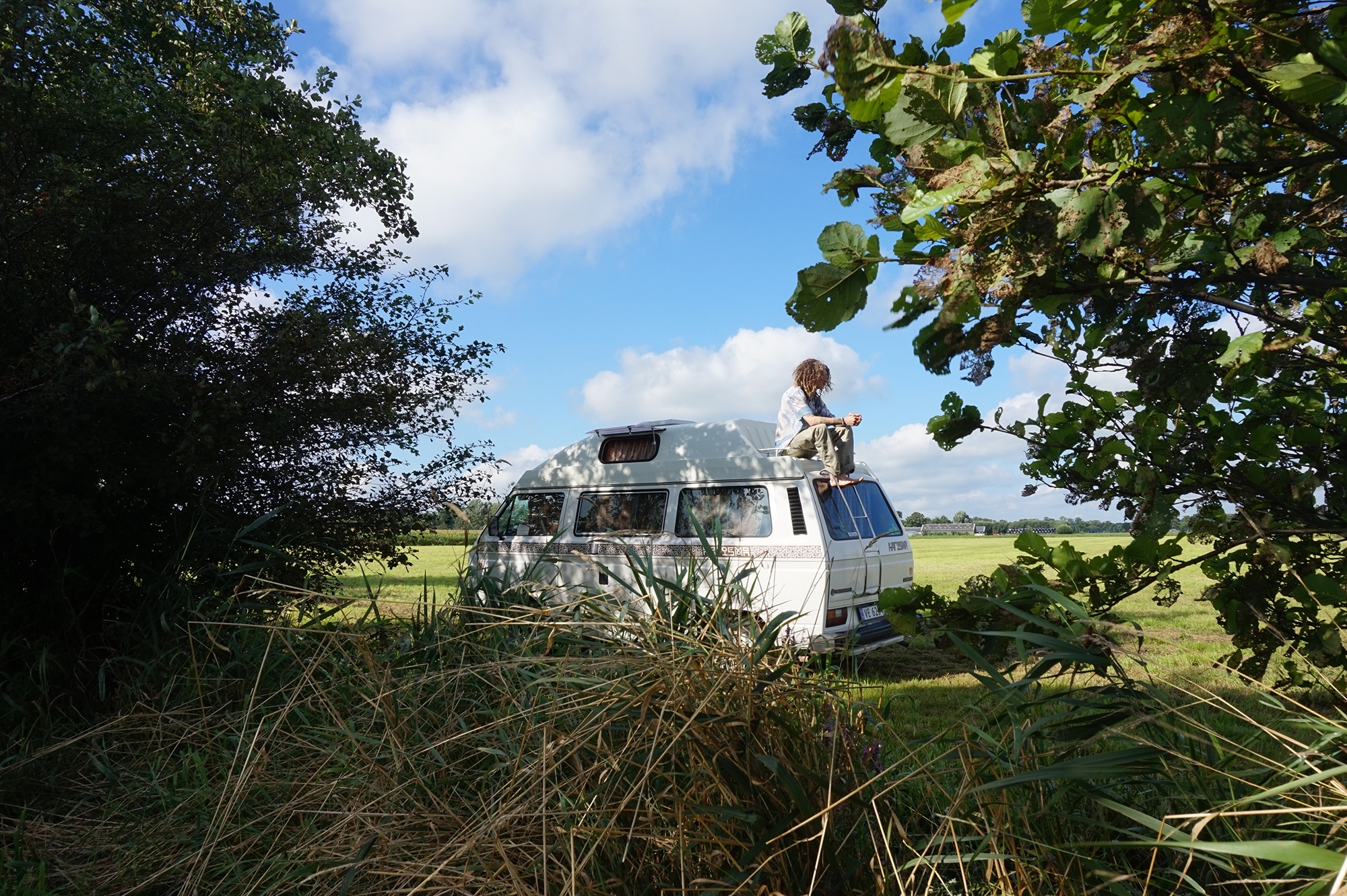 If you sold all the clothes you have right now could you afford a flight to Japan?
Pretty sure.
How was the Ashbury demo at Les 2 Alpes?
Jessi - It was great. All the guys on the team are fun to ride with and have a dope attitude. Even though I didn't know everyone super well from before we all became good friends really fast. I'm hyped to be on a team with so many sick riders. Also, France was dope because I found a bunch of minerals and crystal close by the park. So ended up spending a lot of time digging for rocks haha.
You know Stian Karlsen who set up that rail park, Golparken. Will you guys be building something like that again?
Stian we know well. They closed Golparken down after a year because of a shitty, shitty bossman, but then started an even bigger park in their hometown Trondheim. They are a huge inspiration for us and we love all those guys a whole lot. We are both trying to get a job at the local Oslo hill Tryvann this season. Hopefully, we can get enough influence to help them make a very creative and fun park, for all the homies to enjoy.
Your crew up at Tiril Parken have a pretty obvious style? What are the main influences on you and your friends?
Hip hop music, Jill Scott and Erika Badu.
What videos did you watch as a kid?
Toby - I didn't start snowboarding until I was 19. I grew up in Denmark with no mountains or snow. Growing up in Denmark I was skating all the time and got a lot of inspiration from the early 2000 skate movies. Menikmati, Photosynthesis, Mosaik, Yeah Right and Baker 3 is some of the movies I remember playing over and over and over again.
Jessi - The G-had movies (a crew from my local hill kirkerudbakken). The Ducksjen movies, (ducksjen the movie and klaustrobiatch ) My all time favourite ones from back in the day is Forums movie THAT and Technines movie Familia.
Who were you filming with last winter and are you gonna have a part in any movies?
We were filming a bit for Jahlifes mixtape short movie. We worked a lot so wasn't as much time for street stuff as we wanted but we got to film a bit in the town we were staying at. Also filmed a little bit with Postland.