Words: Jenna Kuklinski
Photos: Shaun Daley
It takes a lot to film an amazing snowboard edit. People can spend an entire season working toward this singular goal (and do, all the time). We wanted to see if we could bring together some of our Bonfire guys, shoot off on a loosely-planned road trip, and make a heavy-hitting edit that would stack up against all the rest in just eight days.
It worked. We got out there, we got after it, and we did most of it from the (marginal) comfort of a 36-foot RV. This is the story of what that's like from behind the scenes, from the Team Manager's perspective - the times it all seemed like it might fall apart, how riders pushed themselves to ride their hardest, continuously, for so many straight days and what it took to pull off all the banger shots we got. Because on a trip like Free Range, there are No Down Days.
Team Manager's Log: Bonfire Free Range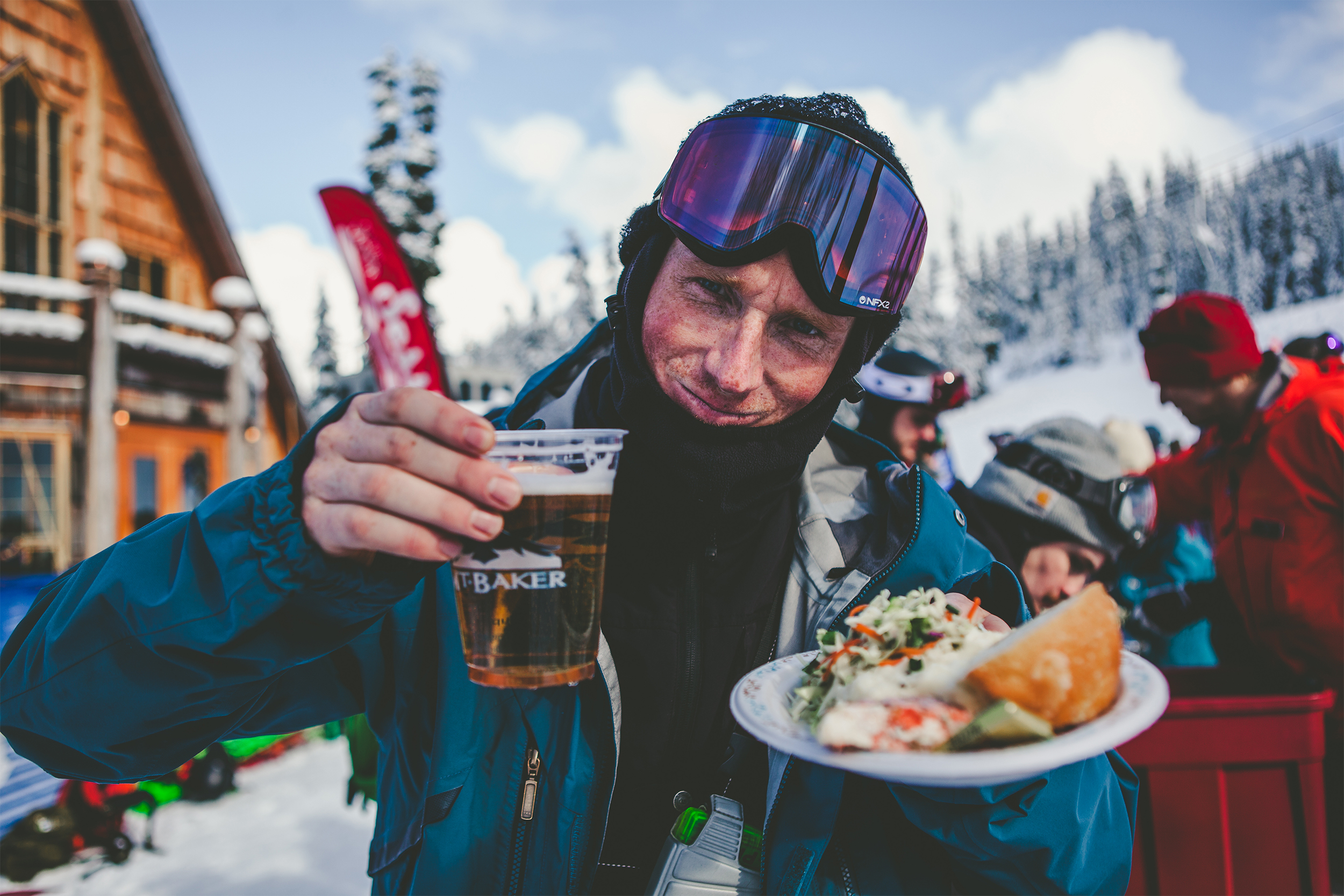 1. Things seem to be getting off to a good start. Johnny Brady, Ralph Kucharek and Beau Bishop have all made it up to Baker and are out riding on the hill. The weather is really wet but the Northwest is known for that. Danny Kern and Shaun Daley, our filmer and photographer, should be up here tomorrow. I bought a bunch of snacks and picked up seven cases of beer from Montucky down in Seattle. Dustin told me each person could have 24 beers with them when crossing the border, so as long as I did the math right we should be good. First trip of the year, here we go.
2. Woke up this morning to a text from Shaun and Danny around 7 a.m. saying they're almost in the parking lot. What? That's impossible.
3. Got to the parking lot to see Shaun and Danny wearing flip-flops in the ice and snow-covered parking lot. Shaun went out partying the night before, showed up at midnight to meet Danny for the first time to tell him he needed to drive the first leg. Danny jumped right in and did it. I like these guys.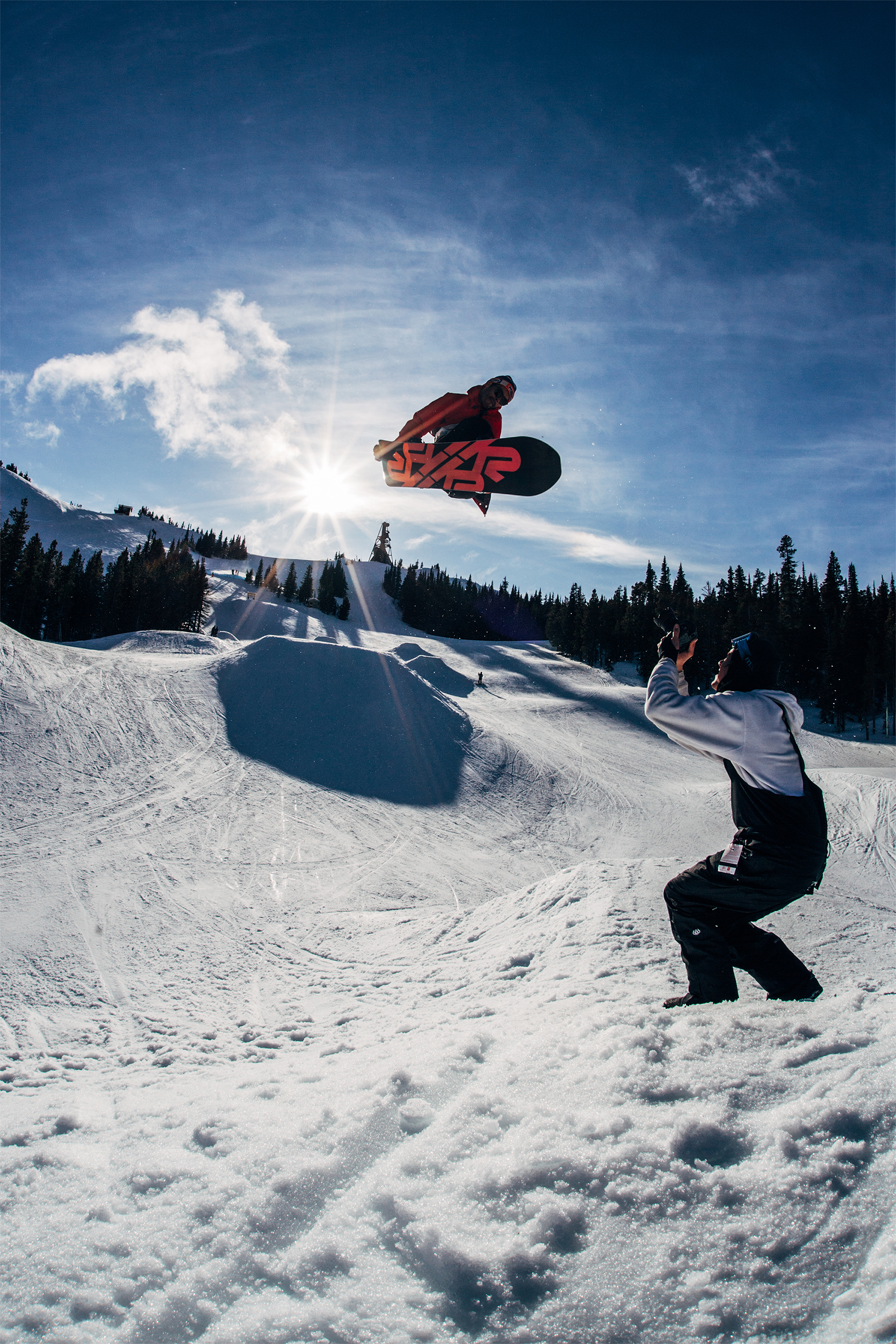 4.Qualification runs started for the Legendary Baker Banked Slalom (LBS). Beau almost rode off a cliff. Not a good thing to do at the beginning of a trip. He told me the story on the lift. Luckily his board was wide enough that it caught along an ice chunk and a boulder at the top of this frozen waterfall he'd started going down. Somehow he hack-climbed his way up. I don't want to lose Beau, he's great. Glad he got out OK.
4.b Powder overnight. Now it's sunny, which is amazing. But it also means there are slides going down off all the steep mountain faces. We found jumps in the woods around resort. Then it got cold. We drove the RV down in to Glacier and camped outside the bar. Hot tubbed. Got tricked into going to Chair 9 while trying to leech their Wi-Fi outside. Oops.
5. I'm the only one that made it to finals day. Lol. All the guys are getting clips though, which is way more key. They're finding side-hits all over the place and tearing the mountain up. Got some photos to 'gram, thank god. They're making paella in the food tent at the top of the race course. It's so good.
6. Awards are happening… Parker Duke just flew in to Bellingham and it is NUKING snow right now! Everyone wants to stay. How do I get Parker up here? Maybe rent him a car. Can I do that at 6 p.m. on a Sunday?
7. Desiree Melancon is going to Bellingham for the night and said she can grab Parker. We are staying! Yes.
9.This place is INSANE. So much pow. So much.
10. It's 9 p.m. and we haven't left Glacier yet. WTF GUYS, LET'S GO. It'll take a while to reach the border from here.
11. Jk, I was wrong. The border was an hour away. Fuck. Everyone looks stoned as shit. It's 1 a.m. I'm so tired. People are falling asleep in their chairs. No one is going to Canada. We're all fucked.
12. We aren't fucked! Parker is a Canadian citizen now and they let us take all our beer. No one asked about the dog. I'm surprised. I thought someone would ask us about the dog.
13. Parked outside Dustin Craven's house around 4 a.m. So. Tired. Guys are all out. Good.
14. Dragging. So much coffee. Dustin took us to a breakfast place that reminded me of a Chinese restaurant. Maybe it's a Canada thing? Made it to Whistler, though.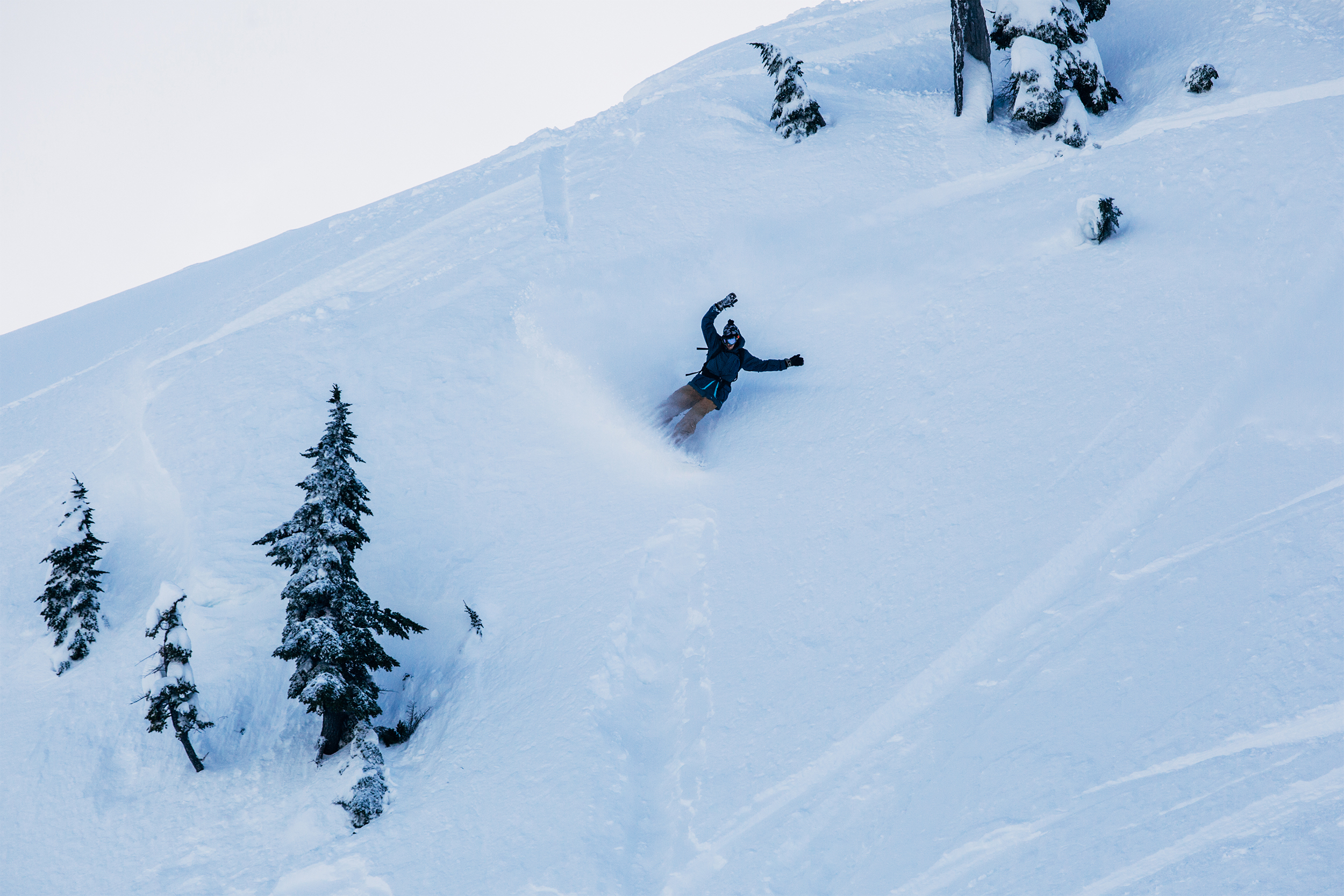 15. Nix is a boss. Best tour guide ever. The guys love him. Ralph's been wearing the same LBS hoodie for the entire trip. Johnny never zips his jacket. I'd say they're killing it.
16. Beau and Dustin definitely sound Canadian. I never thought Canadians had strong accents, but after hanging around with them for a while, they definitely do. I wonder how weird we sound to them?
17. 5:20 a.m. wake-up, on the road at 6 a.m. Arrive at parking lot, smells like fish. Did the impossible - four sleds, eight people, all out in the Squamish backcountry. I'm not going to question it. Just letting things happen. Hitting the Forum step-down. Parker finally landed his trick, so everyone's got clips now. We all lost it, so sick. No beers at lunch today. There will be beers later. Flipped just one sled. Everyone was fine and so was the sled, except my snowboard got a huge core shot in it. Still works, though.
18. Sushi dinner. Lots of beer. The exchange rate is AWESOME. Let's order another round!
19. More Whistler time. We've been Snapchatting all day but it's just on my phone so I'm trusting the guys not to lose it while riding. The snaps they're getting though are fire. Fingers crossed.
20. Danny lost his phone while riding. Sucks.
21. Canadians are awesome! Someone called me from Danny's phone and he got it back. Thank you, Canada.
22. I've never been to Europe, but I feel like partying in Whistler has to be what it's like. Shots. Beers. Shut that place down. Local Legend, Beau Bishop! I felt really short the whole time. Luckily, Ralph is tall so when I lost the group I just looked for him, like a lighthouse in the dark.
23. Pizza. Love. Pizza.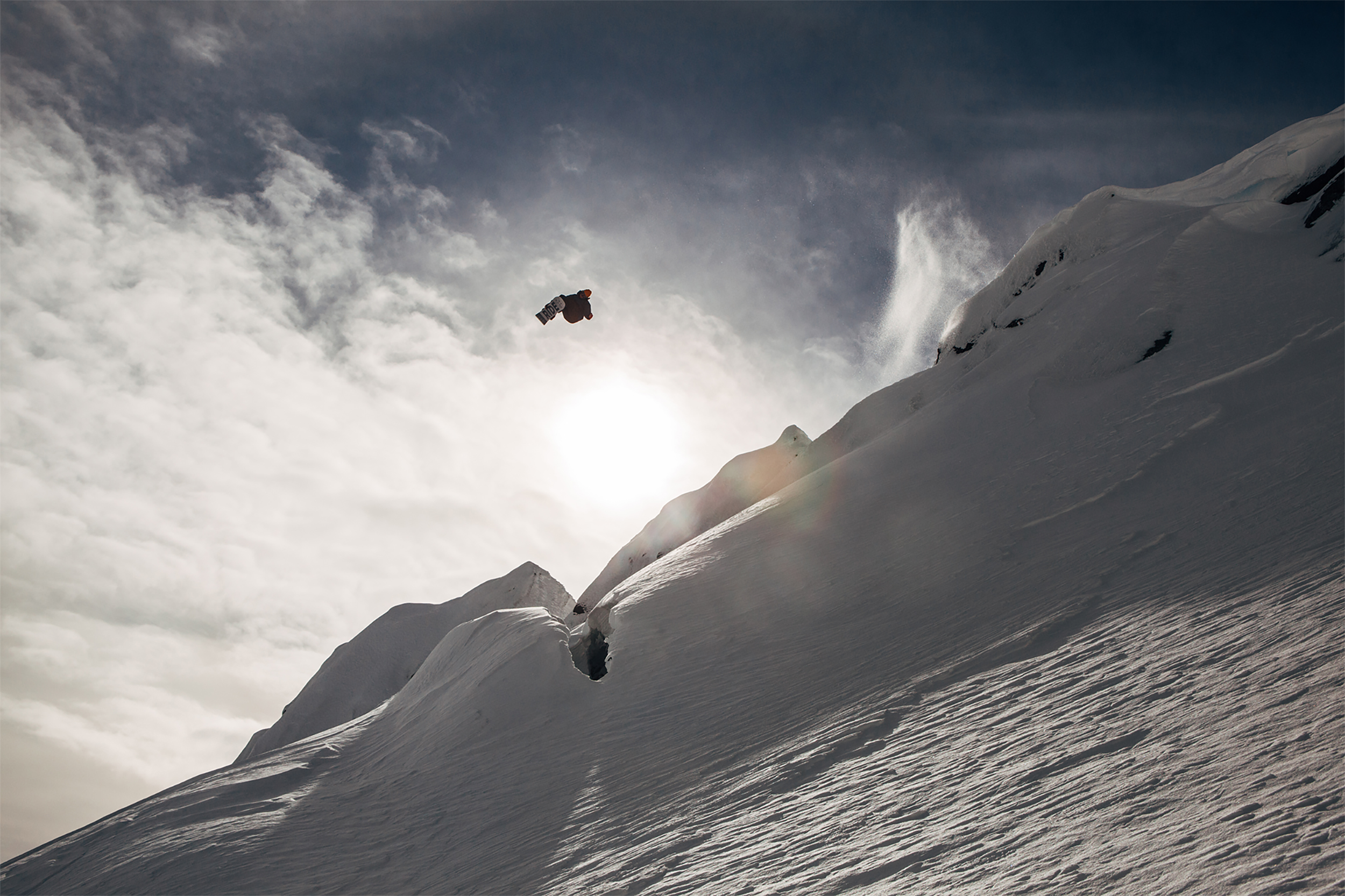 24. Johnny's showing us his favorite climbing movie. It's awesome but it's also 4 a.m. and we can't keep our eyes open. Thanks, Johnny. Passing out.
25. Mission to the Ridge! Mission Ridge. Border was a breeze. Still didn't ask about the dog. Still surprised.
26. Slept in a Wal-Mart parking lot. Ralph is pumped. Breakfast burritos. Went to ride the tow-rope park and ran into the Jetpack ladies. The guys did not want to leave the rope tow. I need to get them away from the rope tow and up to the bowl park. It's the whole point of coming here and we aren't even filming in this park. But I don't want to push them and make it feel like work. Trying to stare them all down super hard to get them to move. Shaun and Danny are not helping.
27. Made it to the Bowl Park! So rad. Eric Baker and the park team made something so cool and unique. I brought the last six pack of Montuckys up and opened one while I watched the guys ride. Really cool lines coming out of this.
28. Watched the sun set on Mission Ridge. Rode down after lifts closed and hung out in the parking lot outside the RV 'til it got dark. The city near Mission Ridge is weird, but this mountain is a sweet spot. Definitely need to come back.
29. Left The Ridge. Driving home. It's a long haul. Taking driving in shifts. I finally get to take a break after driving the first stint so I can wake up again and take the last one around 3 a.m. Hoping I don't roll out of my bunk bed.
30. We made it. Back in Portland in one piece. I can't believe it. I can't believe this worked. Holy shit. Time for a nap.