Time for Service Dome Sessions
Recap video + Interview with Kas Lemmens
Video: Tim Schiphorst & Marco Morandi.
Interview & Photo: Theo Acworth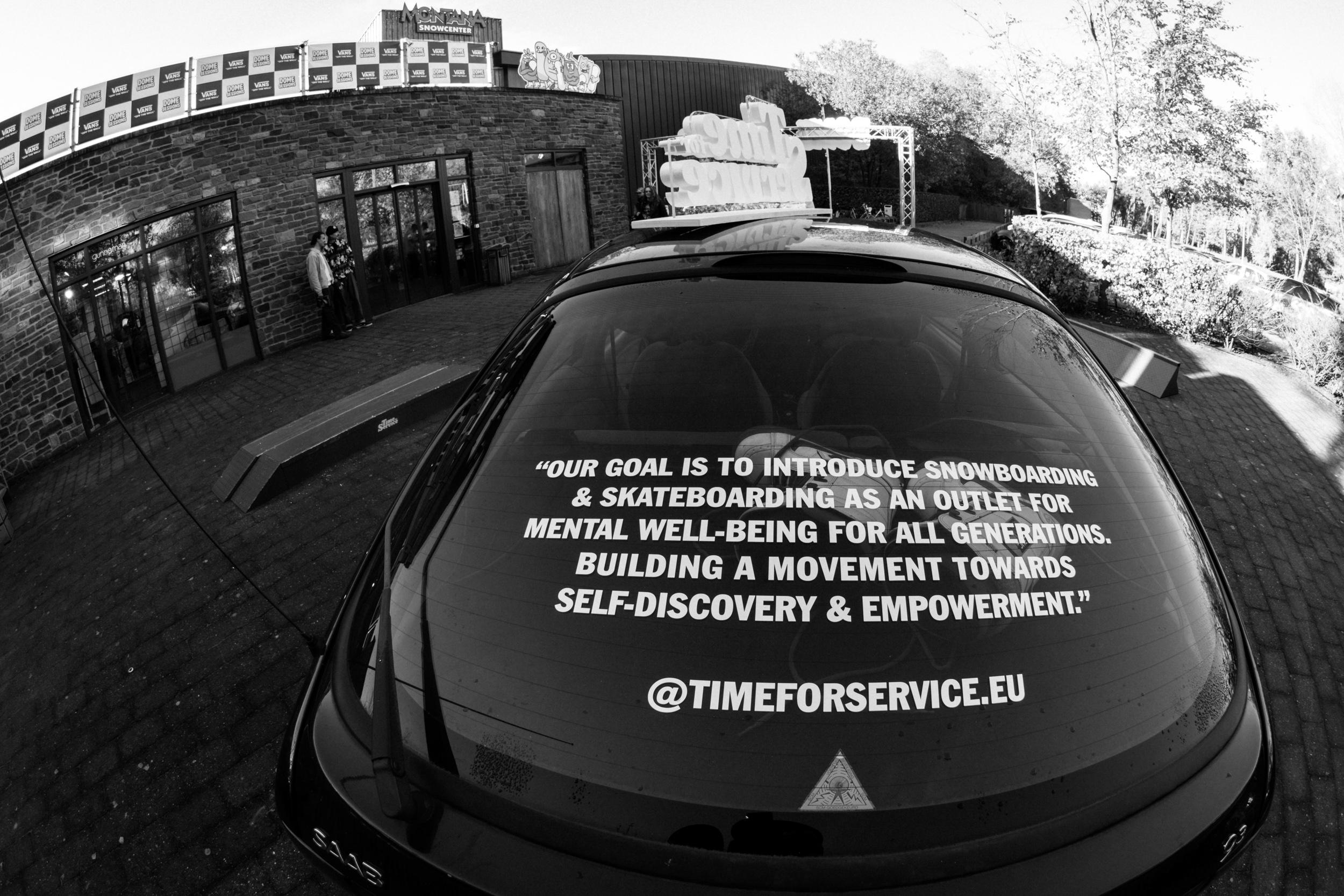 What was the motivation for starting Time for Service?
The motivation came from going back to what made me excited about skateboarding and snowboarding in the first place. Just being out there (or in there, in the Dome) with your friends. Just discovering how to do tricks and also discovering who you want to be and who you are as a person.
What were your goals with Dome Sessions?
To start with, I really wanted to have an event for the BENELUX scene to just come together and enjoy snowboarding. There hadn't been too much going on in that area for the last few years. We didn't want to make it a competition or anything, just something where everyone can have fun, and everyone feels welcome. Just getting everyone excited to go and ride together and hang out. It's been a while since we've all seen each other, so I just wanted a way to bring people together and not divide them by having a contest or a schedule or anything that would split them up.
The second goal was to show anyone that hasn't had anything to do with snowboarding that it could be a really fun activity for them to try. Just to be able to step into snowboarding and interact with our scene straight away and see what our community is like. So on one slope we'd have the workshops, and on the other you can see the people who can already snowboard and see how much fun they're having and how they communicate and interact with each other. So those were the two goals we wanted to blend together. Also the living room space helped that. Showing a bit of history and culture of snowboarding. Showing that it's not just an activity, but also something you can bond over through videos, art, photos, or even playing video games. Just showing that snowboarding is wider than the act of just doing it.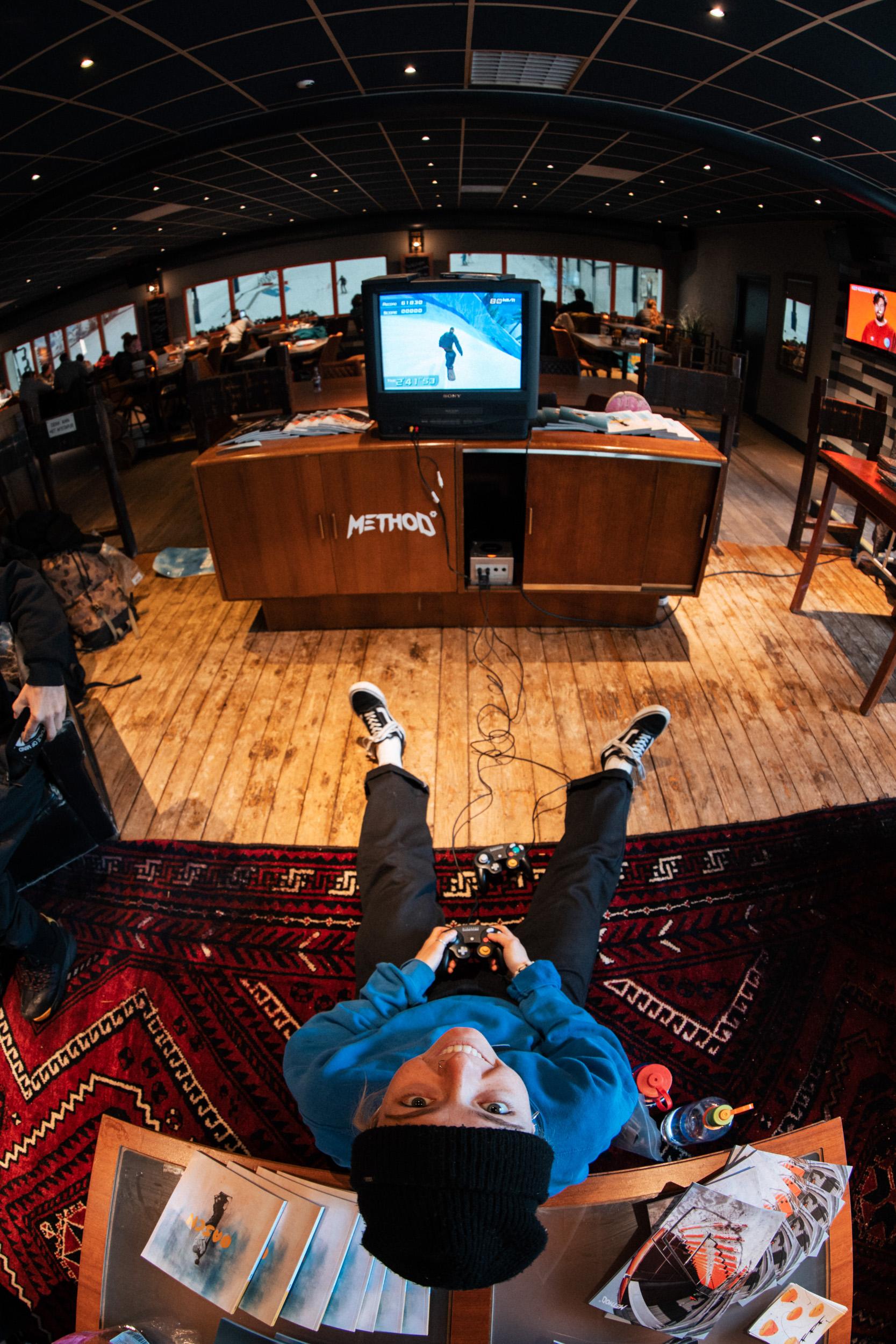 Are you happy with how it all went?
I'm so hyped and I've only got positive feedback. I'm happy that everyone was happy. We were maybe a little bit ambitious. I was going back and forth with Tan Lang from Vans and we also had a lot of help from the team and Bruno Rivoire. We definitely had a lot more to cover than I realised. I'm glad we managed to pull through.
And we also got to turn you pro! Finally.
For me that was the best timing that could have happened. I found out that it was supposed to happen earlier at the Hexagon premiere in Innsbruck but the board got stuck in customs *laughs*. There wasn't a single moment I was bummed though, I actually thought it was really fitting. Of course that's going to happen to me. I can't be turned pro because the board is stuck in customs *laughs*. I'm so happy that Josh and Joe came out and were super supportive of the event. We don't get to spend a lot of time together so it was really nice to be able to do that. I feel like I couldn't ask for a better graphic for a first board, it was really perfect. We actually had no idea that we'd end up bringing so much of the team there, it was a pretty international event. But at the same time was also had my girlfriend Rosa, my brother, sister and mum there, and my friends from my hometown. I didn't get to see them much because I was so busy all day, but it was so cool that they were they and could see how we did things. I'm so hyped. It was a really special day.
What's your relationship like with Montana and what does it mean for you to have had the first Dome Sessions there?
It means so much to me. I learned how to snowboard there. I was in the same class and the sons of the owner of Montana. Their dad was also really good friends with my dad. Because of that I've been walking in there for the past twenty years, sort of like their lost son *laughs*. Even if I forget my pass, it's always fine. No one asks. I feel like a house cat. I'm not around much in the winter, but whenever I walk in it's always the same and so nice. They've been so supportive with the whole event. I really couldn't have thought of a better place to do it. We grew up without a park or any shapers or proper setups. We learned to snowboard on pvc pipes. To make the features more interesting we'd get empty 5 litre buckets of mayonnaise from the restaurant upstairs and put it under the pipes, so we'd have an up-rail *laughs*. That was our way to build features.
Very Dutch, I like it.
So I can really relate to the Yawgoons videos. It's always been so DIY. We didn't have a park team, so if a takeoff wasn't shaped properly we'd either give it an hour's shaping, or usually we'd just decide to ride it like it was *laughs*. That's how we grew up snowboarding. So I wanted to take that aspect and give that to newer kids too, just showing how fun it is to ride pipes. Rails are only accessible for a certain number of people, but a pipe is only 20cm from the ground. It's really accessible, but can also be challenging and fun for more advanced riders.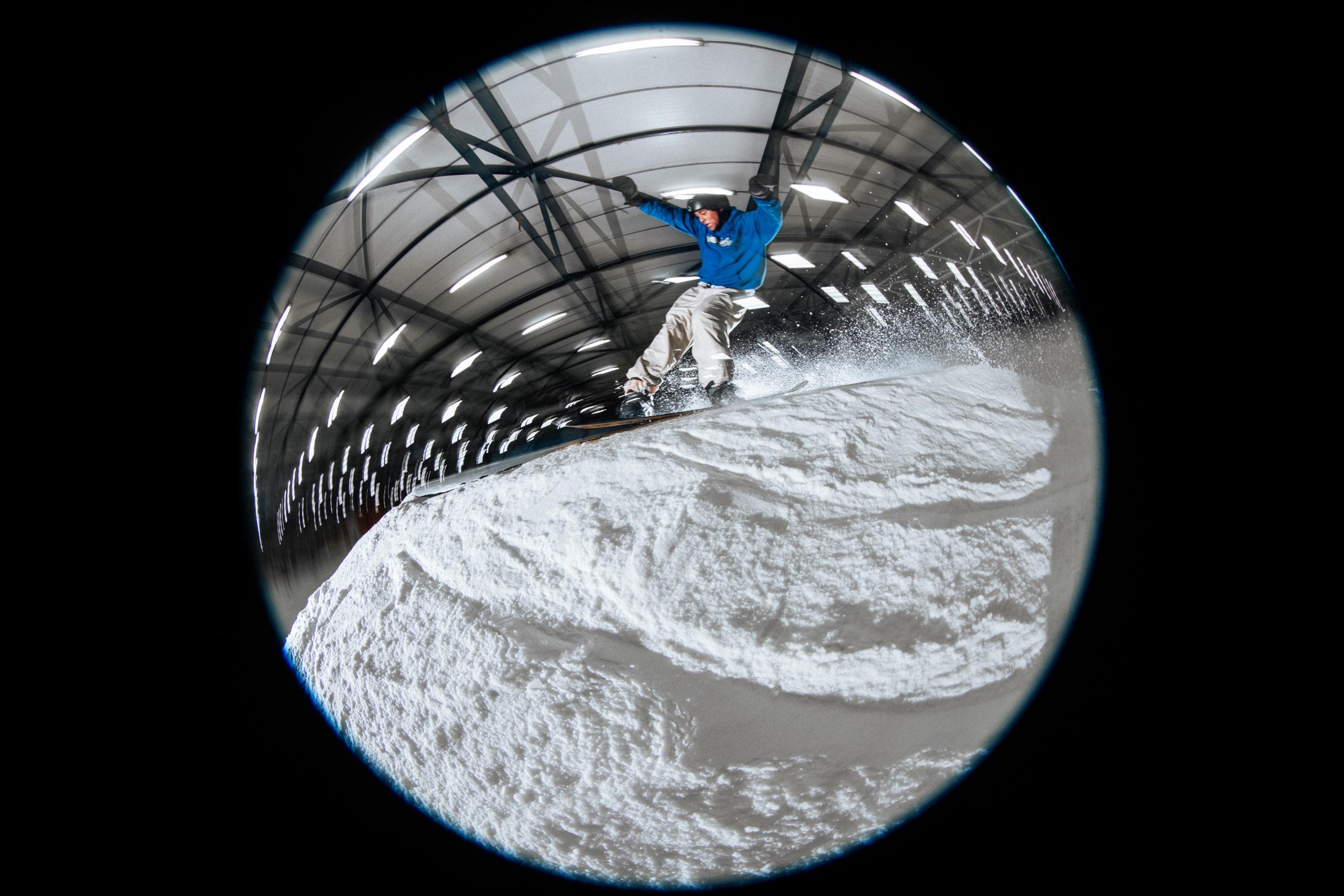 What's coming next for Time for Service and Dome Sessions?
Well this was kind of the introduction for Time for Service, and I wanted to focus on bringing the community back together and also bringing people into the community. I think I want to focus on that a bit more, helping new people to try out snowboarding and see if they like it. So I have to think of some plans for that. Winter is at the door so I'll be a bit occupied with trips, so I'll be planning some events for the summer. It's nice that we can do that here, just go riding in summer. I also really want to also help find ways to bring attention to mental health and mental well-being for the people within snowboarding. So I have a lot of things in my head, I just need to get them out there.
Well it seems like it's started well, and we really look forward to seeing where it goes.
Major thanks to everyone who helped and supported the event. Vans, Public, Montana, everyone. I really couldn't have done it without the help of the people around me.