Joonas Eloranta Full Part + Interview
Joonas Eloranta has been one to watch for a while. He's pleasantly graced our screens with plenty of video parts over the years and has a super smooth style that few could hope to emulate. Now, he's been able to combine all his footage from the last season for a full part, which safe to say, is on the money. Enjoy the part below these ramblings. At this point in his already well-decorated snowboarding career, it made sense to find out more about Joonas and his endeavours so we hit him for an interview too. He explains how he came to film a full part, the Snackbreak crew that helped relight his fire for filming in the streets, as well as his adventures in South America, and more recently, filming for the Stinky Socks team movie. Having recently signed with Deeluxe boots and Airblaster, the opportunities for Mr Eloranta are looking great, and we can't wait to see what he comes up with next.
You spent all summer travelling around South America. How was that? Where did you go?
Actually, it was fall but yeah I did and that was one hell of a trip; four months in five countries from late August until Christmas. We basically just booked flights to Ecuador and return flights from Nicaragua without planning it out too much. Our plan actually was that we'd google some stuff and ask from people we'd meet in hostels for recommendations and then we'd just improvise. Somehow it worked out since we're still alive, happily together and many great memories richer!
So we ended up going through Ecuador, Colombia, Panama, Costa Rica and Nicaragua by buses or even by hitchhiking so it definitely was a real low budget backpack trip. Culture-wisely Colombia was our all-time favourite but surfing-wisely Costa Rica offered the best waves to practice holding breath underwater haha! And I even picked up some Spanish there too, which I'm really happy about!
How long did it take to film this full part?
I started filming early January with Artem Smolin and I did my last trip with Postland boys to Kiruna in mid-April. So it took roughly three and half months to film everything and I'm actually sitting on too much footage. Sounds ideal but it's not as many of the shots probably won't end up anywhere. Luckily Deeluxe hooked me up just recently so we used some of those shots for the introducing edit, which was really nice. Thanks, Flo, you're the best!
Where were you mainly filming?
I tried to film as much as possible in Helsinki since it's the gold mine for spots but we didn't get much snow so I'd travel here and there in Finland and a bit in Sweden too. I guess the most productive cities after Helsinki were Kuopio and Jyväskylä, although sometimes it felt like such a struggle to find anything fresh from those two cities because everybody goes there.
You've had a lot of footage in a few different movies, was it hard to decide which shots to keep for this?
Since Tommi from Snackbreak was really busy most of the season, I was kind of forced to find an alternative to stay productive. Luckily our paths crossed with Anton and couple other filmers so I was able to film by myself. I actually wanted to spread my shots around more because it's always nice to see your stuff in different projects and then, later on, I'd just release a full part with the best shots included.
You nearly gave up with filming at one point, who helped you get back into it?
Yeah, I've had my ups and downs. I've always been into filming street stuff since my first full part (2007-2008) but I never really belonged to a specific crew so I'd just try to make stuff happen by myself, asking homies to kick it with me and I did that for years with various crews and projects. It was definitely a learning process but eventually, I just felt so burnt out because I just wanted to film videos but I was obligated to do too much stuff I didn't know how or didn't want to do, you know. I was getting older and I was so over it. I was like fuck this shit, I'll just keep riding in resorts.
That was around 2014 when my buddy Tommi returned from Canada to Finland and he had set up a crew called Snackbreak. He had made a plan for winter 2014-2015 and asked me to join for a trip with Lucio and Andy to Kuopio and so I did. And that trip gave me the spark again when all I had to do was just ride and occasionally film homies. So we filmed the whole winter together and our movie Honyos became surprisingly successful. I had the opener in it and I felt so happy. After the movie, I started to get a tiny bit more spotlight and that ambition hit me again; this is exactly what I wanted to do! So it was pretty much Tommi who gave me an outlet to keep filming without stressing too much about it and from there on I've just been doing it like the Finnish flash Teemu Selänne - one more year and then let's see what happens. It's crazy to think that I'm soon turning 29 and I'm still able to do this shit and I'm having mad tons of fun! And I'm beyond grateful for Tommi for everything because I know it's shitloads of work that he's doing with Snackbreak.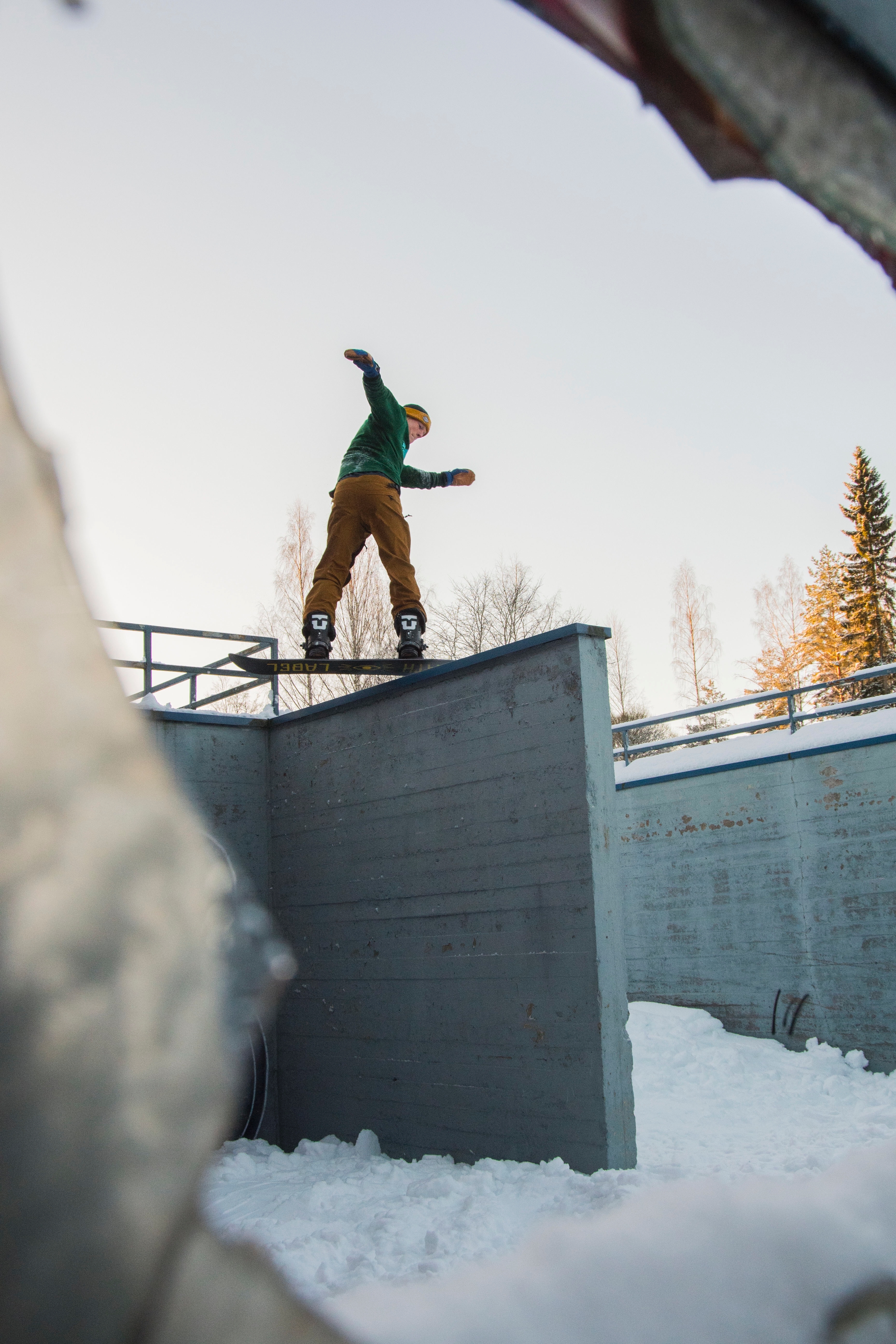 So, you filmed a bunch with Postland Theory last winter. How did you get to know that crew? Tell us about some of the trips you went on with them?
That happened pretty naturally I'd say. We were going to the Alps with Antti Jussila for preseason boarding and Tim Schiphorst hit Antti up to join for their annual premiere tour and because of Antti, I was able to tag along somehow. I didn't really know anyone before but it didn't take long to realise they all were super friendly and nice people. Then a month later I went to Holland for Rock a Rail and that weekend we really kicked it together with most of the Postland guys. Fast forward a month or so, Artem hit me up early January asking how's the snow situation in Finland and I convinced him to come over. Two days later, I ended up accommodating Artem and helping him to get clipped up for Stairmasters and Postland projects and I managed to log few shots in between for myself too. Then Artem left and Jesse came in with Marco so I just kept filming with them for another week. Then it was quiet with Postland for couple months until Jesse asked me if I wanted to do one last trip to Kiruna mid-April. I hesitated a bit I must say, because I had kind of "quit" my season already and I was working more but I thought it'd be nice to get couple more shots for Postland movie so I tagged along with Jesse and Marco for one last trip, which turned out to be pretty intense one.
What happened in Kiruna with Postland?
We started off by setting up this legendary gap to flat DFD with Jesse and man we both ate shit that day. Jesse ended up coughing blood after couple tries and I caught my heel edge to that flat part three times in a row, flying on my back from rough two meters. Literally fucking three times in a row! Eventually, I got my trick dialled there but we both felt like trainwrecks after the first day, which is definitely not the way you want to start your filming trip. Next day we'd go to this double rollercoaster chain rail, which Flo had tried the year before, ending up getting beaten by the rail there. I embraced myself and felt like alright, let's do this shit. So, we'd set up the spots and I'd try it for some time and I almost actually made it. Since those chain rails are somewhat unpredictable, I had this feeling in my forehead that it's either gonna go well or straight to hell. Couple minutes later I caught my edge, ragdolled the stairs and hit my head on this stone post and got a nice seven stitches souvenir from Sweden. With the stitches and bruises, I was forced to take it more mellow because I couldn't sweat or keep a hat on for the rest of the days. Somehow it worked out though and I think I got clipped up every day from there on. So by the end of the day, it actually was an alright trip!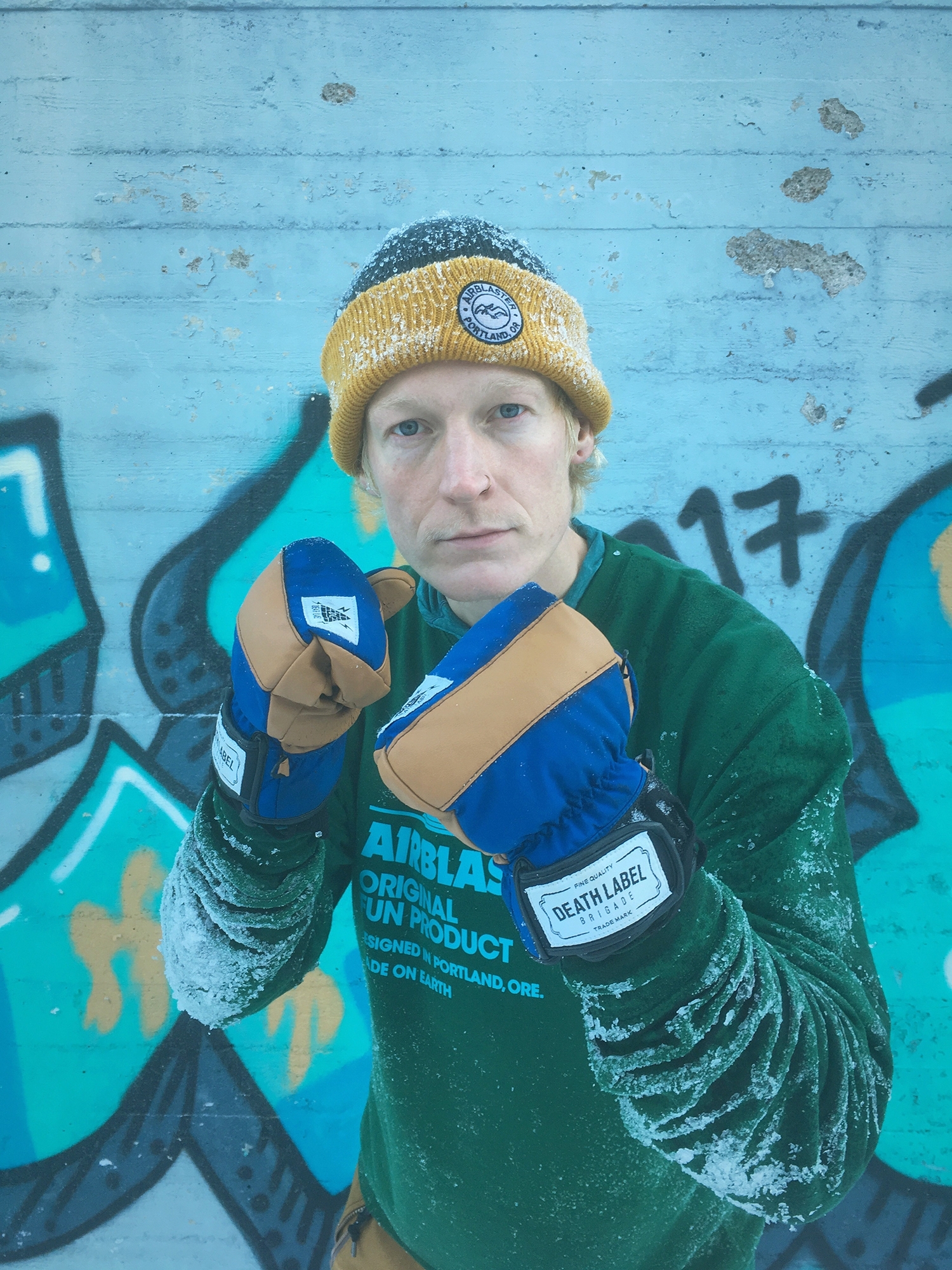 You're currently filming for the Stinky Socks movie. How is that going so far? Where have you been and where will you go?
Yeah, that's one of the projects I'm doing this year. Risto and Dimo, the owners of Stinky Socks hit me up around half year ago that they want to make a team movie this year, solely filmed in Bulgaria within two weeks and the whole team would be there. Obviously, I was down since they have some of the sickest guys on their roster and going to new countries with locals around is the best way to explore new cultures. So as we're doing this interview, I'm actually already flying back home but we had the sickest two weeks there! Snow situation wasn't that good so we were forced to drive up to the mountains a lot but the vibes were still really positive and everyone was working hard to get as productive as possible. We also partied pretty much every second day so that was the hardest part for me, having a slight hangover every second morning but still trying to get stuff done. The funniest part is that I don't even drink that much, especially when it's winter, but somehow that "Bulgarian way" actually worked out for me and I got clipped up pretty much every day. Shoutouts to Risto and Dimo for trying to ruin my healthy lifestyle haha!
Will you film a full part with Postland this year?
Tim hit me up and asked if I wanted to film for Postland this year and of course, I did, so Postland is my main project for this winter as the Stinky Socks team movie was just those two weeks in January. However, four months in South America, short and shitty preseason in late December and pretty much straight-to-the-streets mentality with Postland have taken its toll on me. I have no touch to my snowboard at all and it's already February... But I guess after all these years it's just a thing between your ears so in that term I've been doing alright and I guess I'll be fine as long as I stick with 5050s and boardslides haha!
Will you have any time left to teach at the Kindergarten?
I'm really lucky that I've chosen to become a Kindergarten teacher. We have this system in the city of Helsinki where you can reserve one-day shifts to substitute people from sick leaves etc and there are always open short terms shifts available around the city, some closer and other bits further away. So I've been substituting pretty much every day in between the filming trips to pay my rent and to make just enough living to get by. And when the snow melts, I'll usually try to find longer contracts. I love my job and I love the freedom that it offers to me.