METHOD MOVIE II TOUR DATES, VENUES & INFO
We're going on a European Tour to premiere our latest full movie....METHOD MOVIE II.
Method Movie II is a snowboard movie to be released in this fall, showcasing some killer riding in some crazy places. It's meant to be enjoyed with homies, to get you psyched on riding your board. So come on down to one of our premiere stops and get psyched for another winter of shredding!
Featuring: Dylan Alito, Len Roald Jørgensen, Max Zebe, Brady Lem, Flo Corzelius, Jordan Morse, Levi Luggen, Jye Kearney, Zebbe Landmark, Sven Thorgren, Sparrow Knox, David Djité, Roope Tonteri, DCP, RMB and Severin Van Der Meer.
We'll be starting in London, UK on the 19th October and hitting up a total of 7 locations across 7 countries. Each stop with have a big screen viewing of the movie, there will be giveaways, plenty of beer and pro riders from the movie to sink a few cans with, so you really wont want to miss out on your stop! PLUS ALL STOPS ARE FREE ENTRY! (No tickets needed, just show up). Find all the info you need on each stop below. Click the city for the Facebook event:
- 19th Oct LONDON, UK. VENUE: House Of Vans, Arches 228-232 Station Approach Road, SE1 8SW. TIME: 19:00. Presented by Vans.
- 20th Oct SOFIA, Bulgaria. VENUE: Club Mixtape 5 A-Side, Bulgaria Blvd. 1, underpass "Gallery", 1000 Sofia, Bulgaria. TIME: 21:00. AFTERPARTY: B-side with Dj Pussy Ctrl. Presented by Ninja Squad.
- 21st Oct KRAKOW, Poland. VENUE: Srefa, Dolnych Młynów 10/2c, 31-124 Kraków, Poland. TIME: 20:00.
- 22nd Oct VILNIUS, Lithuania. VENUE: Kino Teatras "Pasaka", Šv. Ignoto 4/3, 01144 Vilnius, Lithuania. TIME: 21:00. Presented by Red Bull.
- 25th Oct STOCKHOLM, Sweden. VENUE: Bio Rio, Hornstulls Strand 3, 11739 Stockholm, Sweden. TIME: 20:00. AFTERPARTY: Debaser Strand. 22:00. Presented by Oakley & CHPO Brand.
- 26th Oct MUNICH, Germany. VENUE: Container Collective, Atelierstrasse Ecke Friedenstrasse, 81671 Munich, Germany. TIME: 20:00. Presented by Rome Snowboards
- 28th Oct INNSBRUCK, Austria. VENUE: Leokino-cinematograph, Anichstraße 36, 6020 Innsbruck, Austria. TIME: 21:00. AFTERPARTY: John Montagu
Watch the trailer here and get HYPED! :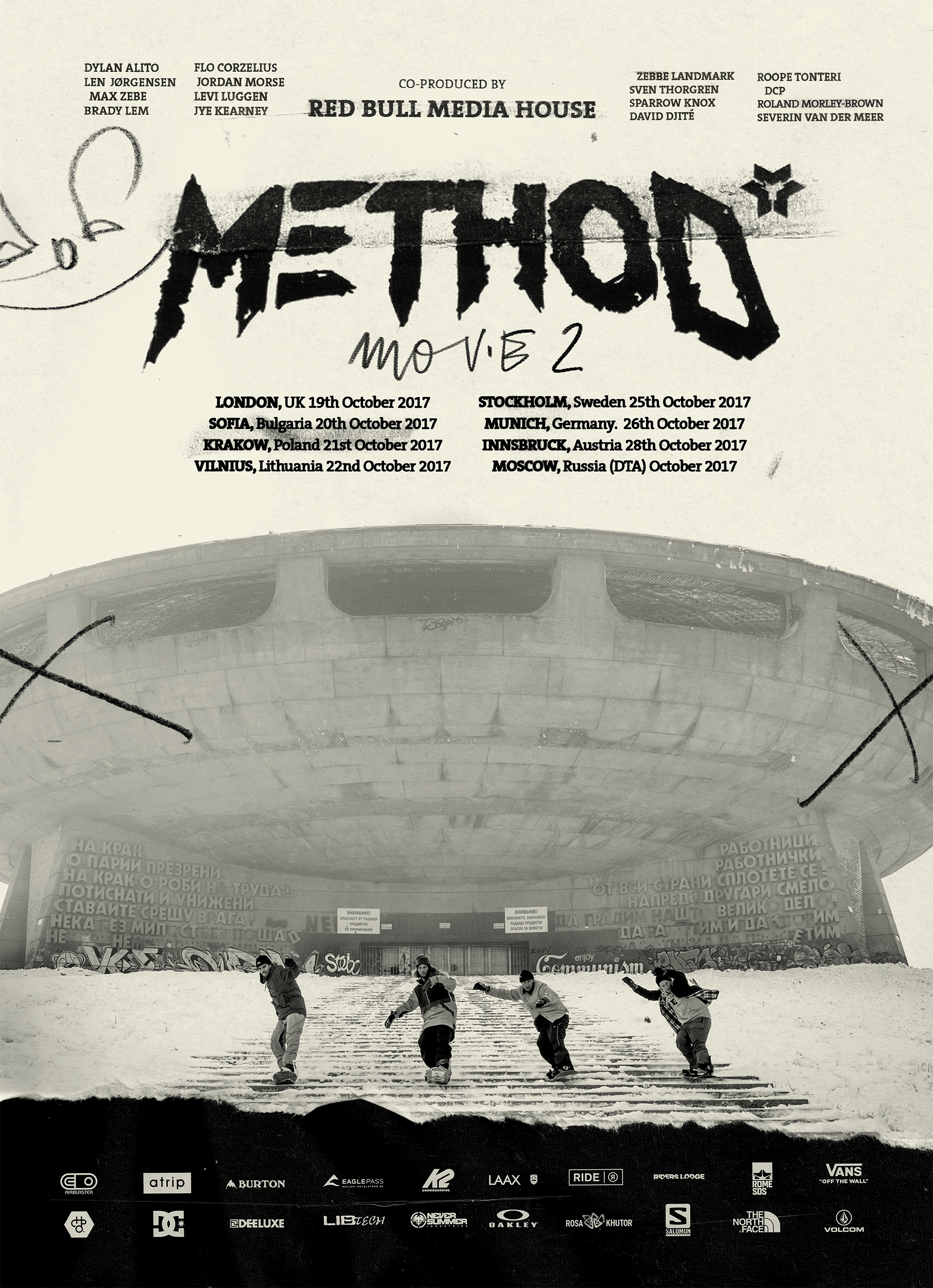 TAGS
Airblaster , atrip Apparel , Burton Snowboards , DC , Deeluxe , K2 Snowboarding , Lib Tech , Never Summer , Oakley , Ride , Rome Snowboards , Salomon Snowboards , The North Face , Vans , Volcom Brady Lem , David Djite , DCP , Dylan Alito , Flo Corzelius , Jordan Morse , Jye Kearney , Len Jorgensen , Levi Luggen , Max Zebe , Roland Morley-Brown , Roope Tonteri , Severin Van Der Meer , Sparrow Knox , Sven Thorgren , Zebbe Landmark