Joonas Eloranta "It's Not You, It's Me" Video & Interview
Joonas has been throwing it down year after year in the streets and well, the truth of it is, the winters are getting tougher, with less snow falling in the streets and tighter purse strings from the snowboard industry to make it possible, and well Joonas ain't getting any younger ;). So this video "It's Not You, It's Me" is his last big push producing a video, a reason to go all out! Don't worry, he's not hanging up his boots for good just yet, but you may find him lapping Talma Glacier more than stacking clips in the streets. We caught up with Joonas to tell us more about this video project and his decisions on life ahead. Enjoy the video and check out the interview below.
Interview by Theo Acworth (printed in Method Mag Issue 21.1)

Tell us about this project:
After the Postland video (ZZZ) came out, I thought I'd like to do something of my own. I reached out to my sponsors and asked if they'd be able to support me with some filming budget to make a movie but it didn't work out. I just thought fuck it, I'm going to do it nevertheless. Then I got hurt right in the beginning of winter 18/19 and pretty much missed the best snow conditions in Helsinki, forcing me to do a couple late season filming trips to snowier cities. After that season I was sitting on roughly ten clips plus homies' footage and decided I'll do another year for the movie and hope it'll be more productive. Turned out it wasn't. In fact, it was the shittiest winter I've ever witnessed and then there was the corona epidemic. However I managed to do two luckily very productive filming trips and that was pretty much it. I knew I was going to use Paolo Nutini's Iron Sky for the soundtrack and after the second season I realized I have just about enough footage to make it a whole so I just started editing, and pretty much edited the whole summer.

The title 'It's not you, it's me' came naturally. It's basically my cliche way to "break up" with filming video parts. As much as I still enjoy snowboarding and filming, producing a legit video part has just become so difficult due to many factors. Winters are getting shittier year after year which means one has to travel to film, and to do so even semi professionally, it costs a lot of money to buy a camera, snow tools, car and gas, hire a filmer, rent airbnbs and so on. I'm 31, married to a mortgage loan and definitely not getting any younger nor becoming a professional snowboarder. Also most of the friends I'm used to film snowboarding have sort of faded away and pursued their dreams elsewhere. It's just the harsh fact that I honestly don't have the resources to keep doing this in a standard I'm used to. But don't get me wrong though, this isn't a bitter story. I've been very privileged to be able to do what I love for so many years. And I'll definitely keep snowboarding until my legs won't cooperate no longer, just with a little bit more natural approach from here on!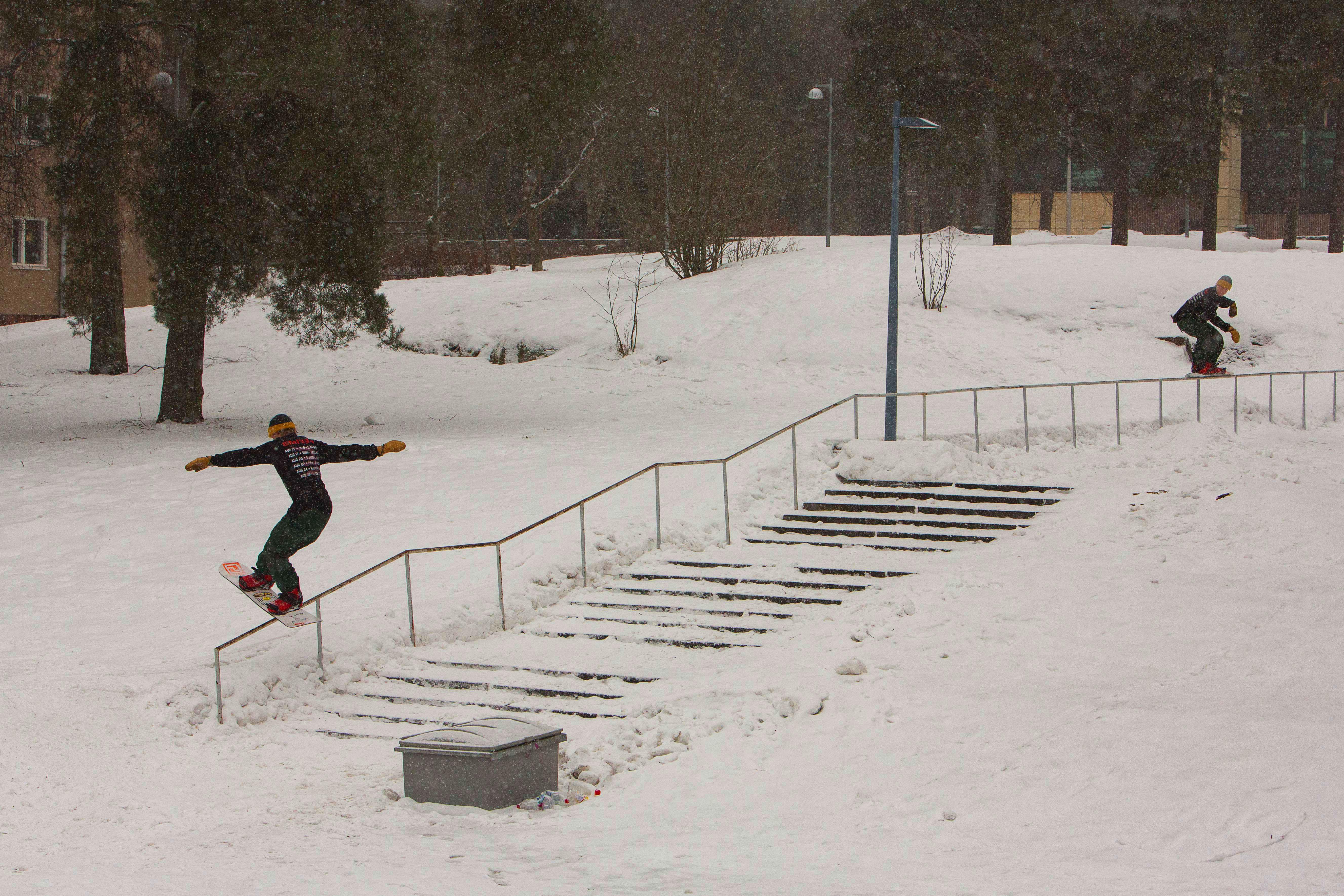 Are you happy with how it turned out?
Considering I'm pretty much just a novice with Adobe Premiere, I'm happy how the video came together with the song, cut, animations, details and everything. I got some help from Mikko (Kempas) and Risto (Järvelin) regarding the cut, like what works and what doesn't, and that helped me to see everything in a bigger picture. Mikko also did the animations. Don't ask how many hours the editing took me though hahah... But honestly speaking, I wish the past two winters could have been a little bit snowier to get more stuff done but global warming and injuries are a real deal. No joke!

Did you plan on this being a 'goodbye' video, or did it turn into that during the filming process?
Like I mentioned above, over the last couple years I've noticed how many great friends have gotten older and naturally faded away from snowboarding and especially the filming part of it.. So making something a bit more remarkable for myself and then quitting with my own terms became a thing some years ago. Originally this project was supposed to be a casual one-year video with some of my homies but things went differently. I think during summer 2019 I sort of decided that alright, I'll just keep filming as long as it takes to have enough footage for the video and then call it a day, and that decision just stuck around.

What do you do for a living, and how does snowboarding fit around your life?
I graduated from university of Jyväskylä in 2014 with a bachelor in early childhood education, so I'm a kindergarten teacher. Currently I work with 2 to 3-year-old kids in a local kindergarten, just a couple hundred meters away from my home and it's great. It's incredibly rewarding to spend time with kids, watch them growing and see them learning new stuff everyday. I've been really fortunate to have a chance to negotiate part time contracts since I graduated so for the past six years I've just worked more during off seasons and done a couple shifts a week to pay the loan during the winter months. I'm really lucky to be able to have both worlds.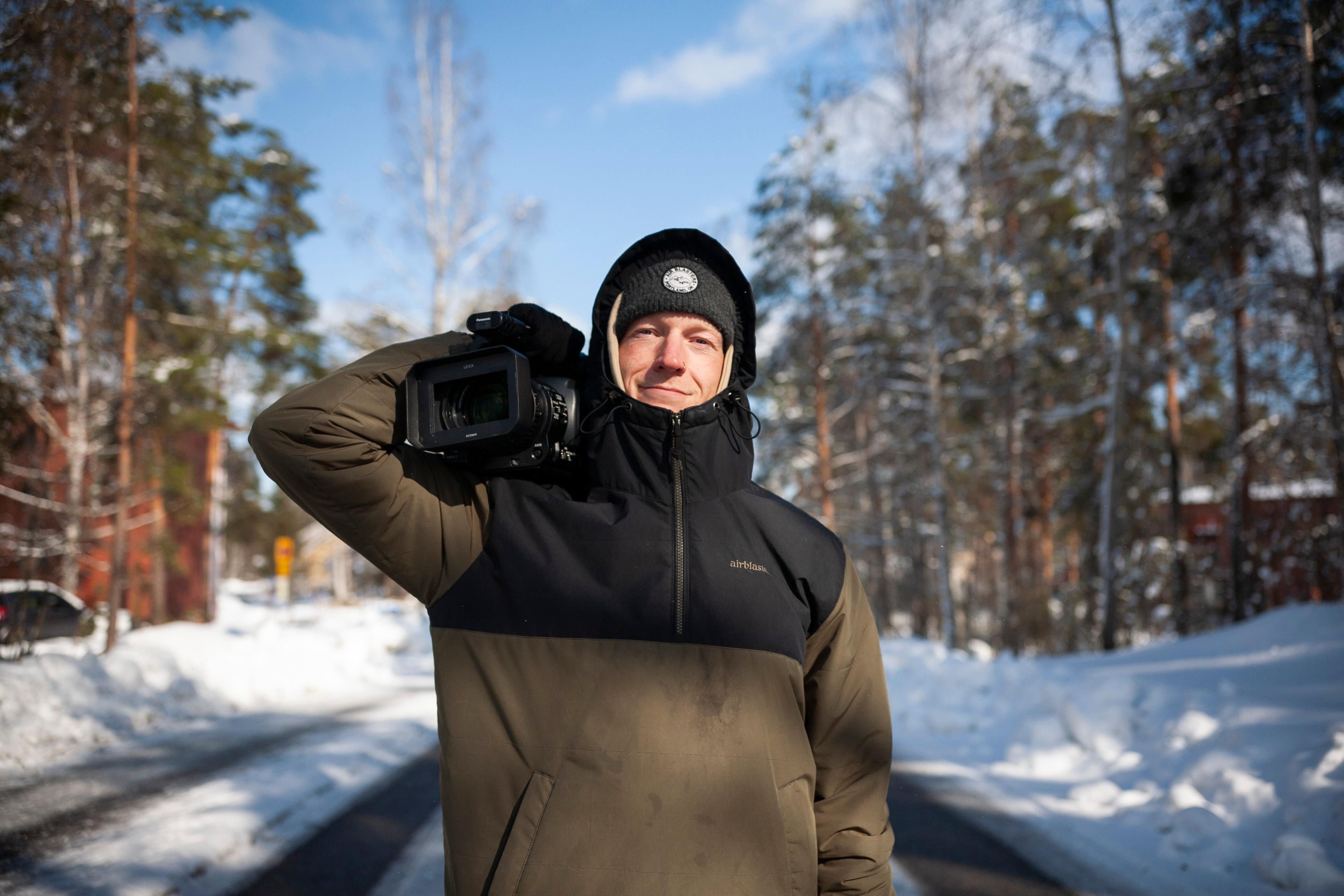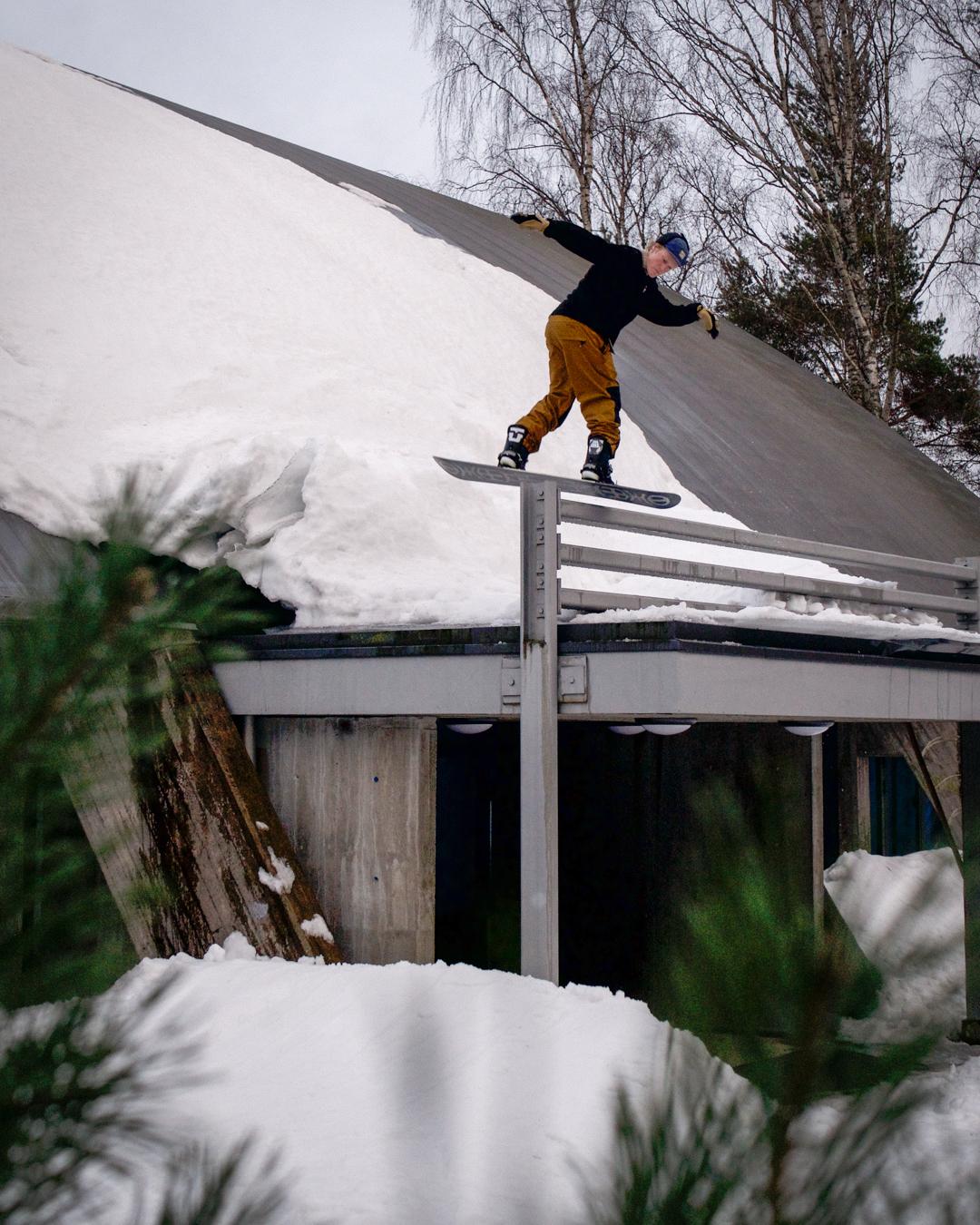 Did you enjoy the process of making the zine?
I honestly loved it, each of its 24 pages! I wanted to make it small, shine a bit more light around the movie and donate all the proceeds to charity. And people seemed to enjoy it. I do have to say it's definitely a tough job to produce a magazine with quality content, but I got help though. Mikko Kempas did the layout, Risto Järvelin gave the photos and artistic perspective and Aino Huotari did proof reading. Thank you so much Mikko, Risto and Aino!

Where can people get it?
We only made 55 copies of it and they got sold out pretty quickly so don't think you'll see it anywhere unfortunately... But maybe I'll upload the .pdf file online one day, or maybe I won't. Right now I'll let the people who bought it have the privilege to enjoy it.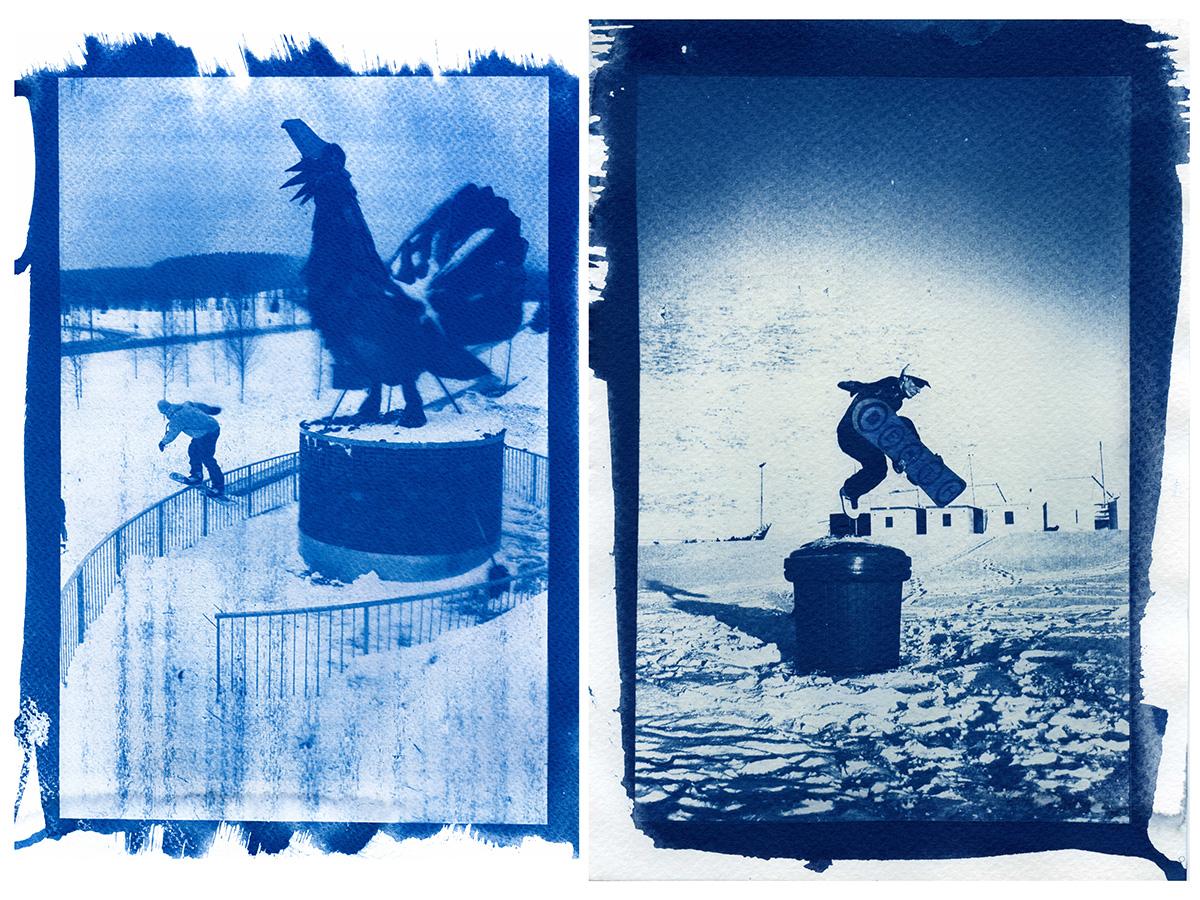 Will we be seeing you in the streets again? Or is this an official goodbye?
I don't know and right now I don't care too much actually. If it snows tons in Helsinki and things kind of happen naturally, I'm definitely down to film more but I'm not going to stress about it anymore. I'm just going to enjoy snowboarding without feeling the urge to constantly refresh the snow depth map and desperately plan the next trip. But I'll let you know if I have something to show hah!

Any shoutouts?
Everyone who helped me with this movie deserves a major shoutout. You're all a bunch of great people and I couldn't have done this without your help. I'm forever thankful for having a chance to make a movie, zine and this interview out of all the blood, sweat and tears I put into it. Also thank you Minna for being so patient with me. I love you.

It's not you, it's me in numbers:

Relationships broken within the time of filming: (1)
Relationships formed within the time of filming: (0)
Snowboards broken: (0)
Bones or ligaments broken (3)
Keys left inside a locked car: (1)
Filming days: (28)
Filming days in Helsinki: (5)
Years of trying to boardslide the triple down: (5)
Amount of HVXs used for filming: (3)
Kilometres driven: (4000)
Filming budget: (0)
Hours spent editing because of lack of skills: (666)