Lobster Boat Week - Interview with Asgeir 'Geiri' Hoskuldsson
Photo. Elli Thor Magnusson
Interview. Theo Acworth
The Crew:
Ólafur Kolbeinsson
Skipper, musician and owner of the Aurora Arktika operation
Geiri
Guide/Party Captain
Halldór Helgason
Boss man
Eiki Helgason
Boss man
Mark Wiitanen
Filmer and Low Pressure Studio marketing
Petter Foshaug
Filmer and Scandinavian bad boy
Elli Thor
Photographer, male model and Icelandic snowboard legend
Danni Mag
Icelandic old-school snowboard legend
Baldur Vilhelmsson
Lobster rider and Icelandic young-gun
Juho Laine
Lobster rider, every good party/trip needs a Finnish twist
Gulli Guðmundsson
Former pro snowboarder and member of the legendary Icelandic Team Divine crew
Hilli
LEGEND and also member of Team Divine

Hey Geiri, give us the lowdown on the trip.
I've been talking with Halldor for the longest time about doing this, but obviously he has commitments all over the world, and it never fitted in. Then COVID came along, which was a blessing in disguise for this trip. My friends run the boat company which is called Aurora Arktika, and they obviously had massive cancellations with no tourists. So they contacted me, and I told Halldor we should just book it and do a Lobster boat week with whoever was free at the time. We ended up with a pretty interesting crew of people from Iceland's snowboard history. Good friends and legends, and some of the old crew that I used to film with back in the day. It was a really good mix. Not your typical snowboard trip. Just a group of friends doing random stuff. So it fitted perfectly with Halldor and Lobster.
How long does the journey out there take?
It took two or three hours from Ísafjörður, which is the main town in the region. There are only 3600 people living there. Going by boat means you can get the best of both worlds. We would go ashore during the day and come back to the boat in the evening. So you can go out and play around all day, but then you have somewhere warm to go back to in the evening, instead of having to camp while wet and hungry.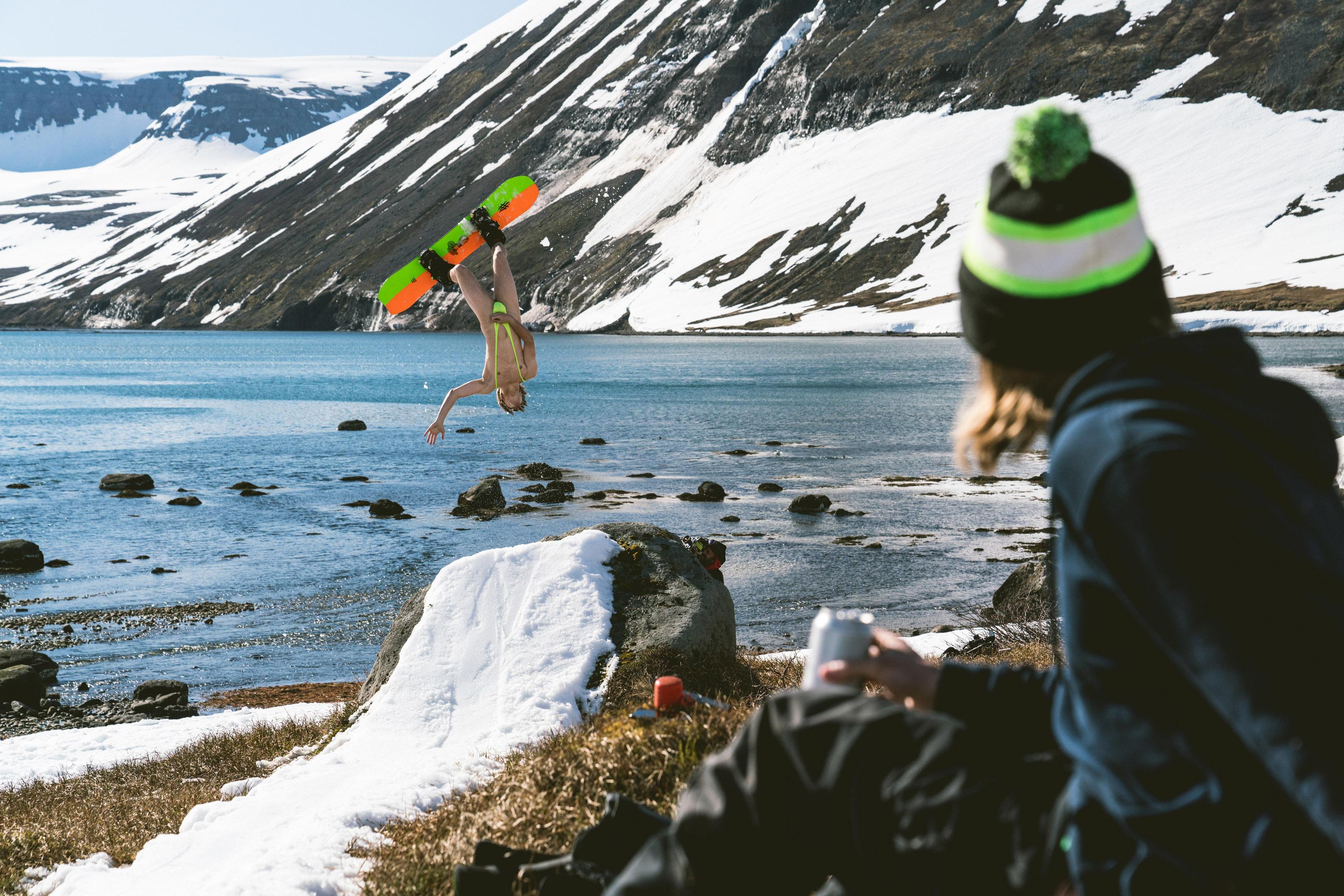 Had anyone in the crew done that kind of trip before?
Some of them had. But for most, it was their first time on the boat and also the first time going into this region. 99% of Icelanders have never been to this region. It's pretty unique.
Whereabouts is it?
It's in the Vestfirðir region, in the Hornstrandir Nature Reserve. The area has been protected since the 1980s. No roads are going into it, and it hasn't been inhabited year-round since the 1960s. It takes between three to five days from where the road ends on each side if you hike in. It's one of the most remote places in Iceland and even Europe. My grandmother was born up there in the 1930s and lived there until she was 8. So this place has links to my family's history. I also lived there for a couple of years. There's just something about the place. I feel at home there. There are also massive amounts of wildlife, arctic foxes and birds.
It sounds like you know it pretty well?
I've been taking people out to that area since 2006, but usually hardcore freeriders and splitboarders. So it was fun to take a group of people who looked at the terrain differently and just wanted to play around with these features. I knew that if I was able to convince Halldor and those guys to come that they'd be able to do so much. We were so lucky with the weather. It was 15℃ and bluebird for two days in a row. That just doesn't happen there. We also had snow from the peaks all the way down to the sea. The usual window for these trips is late February to late May, so we were right at the end of the winter season, but we hit the jackpot.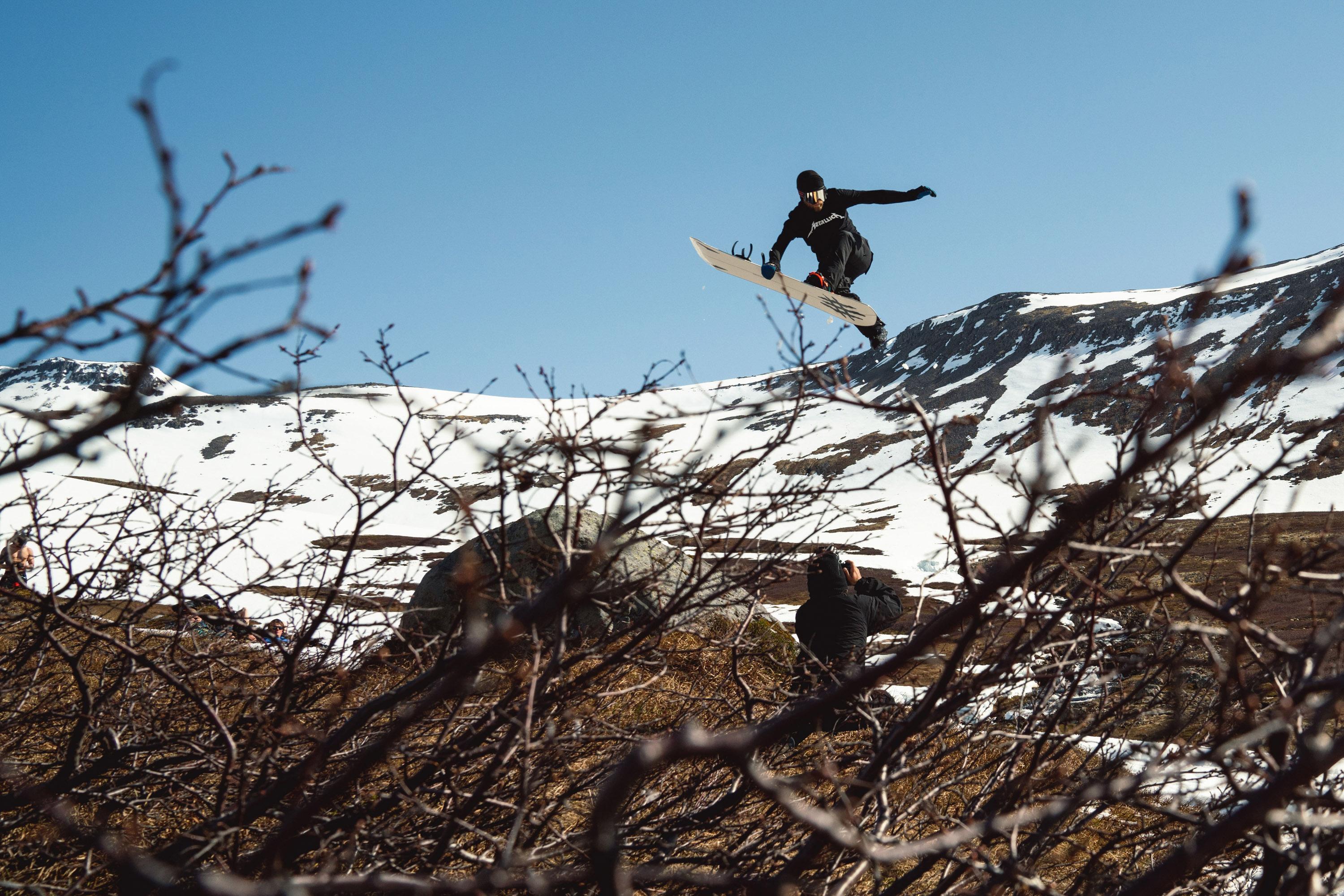 There are some tropical vibes in the photos. Not so much the landscape, but definitely the atmosphere.
The boys were jumping into the ocean, it's about 3-4℃, but it does almost looks tropical in the photos. I had sunscreen on, but I was massively burnt after the trip. My lips were so swollen. It looked like I'd had botox.
Gnarly! I love the photo of you floating in the rubber ring.
That's the Party Captain. He has to come out on the trip to keep people entertained. If the weather is bad on these trips, you can get cabin fever, so the role of Party Captain often falls into my lap.

"Halldor and Eiki have such a beautiful mind when it comes to snowboarding. I knew they were going places as soon as I met them."

Did you join in any of the sessions with the guys?
I had a knee operation in December, so my doctor and physiotherapist were not too happy that I was doing these trips this winter. I've never really been any good at that stuff anyway. I'm usually behind the camera or producing things, and just riding in my own way. I leave the tricks to the kids.
Was there anything that the guys did that surprised you? I guess you've known them for so long that maybe it's hard to be surprised.
I was really excited to take these guys because they have such a beautiful mind when it comes to snowboarding. They see stuff in features that other people or I wouldn't necessarily see, like building an in-run through a marsh for a random boulder down by the ocean. They're so dedicated. I still call them kids because, in my eyes, they still are. The amount of time that Eiki and Halldor put into setting up spots and nailing the trick perfectly, it doesn't come as a surprise that they've achieved what they've achieved in life. They work really hard and always have. It's fun that they can now pass the same thing on to Juho and Baldur and bring them along for the ride. Show them how it's done. A lot of kids grow up with aspirations to do what they love. For some, that's snowboarding or skateboarding or surfing. But I think a lot of people don't realise the amount of work that goes into it. You obviously have to have a shitload of talent, but that's maybe 40% of it. You also have to fucking work at it. Halldor and Eiki have been working at it since day one. I knew they were going places as soon as I met them.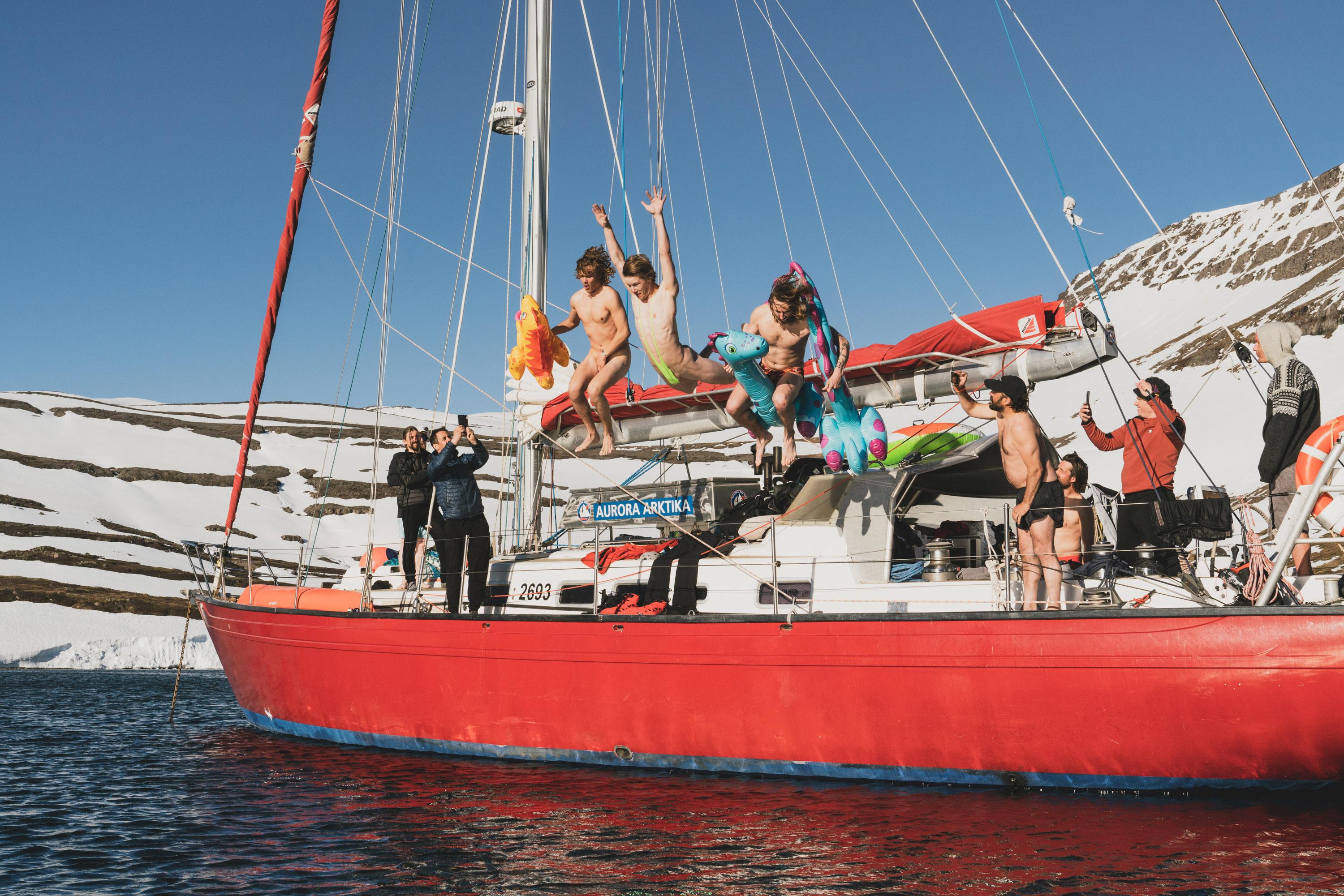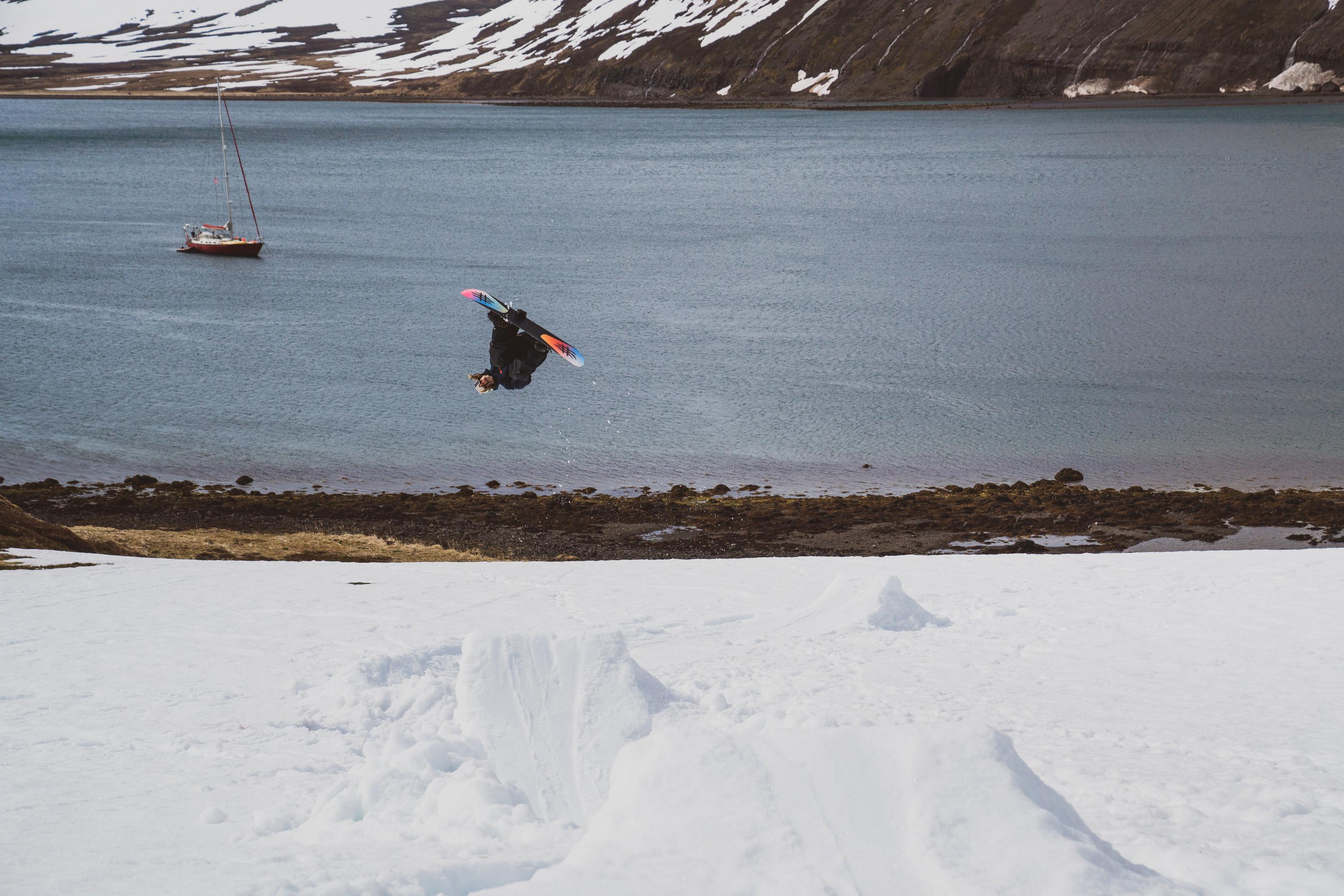 How old were they when you met them?
Halldor was 9, and Eiki was 14 or 15.
Was this the era with his pink hair?
Yeah.
What were your first meetings with them like?
I lived in France, England and Spain until I was 16, so my first experience of snowboarding was in the alps in the late 80s, and I fell in love with it. I moved back to Iceland in '94, and that's when I got into the Icelandic scene. Fast forward a bit to the early 2000s, I was just partying and snowboarding and doing what I wanted to do. I was freeriding a lot and doing my thing, and I'd always see these kids up on the mountain. Eiki and Halldor, Gulli, Victor and Ingo. They were always filming and building stuff. Somehow me, this 25-year-old, ended up riding and filming with them. Suddenly I was the adult in charge, so to speak. I don't know who put me in charge, that was interesting. We just ended up making and producing these snowboard movies together. It happened really naturally. They've always been super easy and mellow people, just really humble. If they're at a big contest or a tradeshow, Halldor will always give time and a genuine moment to everyone who approaches him. There's no stardom of fakeness to him.

"As long as we're all just out there chasing what we love doing and having fun, that's what matters the most."

Did you ever feel responsible for them as kids?
Oh yeah, definitely. I still feel responsible for them, like they're my brother's sons.
And now they have kids of their own! What's the snowboard scene like in Iceland these days?
It's grown since I first came back, but the population is small here. It's got the same trends as most places. The older snowboarders have got more into splitboarding, so that scene has grown the most. It's hard to maintain decent parks and jumps here because the weather is ever-changing. You might build something, and it would rain the next day. Iceland has become more sporty, there are clubs that have snowboarding within them, and you can 'train' snowboarding with national coaches. I think it's the same everywhere. There definitely used to be more mayhem back in the day. There were also fewer people, so everybody knew everybody. The scene is decent though, it's still close-knit, but there's more diversity, which is good.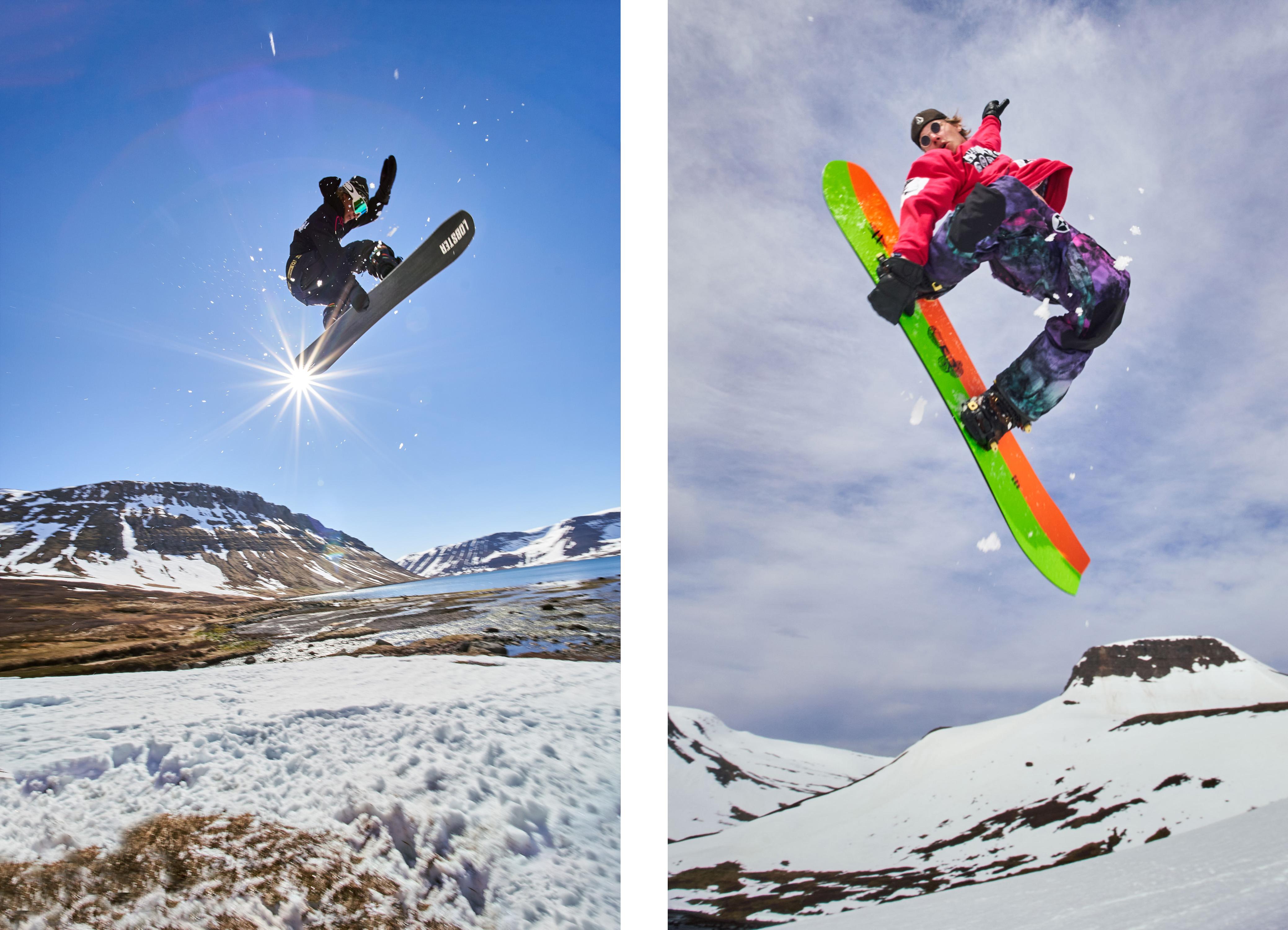 You've obviously been it for a long time, both as a rider and someone who's worked in the industry. How do you feel about where snowboarding is at the moment?
It's always easy to be nostalgic and look at the good old times, but now is the best time to do anything. Now is an amazing time to be alive. There's so much happening. There are so many technological advances, especially when it comes to backcountry stuff and splitboarding. That's come along in leaps over the last ten years. There's also more diversity. Snowboarding is more open. We all used to think that we were very open and inclusive, but it was actually quite a closed group of people that were doing what we were doing. Women really had to fight for parts in movies. So I'd say it's all moving in a positive direction. As long as we're all just out there chasing what we love doing and having fun, that's what matters the most. I have four kids now, so going snowboarding with them is my thing. It doesn't have to be the biggest or baddest conditions for it to be fun.

"His toe was actually sticking out of his boot."

That's it, just going outside and moving.
Exactly. I've been guilty myself of being too into the scene. Worried about what I was wearing and how I was acting. I don't know if it's me being more mature and more secure with myself, but I just love the people that go out there and charge and don't really care what anyone is doing or thinking - just doing things with their own style. Even if they're not sticking the tricks but are just going at it, that's what drew me to Eiki and Halldor. They were riding broken foam boards, and Eiki had his toe sticking out of his boot. I had all the newest Burton gear on, and they were leaps ahead in style and talent and just having so much fun. I'm not exaggerating. His toe was actually sticking out of his boot.
That's so good. It seems like they've really managed to put all of that attitude into everything they do, especially with Lobster. All of their riders are really unique and just love snowboarding.
Yeah. It's hard to keep it real and organic, but they've been able to do that. They have good people around them at the brand. They're all fantastic guys. I think Halldor and Eiki have just made a lot of right decisions over the years, without sacrificing any of their identity.