Natural Selection At Baldface - Chris Rasman & Robin Van Gyn Take The Win! Exclusive Interviews
The top action, camaraderie and behind-the-scenes strategy sessions from the second stop of the inaugural Natural Selection Tour, the Bronco Natural Selection at Baldface, are now available on demand as a highlight show on Red Bull TV. With the lines and video parts judged, Canadians Chris Rasman and Robin Van Gyn take the win in British Columbia. Both riders pushed the boundaries of backcountry freestyle riding to earn trips north to Alaska to compete at the HempFusion Natural Selection at Tordrillo Mountain Lodge super final and Model Year 2022 Polaris Snowmobiles.
A manifestation of Travis Rice's wildest dreams, the Natural Selection Tour's second stop at the Bronco Natural Selection at Baldface features six invited men and four women including Beau Bishop, Dustin Craven, Craig McMorris, Spencer O'Brien, Leanne Pelosi, Chris Rasman, Mikey Rencz, Marie-France Roy, Mark Sollors and Robin Van Gyn staking out and riding top-to-bottom lines in Huckleberry Bowl within the Baldface Valhalla tenure. The next two days riders worked in small teams to capture content for their video parts with veteran filmmaker Justin Hostyneck and other Canadian-based filmers. Two components, the line and video part, were considered with 70/30 weight by the Natural Selection judges, including Sandy MacDonald, Chad Otterstrom and Connor Manning. They scored lines on overall impression of the rider's chosen line and risk, flow and amplitude, creativity and tricks, and finally, control.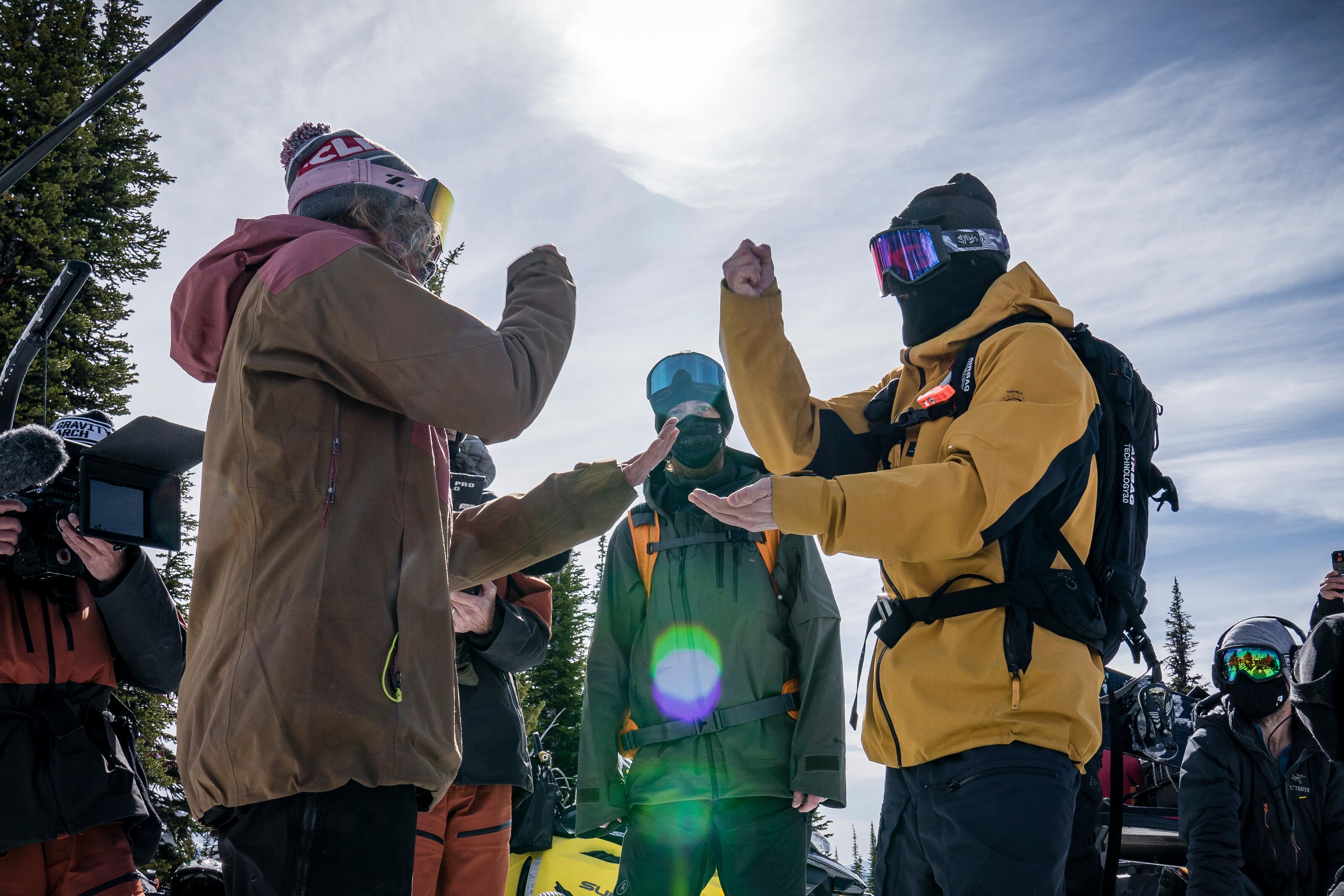 On day three, riders dropped into showcase lines of their choosing. Mark Sollors launched first with riders taking turns tackling their three runs. They navigated through a zone with a bit of everything from cliff bands and chutes at the top, to pillows and boulders ideal for freestyle tricks in the mid-section, and thousands of trees to slip around throughout. As in Jackson, there were no pre-runs, so all lines needed to be tackled on-sight.
The show broadcasted exclusively on Red Bull TV held viewers in suspense until the very end when the winners, Rasman and Van Gyn, were revealed in a video call with Natural Selection Tour co-founders Travis Rice and Liam Griffin.
Rasman cleanly landed his first run through the zone starting with a cab 5 step-down into a chute, followed by a stylish Miller flip and back-to-back backside and frontside 360s, topped off with a laid-out backflip at the bottom. Paired with his video part, this standout line locked in his win.
The other twice-invited rider on the Natural Selection Tour, Van Gyn, smoothly made her way through a pillow line at the top, nailed a handful of straight airs off cliffs and added a frontside 360 in her second run to secure enough of a lead to take the women's side of the contest.
We managed to get some video call time with both the winners Chris and Robin to get their reactions for the win and their personal experiences being part of the Natural Selection Tour.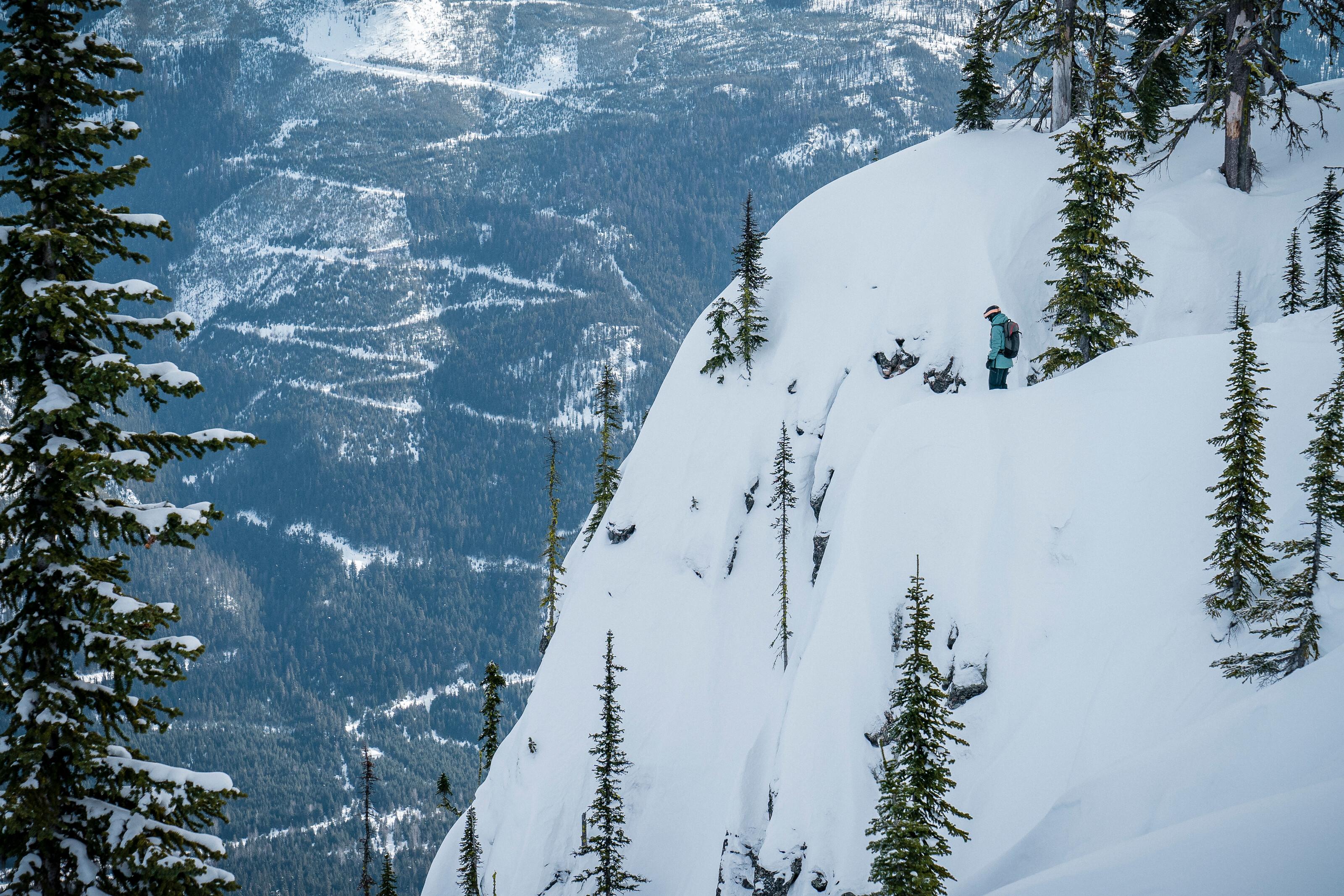 First up here's our chat with Robin:
Hey Robin. You had some of the most flowing lines in Jackson, as well as the biggest hits, but unfortunately it didn't quite come together for you. How does it feel to take the top spot this time at Baldface?
Jackson was a really good learning experience for me. I've never really competed before so this is all really new to me. I did one freeride content called the Cold Smoke in Nelson BC last year just to dip my toes. So it was harder for me because usually I get to ride until I get my trick, but this is all about the flow. You have to stomp, there's no room for error. Jackson was good because it taught me that maybe I need to dial it back a bit, just get a run in the bag and then build on my momentum. So that was my strategy going into Baldface. So when I showed up, instead of stressing, I just found something that looked really fun to ride and that I knew I could ride confidently and put down a good line, and I just rode that every single run. For it to work out how it did, I was over the moon. I just had a really good time and felt like I was just smashing runs snowboarding. It was sick.
We heard that you only had two days to film, instead of the planned week. How many tries did you actually get at your line?
It wasn't actually even two days. The first day was contest lines where you got three runs, doing sled laps. I did the same run every time with a bit of variation, just seeing what Mark and Zoi did, I did that at Baldface Valhalla. The film day was only three and a half hours of shooting. So everything that you see in the video was shot during the contest and then some clips in that small window the following day. It was a weather thing, it got really warm and was warming through the day, which is why a lot of the footage was in the shade where the good snow was, because everything else was just baked. Mother Nature throws what she throws, and you just have to make do.
So you got to choose which run was submitted?
Yeah, but I didn't actually choose. I was off-grid for five days after the event on a splitboarding trip, so I just told the guys to do what they wanted and choose the best run and my best footage. My fiancee Austen also stepped in as my point of contact. Justin Hostynek and Shane Charlebois from Absinthe did their magical thing, and it was great.
Were they your filmers?
No my filmer was Ryan Kenny. I actually ended up riding a whole different side of the course to everyone else, on both the contest day and the filming day. So I relied on the FPV drone, and that's so epic anyway. I was riding a lot of chutes, which are quite hard to film, but it just worked out. My GoPro footage didn't even make it. I gave all the cards to the media manager but he told me the cards were empty, but then I checked on my own computer and they were full. I had all the footage, but it was too late. I uploaded it to a dropbox but then forgot to give people access, and I left and went camping.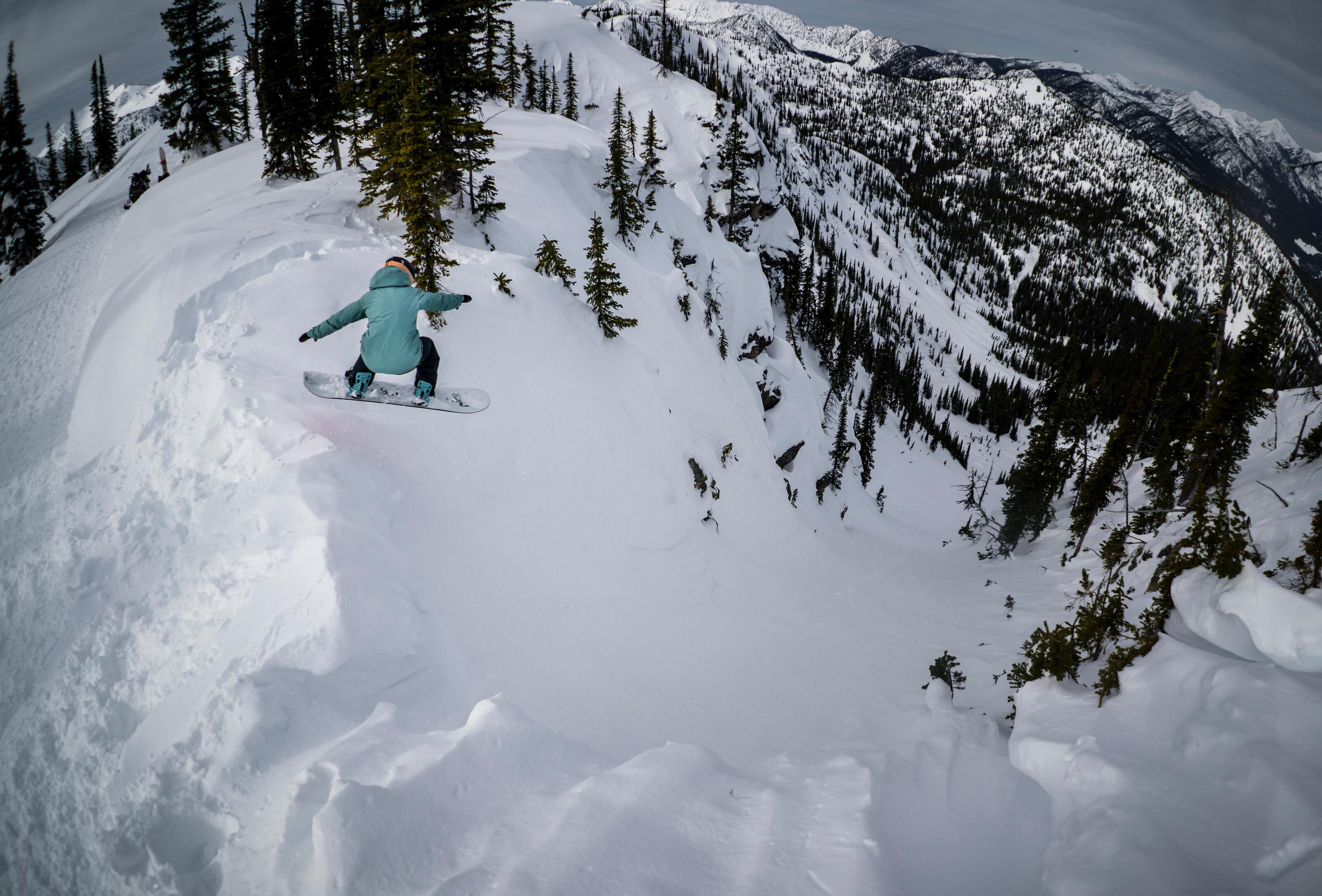 That sounds like a very snowboarder type of situation. Rasman mentioned that he noticed a few competitive traits coming out in riders who aren't usually put in a head-to-head scenario. Did you notice anything like that yourself?
I think there's this dark cloud over being 'competitive'. At the heart of it, anyone who's a professional snowboarder is competitive, otherwise they wouldn't be here. I feel like sometimes there's a negative connotation about it and a lot of finger pointing. We're all competitive, that's why we're here and accepted an invite to compete. Some people were definitely a bit more serious about it than others, but I felt that overall everyone wanted to win, and mostly to just to show up well. I think that was the goal for us. As a group of Canadians and part of the snowboard community in Canada, we just wanted to put something down on the global stage, and I think that was a success. Everyone was riding super strong. We got what we were given with the terrain the weather, and we made it work.
How was it for you to deal with with the constant changes in format and structure?
The word of the year is pivot. Every time you plan something or organise something or have a concise direction, something gets derailed. That's how it's been all year in every aspect of life, and this contest was no exception. It was a bit weird not competing against the entire field who were selected in Jackson Hole. It was a different crew of riders, equally as strong, but at times I definitely felt like we should have been there with the original selected crew. Everything was last minute, we moved from Baldface to Valhalla, no one had seen it and we didn't know the format. Everything was just kinda happening as we went, and it did pose a pretty big challenge for your mental space in terms of the contest itself, because you couldn't really plan. We went up to see the venue and looked at stuff, but then the seeding happened after that. So whatever you thought you were gonna do, someone else who was seeded higher might take your line. I originally selected the line that Leanne Pelosi did, and then she was seeded higher than me and I had to choose a whole new line. By which time there were people with pat-downs at the top, and you can't just cruise up on someone's jump and say that you're gonna go there now, you know? It definitely added to the drama of the contest. You just had to be light and shuffle as things happened. You weren't hitting a course with the features already there, you can't study it and then go and hit it, even in your run. We never rode the actual course or got on it that much, we did one run down the side, but it didn't give you much insight. Even as we were going down I was hoping that this cliff doesn't have a rock in the landing, or I hope this rock hit is as big as I think it is, which it wasn't. Stuff like that, just doing the best with what you have. It was definitely a challenge and very different from Jackson in that regard. I felt that it represented the natural side of snowboarding a bit better. It was what you made of it, and the decisions that you made with it, and not a slopestyle course built with powder. And I see that in Alaska too. It's this thing that's there, you never know what the conditions will be or what the hits are like. To me that represents that natural style of snowboarding.
Is Austen bummed that he's not going to be there, or is he being nice about it?
He's the most proud. He's a true partner to me, the best cheerleader I could ever ask for. We obviously know that this isn't how the tour will run in the future, there will be all riders at every stop. He's got other fish to fry and is always out there sending it and having a good time, no matter what. We're actually going to meet in Alaska afterwards for a trip, so it's not all a loss.
How are you feeling about going into the final stop?
I'm excited for Alaska. You're always excited and can't wait to go, and then I got all the terrain photos and went 'oh'. I forgot how real it is up there! That's the thing about AK, it's never mellow.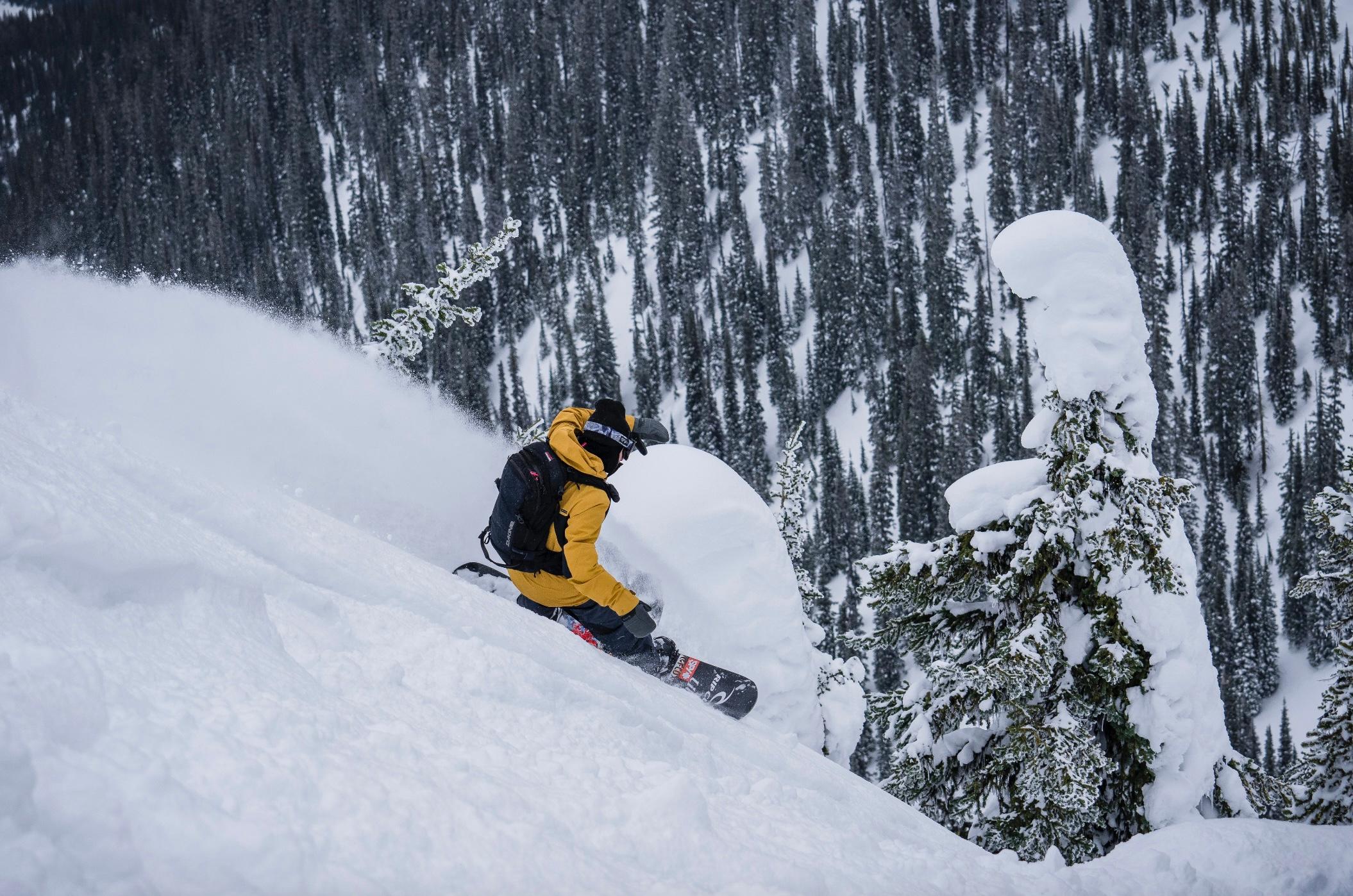 And here's our chat with Chris:
Hey Chris. How did the Baldface Valhalla stop of the tour compare to the first stop in Jackson Hole Mountain Resort?
It was completely different. The plan for Natural Selection was to have all 24 invited riders at each stop, and the events would all be streamed live. Given the COVID situation, they had to have backup plan upon backup plan to make sure that they could actually initiate the tour. Canada has some pretty strict COVID rules and you can't technically run a contest right now. So they switched gears and this one was more like a film shoot in the Valhalla Baldface tenure, instead of a contest. I think the main difference would be the fact that Jackson was a man-made course two years in the making. Even though it was still a powder-to-powder takeoff and landing backcountry course, it was a built course. Each feature was methodically thought out and made to be able to hit. Whereas the Canadian event was like if you went cat skiing on some rowdy tenure and they pulled up to a face and were like, here's a run, this is where we're going to have the contest. So I felt it was cool and unique in that way because that's kind of like the bridge between the super freestyle part of the tour in Jackson, and the very freeride finals in AK. This Valhalla spot was kind of a middle ground. It wasn't big long 2000ft spines like AK, but there were no built features, other than what we could pat down a build to enter our lines. Once we entered our run it was like, figure it out.
What was the actual format? It seemed like it was changing pretty constantly?
So 70% of your score was a top to bottom run that you chose to be your contest submission. So those had the FPV drone following us so it still had the feeling of the Jackson event. Then 30% of your score was your video part. The original plan was to run the contest day differently for each rider. Each rider gets to pick a slot which was decided by your seeding, and that's your 'contest line' and all of the other time is put towards your video part. But Mother Nature kicked in and because of the warming trend that the Interior BC had, we only had two days to snowboard. The snow was really good when we got there, but when the guides saw what was happening with the weather and the snow, we knew we had a super short window to initiate the plan and make the event happen. Instead of expanding to the whole tenure and filming a larger video part all week, we were given the face and then given a bamboo stick with a flag and our name on it and we went and planted them at the top of where we wanted to drop. Most people were pretty spread out and wanted to ride different things, but there were a couple of overlaps and sticks in the same spot. So that night we had a seeding event that would choose the order of who went first if there was an overlay on lines. So we did our runs on one day, and the next day we tried to film some other stuff for the 30%.
Sounds hectic. Was that in the same area as your contest lines, or did you have freedom to explore?
It wasn't on the exact same area, just a bit around the corner. We just didn't have the time to be able to split up and sled off. That's not for lack of the organisers trying though. If it didn't warm up, the terrain there is psycho. If they do it there next year, it will be pretty wild.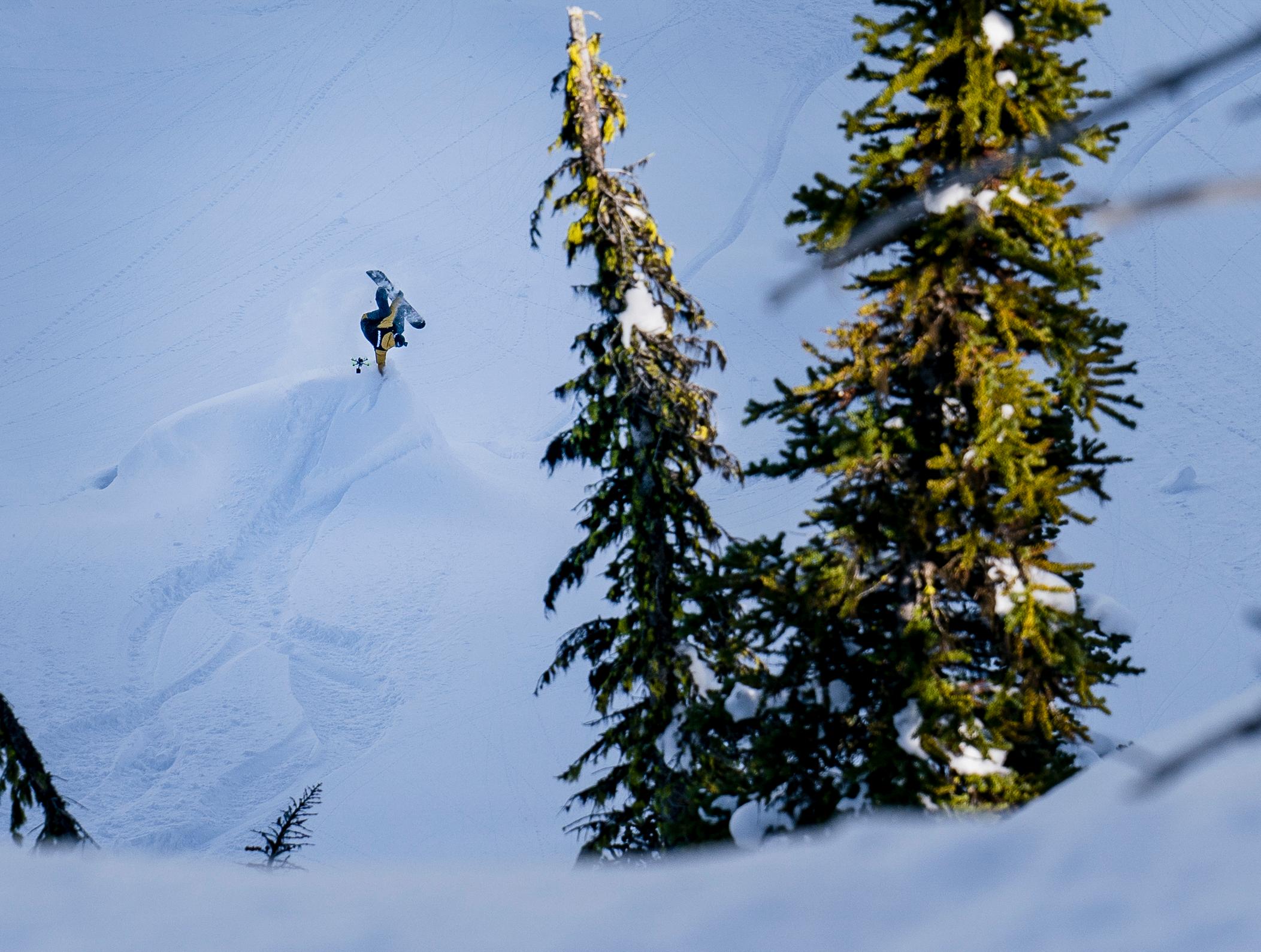 Was it weird competing against the people who you'd usually be shovelling jumps with and sessioning together?
Totally. The Canadian backcountry scene is pretty small and we all know each other, all of these guys and girls are friends of mine and it's cool that all these Canadian wildcards were given the opportunity to make it to AK and compete in a NS event. But competing against them, it was weird. I have very little contest experience and you would see these little competitive traits spike up in certain people. I definitely got a little competitive, I really wanted to win. Dustin Craven has a history in competition and his competitive side kicked in. But then you take guys like Mikey Rencz and Mark Sollors who are way more chilled, they just want to ride well and perform well, but as soon as things get competitive they just want to reel it back a bit. It was interesting seeing all the personality dynamics. I was paired up with Beau Bishop for the filming thing and the plan was for us to be working together. Then all of a sudden we're planting flags and he's looking into my feature like 'oh, that looks pretty good' and I'm like 'get out of here, that's mine!'.
Did you get to choose who you wanted to ride with?
Not on the spot. We got sent out in crews. I've been filming with Beau all year, so we got paired up. Matt Belzile got the first call, but he broke his arm a week before hitting a jump in Whistler, and then the NS committee picked Beau as a last minute wildcard, and we already film together. Same for Mikey and Mark Sollors. They already had a filmer hired for the year and they both got selected, so they were kinda already a crew by default. Dustin came solo from Revelstoke but he films a lot with them anyway, so he ended up on their crew. It kinda worked itself out.
Who was your filmer?
My filmer was Brian Smith, he runs a film production company out of Squamish called Reel Water Productions.
Travis wasn't there in person this time to talk shit to you, did he try and get inside your head from AK?
No not really, he was just writing into our group chat telling us all to kill it and that he hoped we had a good time.
We thought you were one of the most solid riders in Jackson, but it unfortunately didn't play out for you there. You must be pretty stoked to take the top spot this time?
Yeah for sure. Definitely a mixed bag of feelings though. I'm very grateful for the opportunity, but there's a small part of me that wishes that there wasn't a pandemic and that I could have competed fairly against all of the other riders from Jackson, like Gigi and Elias and Austen and everyone else. But that aside, I'm stoked and feel really lucky to have ridden well at this event and to have the chance to go head to head with Ferg, Mikkel and McMorris in AK. It's gonna be crazy.
You've obviously been there a few times before already, but under quite different circumstances. How are you feeling heading into the final stop of the tour?
I'm not as nervous as I thought I was going to be. I think part of that is because Travis isn't competing at it. It's only the top three males and females from Jackson and then the two wildcards that win in Canada. I'm sure I'll be nervous when I get there. Travis sent photos of the venue and some of the faces we're going to ride, but I can't even deal with it yet. I'm just trying to pack and organise my life and get COVID tests so I can travel there smoothly. And I know that if I start over-dissecting these lines before I see them in real life it will be overwhelming. I did that to myself in Jackson. It's hard to imagine what you'll do until you're actually there, looking at the snow texture and what the wind has done. Now I'm getting nervous. Thanks guys.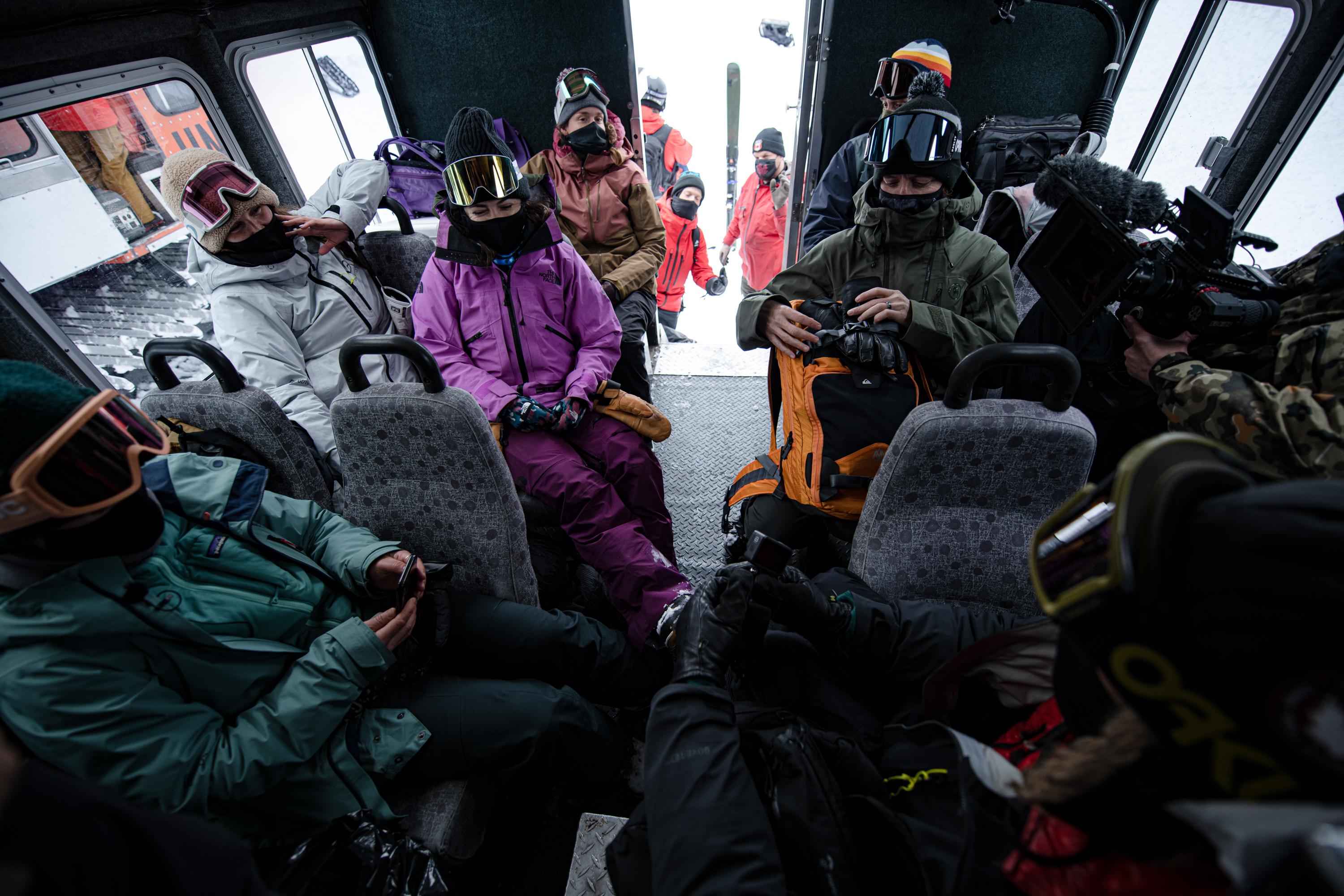 The Tour will culminate at the HempFusion Natural Selection at Tordrillo Mountain Lodge in Alaska, where the best snowboarders in the world will be crowned. Competing in Alaska will be Rasman and the top three men from the YETI Natural Selection at Jackson Hole; McMorris, Ferguson and Bang. On the women's side Van Gyn will be up against the first and third place finishers from Jackson Hole; Sadowski-Synnott and Beaman, as second place finisher Haerty, was unable to arrive in the U.S. with current travel restrictions. The winners will be announced in the highlight show premiering in mid-April exclusively on Red Bull TV, and will each win an all-new, adventure-ready, 2021 Bronco Sport.
BRING ON ALASKA!