The Annika Morgan Interview
If you don't know already, Annika Morgan is rad. She's been quietly grinding away and in the last few years has really started coming into her own, both inside and outside snowboarding. She also isn't afraid to crank suitcase methods and knuckle frontflips in a contest run whenever she gets the chance, and it's clear that she's got the Morgan wildcard genes. There might have been a time when people would refer to Annika as 'Ethan's sister'. The way she's heading, pretty soon we'll be calling Ethan 'Annika's brother'.
Extracted from Method Mag issue 22.3.
Interview. Theo Acworth
Photos. Mark Wiitanen, Josh Bishop, Fischi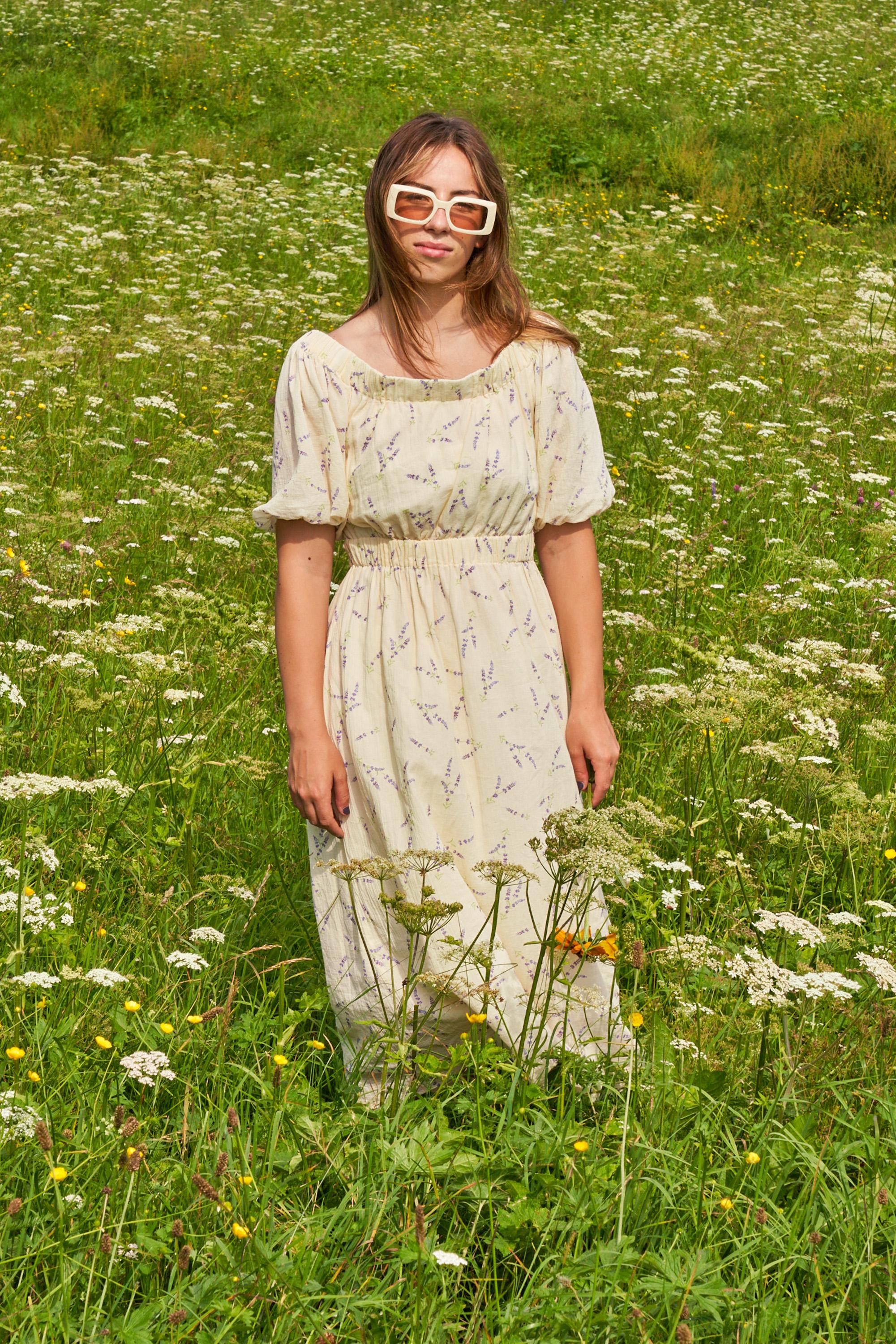 Hey Annika, what's up?
Not much, I'm at home. Kinda sick.
Oh damn, hopefully not COVID?
No, I've been tested a bunch of times. I've just been sick since Saas Fee. I just got some antibiotics.
Are you riding much at the moment?
I'll be riding this weekend, and then I have a press conference on Monday.
A press conference? That sounds serious.
It isn't really. It's for Snowboard Germany, and we do it every year. You take pictures, and people get awards. It's when all the racers get their outfits and stuff.
So you get to hang out with the real athletes?
Yeah, basically.
What's going on with the Olympics? I guess you're going?
Yeah, I qualified in Chur at the Big Air.
How are you feeling about it?
It still seems like a dream to me, and I'm just waiting for someone to pinch me. I remember watching Anna [Gasser] doing her tricks at the Olympics, and now I'm going, and people will be able to watch me, which is kind of unreal.
Do you feel any pressure from anyone?
I don't feel any pressure coming from anyone. I don't feel like anyone is expecting much from me, so I guess that's making me less nervous about this whole situation and going to the Olympics. I'm quite chill about it, and I feel like I ride better when there's zero pressure.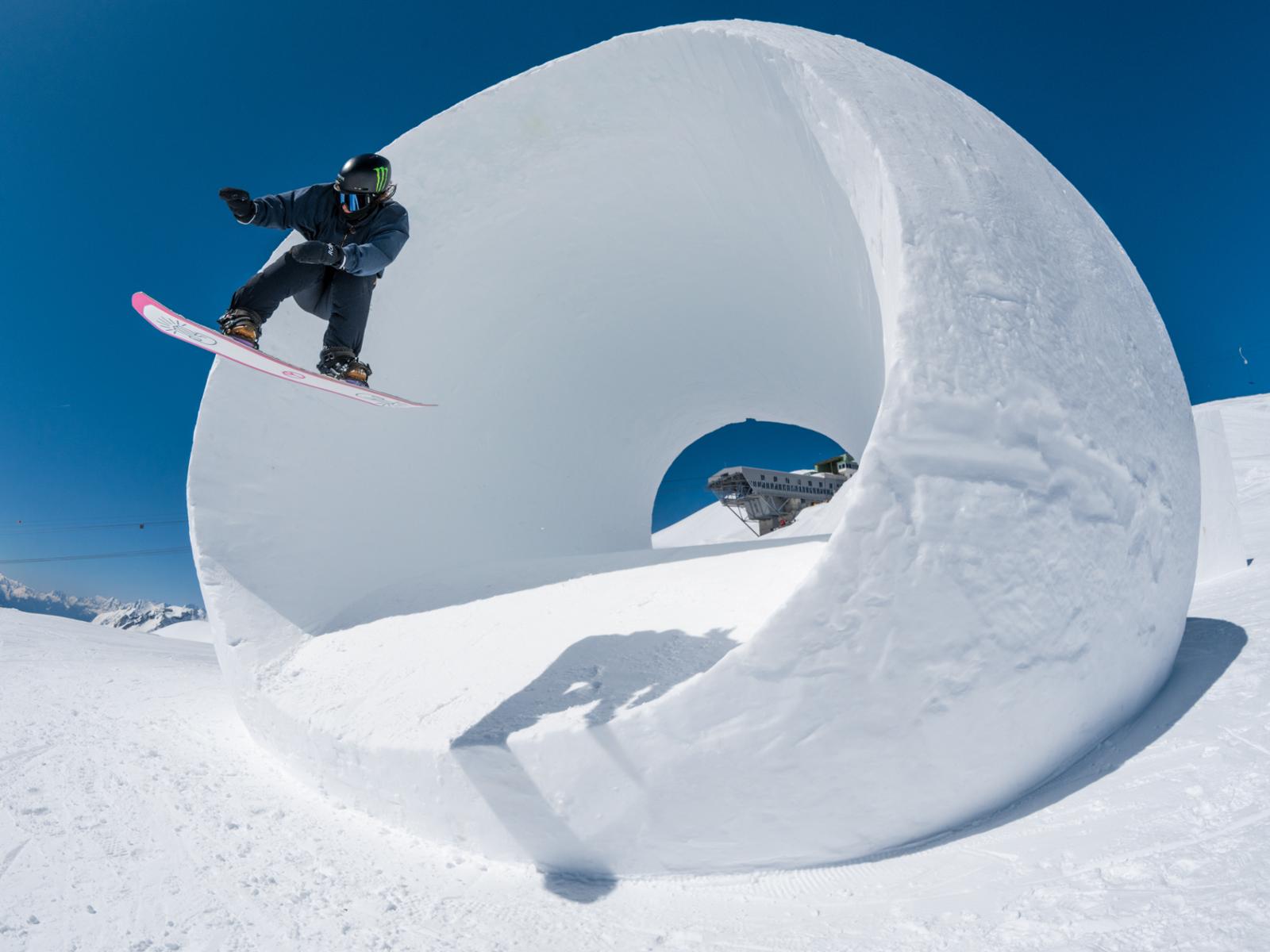 Annika through the wormhole at Nines in Crans Montana. Photo: Fischi
It seems like your family plays a big role in your life. I guess they're all pretty hyped for you?
They're so hyped. They all booked flights and accommodation in China, then a few months ago the Olympics announced that there wouldn't be any spectators. So they're bummed about that, but when I qualified, I wrote in the family group chat, and they were all so hyped. And I know that my parents are proud of me, and so is Ethan.
So can anyone go with you?
No, no one. I'm pretty bummed because I know it would have been awesome to have them there. They were really looking forward to watching me live. My parents have been to comps, but my full family has never been to a competition. I was looking forward to partying with them.
"The Olympics is a huge event, but it's just like any other contest."
Hopefully you can all tear it up when you get back. How does it feel to be competing against people like Anna and Jamie [Anderson]?
I've been riding with them for quite a while now, so it seems kind of normal. Being able to ride with the girls is sick for me for sure. It's always really fun. The Olympics is a huge event, but it won't be that big of a change for me. It's just like any other competition. It's not like I'm gonna be freaking out at the drop-in.
Does riding with the other women push your own riding?
Oh, for sure. Riding with Anna is crazy. Her way of snowboarding is so progressive. We don't have any girls on the Snowboard Germany team, so when I ride with her, it really motivates me to be a better snowboarder. Not even in a competitive way. It just helps me.
What sort of tricks are you working on at the moment?
I tried a back 10 in Saas Fee, but I didn't land it. I went straight to my ass. But I'm working on that for sure. Also cab 9's.
I heard that you're trying to sneak Diggles into the Olympics as your filmer for the Meet the Morgans series? How's that going?
We're still trying to figure that out. Diggles can't come as media with Snowboard Germany. I think he missed an application deadline or something. So he's trying to get in with Klaudia [Medlova] and the Slovakian team. It's a struggle. It's really hard to get there. The COVID situation doesn't make it any easier. We'll see how it goes. If it's doesn't work, I'll just put a GoPro on my helmet and film every single move.
I love that he's pretending to be a Slovakian coach to get in. Do you enjoy filming with him?
Yeah, it's so fun. He's like a motivational coach. He always has these quotes in his head, and if I'm feeling down or worried about a trick, he always helps me out. He's a fun guy to hang out with.
Bringing things back to family, what was Ethan like when you were younger?
I think he moved out when he was 17. Before that, I barely saw him because he was travelling and filming all over the place. I remember going to Air & Style in Munich and watching him ride. It was my birthday, and he started singing happy birthday into the microphone, which was really nice. He was the best brother, but I wish I could have spent more time with him.
He's done a lot of contests, so I guess he's able to help you out with advice and stuff like that?
Absolutely. He's been helping me with that stuff all my life. Not only tricks, but also about the snowboard community. He's been the best mentor and coach for me. I'm also proud of him for what he's accomplished, and I think he's proud of me for sort of following his footsteps. Not following them too closely, though, otherwise I might be a bit crazier than I am.
But we know you like to party too. There's some Ethan in there. Do you ever party together?
No, Ethan has been complaining about that for a few months now. I was partying with my other brother recently. We were both at the local club, and I saw him there. When Ethan heard about it he was so jealous and was complaining to all my friends. Hopefully at STRT JAM we can party.
Is it ever weird partying with family?
It kind of was. When they found out that I occasionally got drunk, I was embarrassed, but my siblings have done way crazier things. I think the first time I got drunk with my family was at Christmas, and it's always mayhem at the Morgan house. It was so embarrassing the next day because they'd seen a different side of me that was quite crazy. It still feels weird having a glass of wine in front of them, but I'm getting better at it.
"Ethan has been my idol since day one. I'm proud of him for what he's accomplished, and I think he's sort of proud of me for following in his footsteps. Not following them too closely, though."
Let's see what happen at STRT JAM. I think the beer is free.
I think my whole family is coming out for that. I hope so.
So besides snowboarding, I know that fashion is something you're pretty interested in?
Oh, I love fashion. It's become a bit of an addiction lately. I'm really into thrift shopping. I love the concept of them, they're more sustainable, and there's always a little story behind each piece. I love it. I keep on finding so much crazy stuff, these twenty-year-old jackets and designer bags that are usually 400€ and you can get them for 20€.
Where do you shop? Are there many places in Mittenwald?
I found one. It's super low-key and pretty hidden and is only open one day a week. There's also one store on the American military base here, which is nice because no one can really get into it, but I can because my dad works there. They have quite nice stuff, and I'm pretty much the only younger girl going shopping there.
Damn, your own private shop?
Pretty much, it's huge. Whenever I'm travelling, I always try to find thrift stores or flea markets. Also in other countries, the clothes and styles are always different.
Do you have any fashion icons?
Anna Wintour, the Vogue editor. She's accomplished so much. She started from zero and worked her way all the way up to the top.
Is there anyone in snowboarding who you think dresses really well? Male or female?
I don't know. Is it weird if I say that I like my style?
*Laughs* No, that's fine. We'd love to see you wearing your trench coats while doing slope runs. That would be epic.
I've got a few. I'm sure that could work.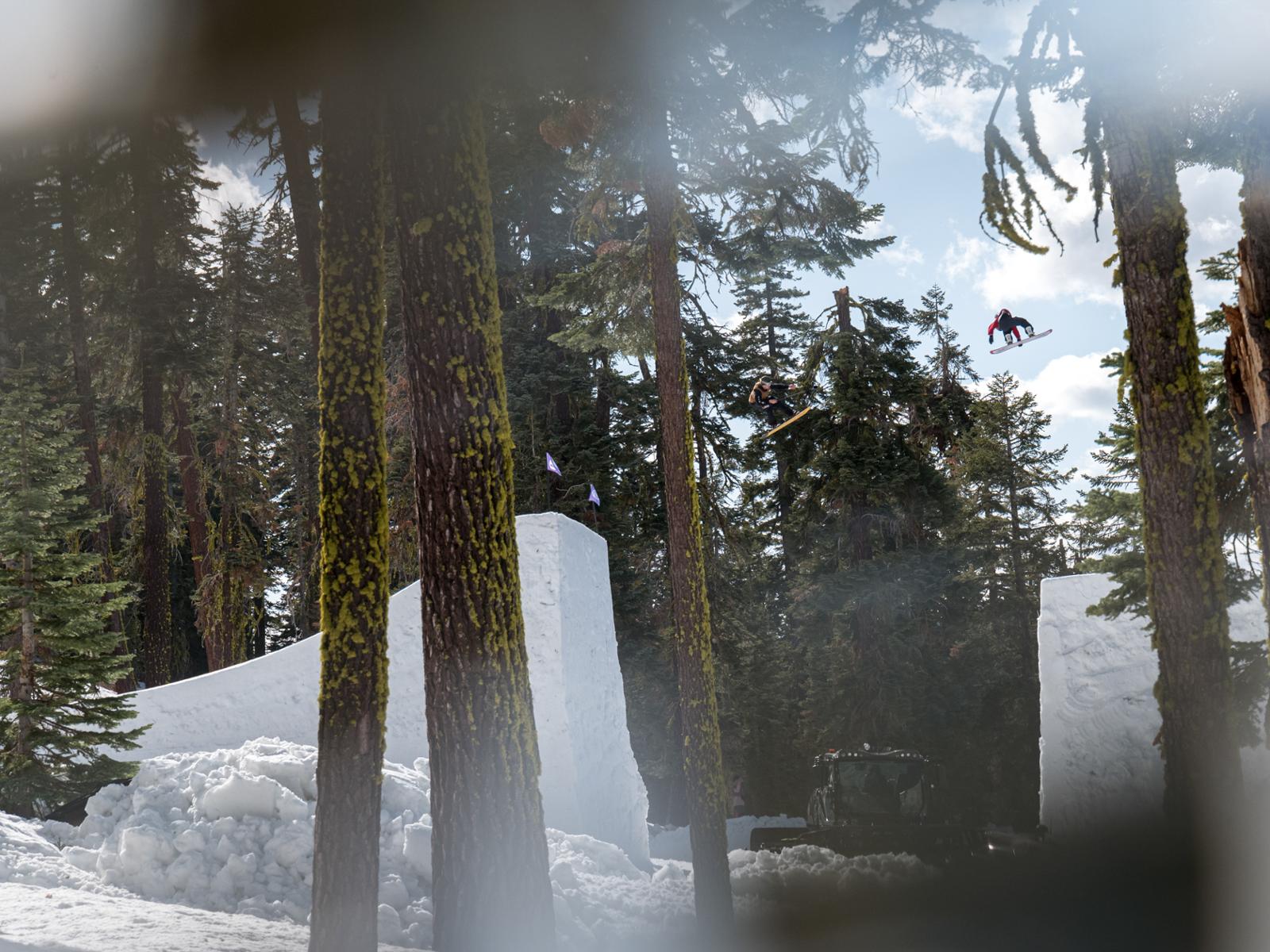 What else are you doing besides snowboarding and thrifting?
I'm also figure skating and trying to practice as much as I can. I only get to do it occasionally because I'm still snowboarding and travelling. But whenever I'm home, I get out and do some skating.
Is it a way for you to relax?
I don't know. Figure skating just makes me so happy. If I'm feeling down or feeling like I haven't done much athletic training, I'll just go figure skating. It's really good for cardio and everything. I guess it's relaxing for me, but also really exhausting.
Do you think about the future? Where do you see yourself in five years time?
I'm definitely still going to snowboard. I'd also like to go to the Olympics in Milan if I qualify for that, then my whole family can come and watch because it's only four hours away. I'd also like to film a lot, backcountry and street. I don't want to only focus on competition. Sometimes it gets a bit one-sided, and I want to see different sides of snowboarding and be a part of them too. I'd also like to go to college or uni. I'm still figuring out what I want to study. Something that I can keep for the future.
That's cool to hear that you're looking at doing other things, both in snowboarding and outside it. Are there any snowboarders in particular that you really look up to?
Hailey Langland is number one. She's been my idol for so long. The first time I saw her ride was at Dew Tour when she was fifteen, doing the sickest 5s. I always wanted her style. I'm a big fan of Jill Perkins. She's such a good snowboarder. She does the gnarliest tricks on the gnarliest rails. It's crazy. Ethan has been my idol since day one. Also, Cooper Whittier, I love the way he shreds.
Definitely. I know you've got some gnarly rail tricks yourself though, and I can definitely see some of Ethan's style in your riding and the way your cork your back 7s.
I guess it's in the genes.
Last question, and the most important. Will you do a knuckle frontflip at the Olympics?
If the knuckle isn't too hard, then yes, for sure.