1 Nov 2022
Words by Theo Acworth
Photos by Theo Acworth
Cover Stories - Method Mag 23.1
FRONT COVER - DOMINIK WAGNER, GAP 50-50
PHOTO: THEO ACWORTH
Yep, I gave myself another cover! What a guy, eh? This isn't about me though. This is about Dom. He's dedicated to the craft of street snowboarding and really went all in for Hexagon, and he more than deserves to be on the front cover of the mag. While on trips, Dom would often be awake first, making coffee and cooking vegan breakfasts for the crew. In hindsight, maybe he did this because he knew he would soon be causing us pain by choosing the driest spots he could find and making us move depressingly large amounts of snow for him to start fights with. He also developed a bit of a problem regarding pallet drop-in towers, but that's a story for another time.
As I was setting up to shoot this spot, one of my flashes fell over and broke. Fell is an overstatement. The flash was sitting on the ground in soft snow, and it sort of rolled gently forward into more soft snow. Barely rolled, more like a gentle re-adjustment of position. At first I thought some snow had got inside the contact points where you plug in the battery pack because the flash wasn't powering on, and there was literally no impact when it fell. But either way, it wasn't working. To be fair, it got fully smashed onto asphalt at STRT JAM a few months before, and I was astonished that it still functioned after that, so I guess this was the straw that broke the camel's back. Long story short, this photo was taken with a single flash, and luckily it still worked out. At least, I think so. His red Escape sweatshirt makes it for sure. Colour-matching a rider's outfit to the spot isn't generally something I'll aim for. A distinction between light/dark is usually enough for me, but for this spot, red clothing just had to happen.
Since I've been the editor of Method, we've mostly gone for quite clean and balanced shots for our covers, so it was nice to switch things up and get a solid fisheye shot on the front for the first time in a while. We tried laying it out with a big Method logo in the middle, but it just didn't feel right, so we went for the small logo in the top corner instead. As always, it's an honour to see a shot of mine on the front of the mag.
REAR COVER - KAS LEMMENS, OLLIE
PHOTO: THEO ACWORTH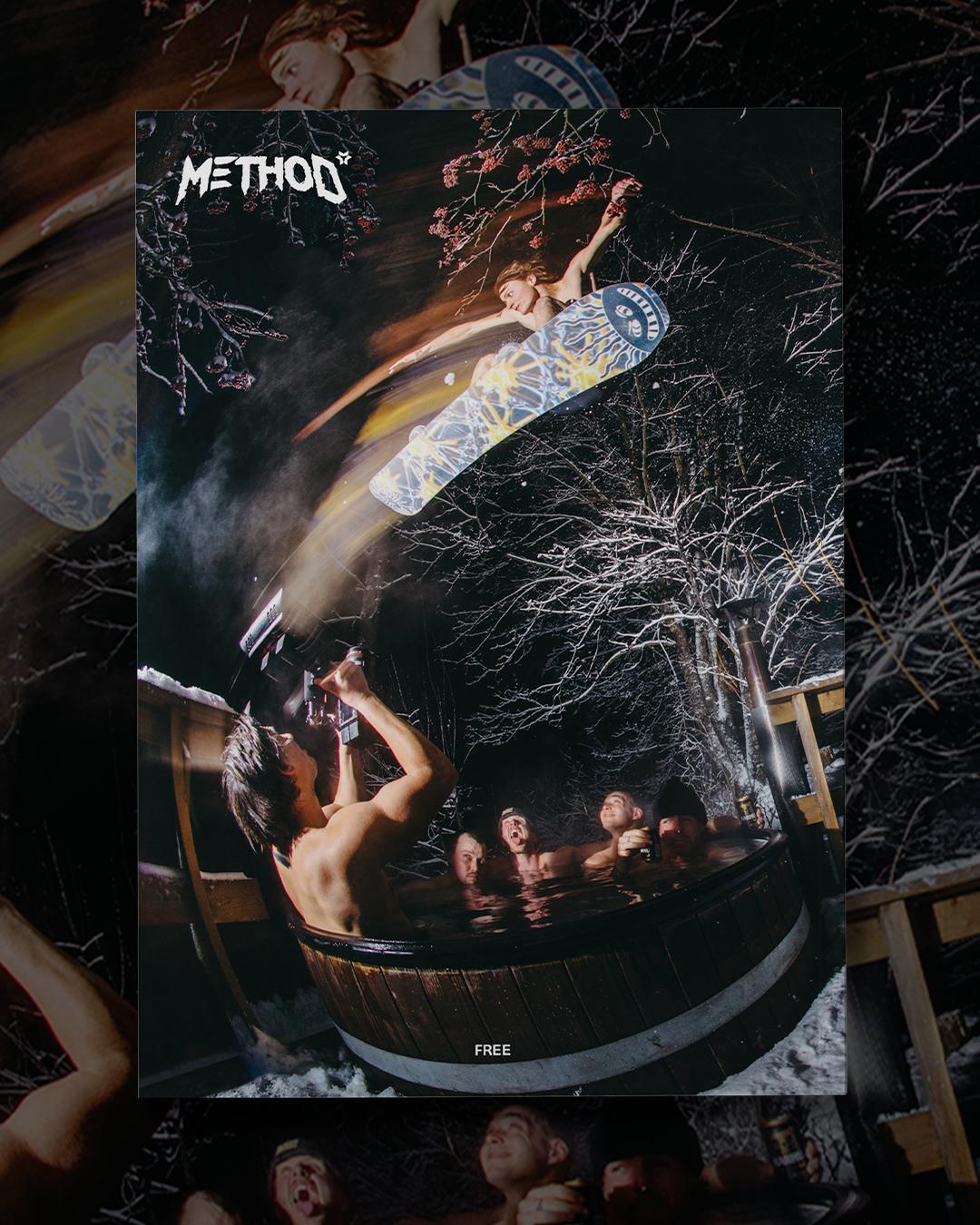 When shooting for Hexagon, we briefly stayed at this sick place called Havumaki Ranch, which is a full-on skate ranch in the woods with a bowl, indoor miniramp, sauna and a snake run style park, which you can also snowboard on in the winter. I would have loved to have stayed there all the time or at least had a full day of just screwing around and having fun, but despite talking about it a lot, it never really happened. We managed to squeeze a few sessions in and still got a few shots if people had energy after returning from the streets, and this was one of those moments.
Kas is very selective about what he rides, so I was stoked when he started shovelling this jump and inrun over the hot tub. He jumped it twice, but I got too low the second time and his board was fully covering his face, so this shot was actually from the first hit. I'm glad we managed to lace it first try because Kas was starting to shiver, and I would have felt bad asking him to hike back into the woods, practically naked. Not sure why he jumped it twice. I think he got it clean on the first hit, so I guess he was just having fun and wanted to get into the air again. Afterwards, he jumped into the hot tub, still wearing his boots.
As with the shot of Dom, this was taken with a single flash, and I'm surprised at how well it worked. I really like the little bit of motion blur from the slow shutter. Also, I love that the whole crew is in the hot tub, including Alex Pfeffer, filming with the RED. These are my favourite moments for photos, just having fun with your friends and playing in the snow.