The Mary Rand Interview - A Journey From the Streets to the Mountains
If you've met Mary Rand, you're a fan of Mary Rand. Her smile, laugh, and excitement towards literally everything is infectious, depicting an energy that's integral to any well-versed snowboard crew. Originally from Rhode Island, Rand grew up riding East Coast rails. A few "Yawgoons" edits, a killer part in Rendered Useless, and a casual 2016 Transworld Snowboarding Reader's Choice Award, later, Rand quickly made a name for herself.
But today, "Big Air Mare" is nowhere to be seen in the streets, instead, she's out in the Washington backcountry, hunting for deep, untouched lines, and continuously learning from her time spent in the mountains.
At the 2019 Vans Snow Days, held in Jackson, Wyoming, we drank "Randaritas" (a Mary Rand inspired margarita that was heavy on the mezcal) and chatted with Rand about the 2020 Vans boot lineup, her transition to big mountain riding, and what she's been working on this season.
Interview by Alastair Spriggs.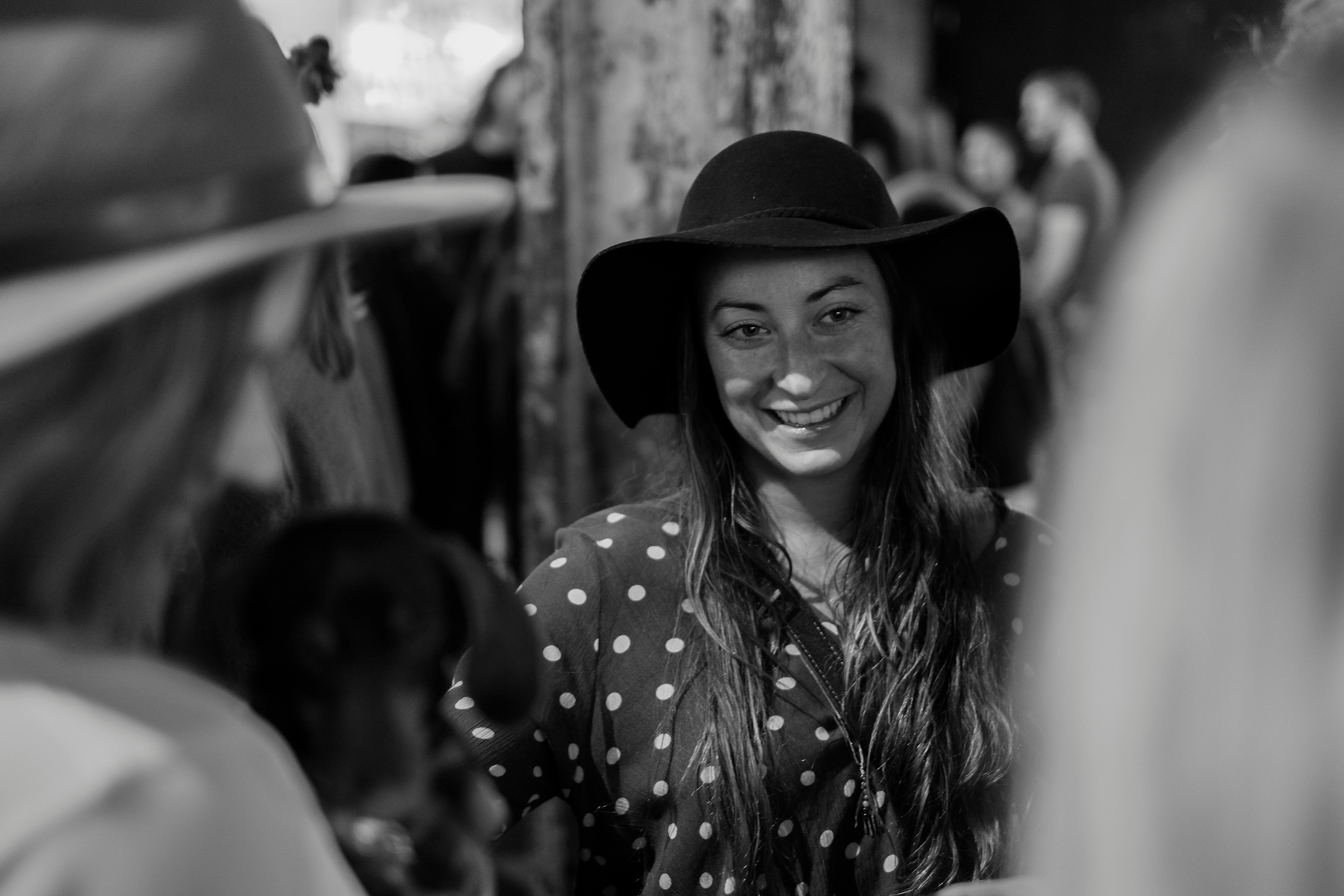 Can you start by giving us a rundown on the Vans' 2020 women's boot line-up?
Firstly, there's my boot, the Ferra Pro. It's on the softer side, has a hybrid BOA-lace system, and has a little strap to keep the tongue snug. It's my go to for ripping around the park, or on resort. The other boot I've been wearing is the Viaje, which is new to the line. It's a double BOA with a waterproof zip-up shroud — it's basically the women's version of the Verse. It's a perfect boot for sledding and riding the backcountry.
Why do you think it's taken this long for Vans to release a stiffer big mountain women's boot?
I'm probably not the right person to be answering this question, but when I suggested making the 2019 Ferra Pro with the sunflower graphic stiffer, I was told that to add the materials needed to make a more durable, stiffer boot, would cost too much money. They said the demand from the market just wasn't there. Now, I'm so stoked that it's finally here. There's not many brands that make a legit women's boot, so I hope the model takes off. It's been a real game changer for me.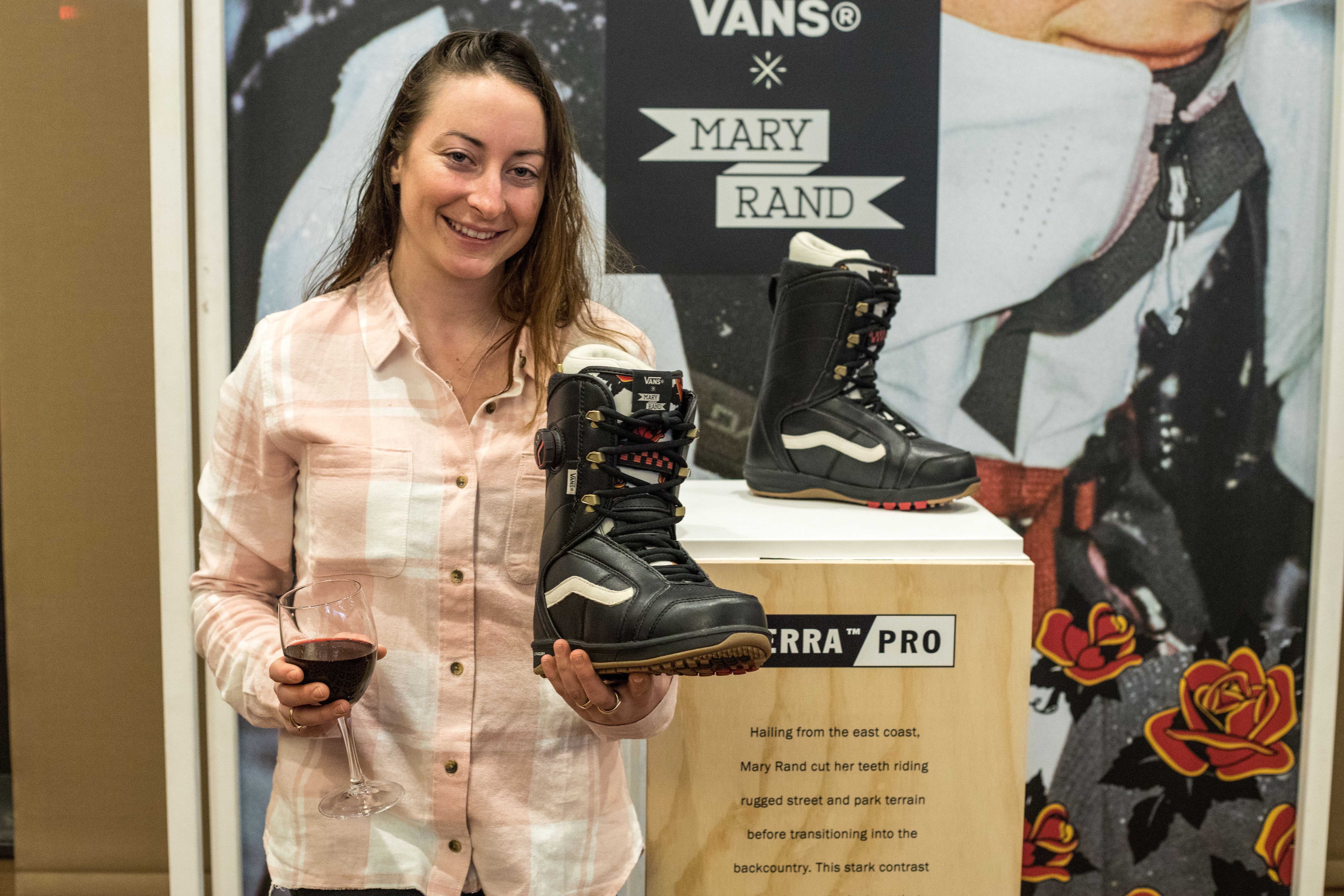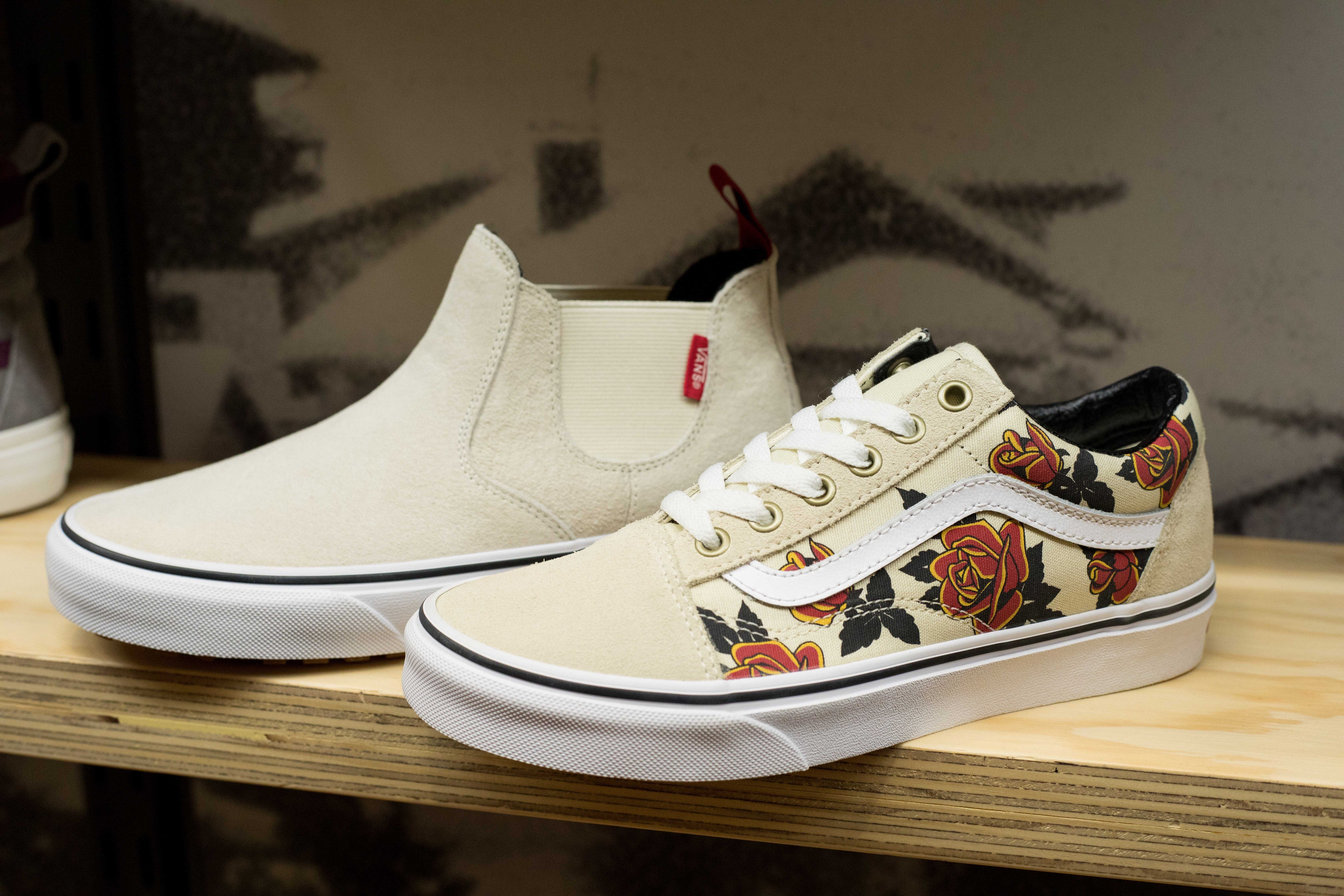 In other product news, what inspired the change from 686 to The North Face outerwear this season?
They approached me earlier this season with a deal I couldn't refuse, and a ton of opportunities that would have been a shame to pass up. I never would have imagined that being on The North Face was possible, I'm really happy about it. That being said, I love everyone at 686 and I'll always appreciate how supportive they were.
What the hell is with all the hype around The North Face in the snowboard world?
I think Vans has a lot to do with it as they're under the same ownership. A lot of Vans riders were getting North Face gear, some were sewing on Vans patches, then some guys got fully hooked up the by them. They were really impressed by Landline. and saw a lot of potential in the Vans crew. It's all about utilizing the family and the corporation. It makes sense to work on collaborations. Also, they're getting really street oriented now, making collabs with Supreme and such, now they've stepped into the board world.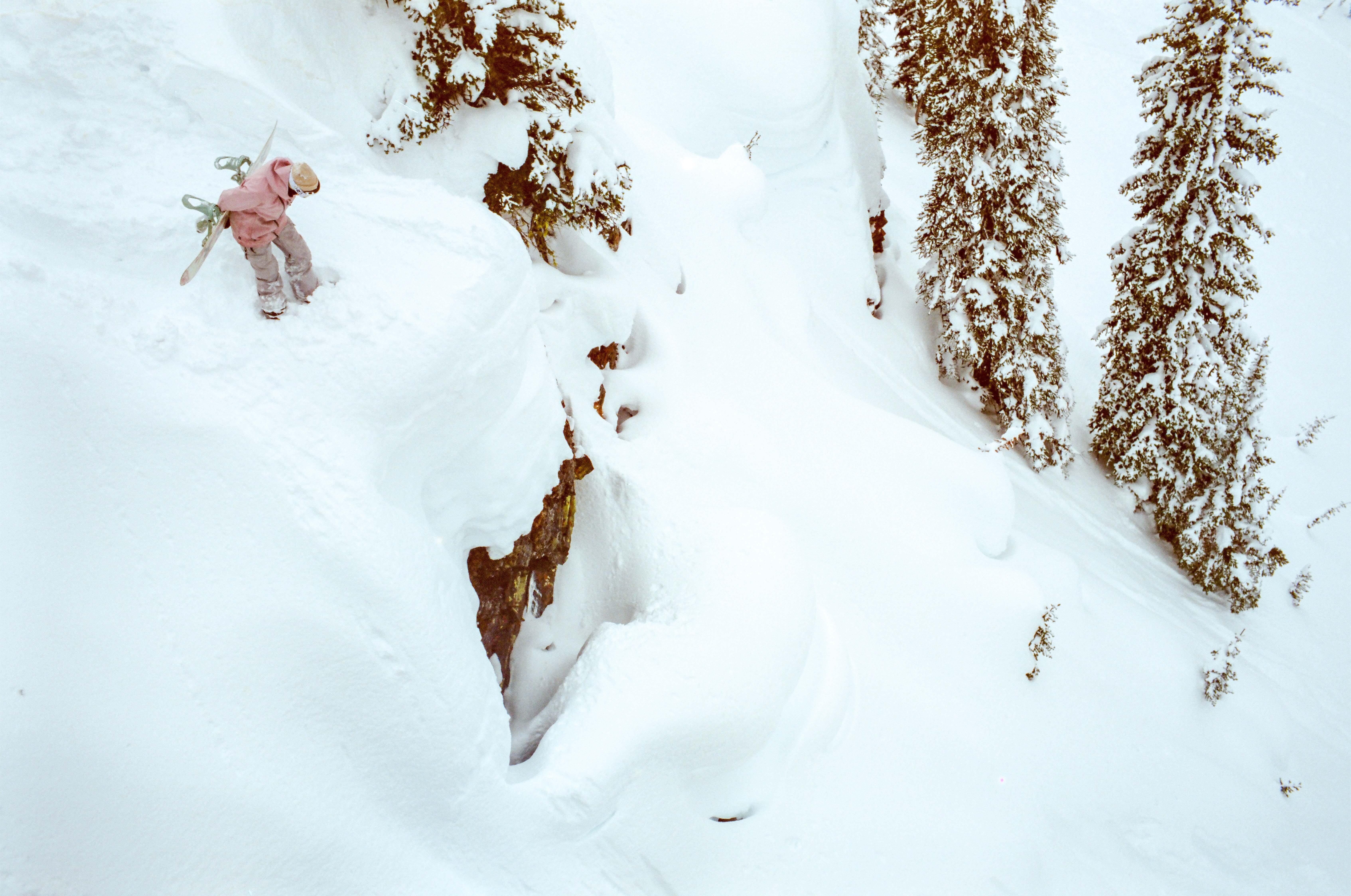 Moving on, what projects have you been working on this year?
I'm filming right now with Tanner Pendleton, and shooting with Oli Gagnon in the Wyoming backcountry for Vans, we're working on a short commercial to market the Ferra Pro. There's also a new two-year Vans' project that I'm getting in on. Thankfully it's become a two-year project because I started filming late this season… But that always seems to happen. February hits and I'm like "Uh oh, only two months left." I'm also working on a project with The North Face and Arbor, two short welcome-to-the-team videos.
Dropping Listen to the Eyes this season, along with The Uninvited, 2018/19 was a huge year for women's video projects. Do you anticipate more action from female crews in the coming seasons?
Well it's been fairly common since Peepshow and Runway, then Too Hard, I'm sure it will continue on the same trajectory. However, I'd like to see more mixed gender films as well, which there's far less of. If it is a mixed gendered film, the numbers never match up and women are always the minority. As for female action in the near future, watch out for Amanda Hankison's project that may come out this year, or next. It's mostly backcountry and it's sick!
It seems like your life revolves around backcountry riding, I'm wondering how this backcountry love affair first started?
I moved to Steven's Pass in Washington four winters ago and got a good taste of the backcountry. It started with riding resort pow, then a few smaller slack country hikes. Then I started hiking Cowboy Ridge. A lot of my mentors also live there, so they showed me the spots and became such an inspiration. I aspire to be them and aspire to develop the same type of confidence I see in them. Also, I got invited on a few backcountry missions with 686 last year. Then I bought a sled… Last year was eye opening and really ignited the fire. Being able to see what's possible, how far out you can get… I respect the process so much and think it's the coolest thing.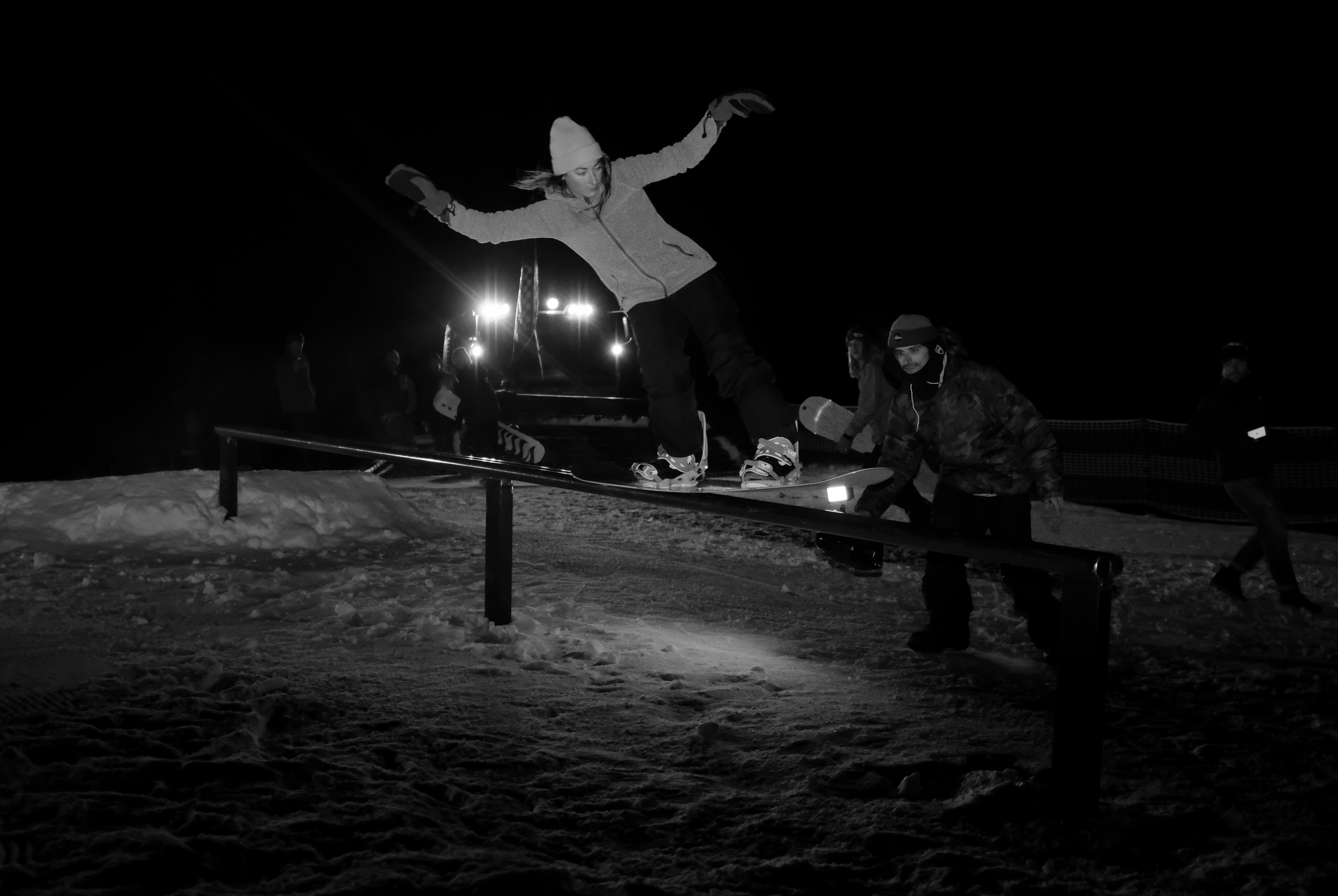 But, will you ever go back into the streets?
[Laughs] I ask myself that sometimes. If I was invited on a street trip, and the conditions were right, and I didn't have anything else going on, then ya, I'd be down. Getting back into the streets is not something that I'm opposed to at all. But right now, I'm following what's in front of me. I've been provided all these backcountry opportunities and it's what I'm passionate about. I feel connected to the mountains and I'm so intrigued by them. It's a challenge every day, there's so much to do, and so much to know, yet so much is determined by things beyond your control. Being in Mother Nature all day is something that I've experienced before, so it's pretty invigorating.
Let's end on the highest note possible. When creeping your Instagram, which I assume most of our readership does, I noticed you're always out on the pow surfer. Why is it the best thing ever, and why should everyone get into it?
Yes! Pow surfing is literally the best thing ever. It puts a permanent smile on your face and pushes you so far outside your comfort zone and changes your perspective on boarding. It doesn't matter what the slope, what the feature, you're just so stoked to rip down with no bindings and try to make it down without bailing. It's definitely my retirement plan.
Check the full Vans Snow line out HERE.