Getting To Know: Niels Schack
About a week ago I saw a post on Instagram from Niels announcing an art show with the one and only Lucas Beaufort in Montreal. A few quick DMs and emails quickly led to a skype conversation that instantly flowed. I'd never met Niels before but that didn't matter. Within minutes, we were talking openly about a huge range of topics: travel desires, mental health, new filming projects, the world of art, growing older, skateboarding and mentors – it all got laid on the table. I was surprised at how genuine he was right off the bat. I don't want to write the same old cliches of saying he was a pleasure to talk to, but it's true and there's no other way to put it. I haven't had a conversation like the one you'll read below in a long time, and this has been cut down a lot. Even though we weren't sitting in front of each other – him in Montreal and myself in London – we both opened up and I look forward to meeting him in person very soon.
Niels is an incredibly engaged and bright young man, who probably doesn't give himself enough praise for his own talents, be it on the board, through his painting, or just his awareness of the world around him. Perhaps that all comes from his life of travel, his education as an international student, his hunger to eat up new cultures and destinations, or whatever. The important thing we can all learn from Niels is to do what makes you happy, whatever that may be. And, perhaps more importantly, to never feel guilty about doing those things as long as you have a smile on your face. Whether you're strapping in for the first time next winter, out for a cruise on a Sunday afternoon or scribbling in a sketchbook, be proud of what you're doing and embrace it. Do it for yourself, just like Niels.
(The original plan was to release this before the art show last Thursday, but it took a little longer to edit. There could even be a part two.)
Words: William Sleigh. Photos and Artwork: Niels Schack and Lucas Beaufort.
---
Hey, Niels! What's up? First off I want to say how much I enjoyed Loose Change with Sparrow and Co. Do you have any personal highlights from that trip?
Man, just too many! We literally had so many amazing people join us and trusted us on that trip and we are so grateful for that. Plus I mean I took all the people that were close to me and good at their jobs and decided to spend 3 months with them non-stop and they all were like hell yeah!!
I mean seeing all these movies like Endless summer or Goonies or even real adventurers like Thor Heyerdahl, this was our little journey where we had no clue what was gonna happen the next day for a long period of time which was just scary, fun, tiring but so god damn refreshing.
How did the crowd funding thing work out and would you do it again?
We never thought we were gonna hit the goal but we did! I mean that was just crazy! People have enjoyed the movie and some didn't but I've really enjoyed discussing it with people and share them also the story from other perspectives. I mean this was the first movie that I made so it was definitely new to me. I had a great but difficult time trying to narrate this shared adventure.
Have you got any similar trips planned soon?
Yeah, we kept it a little on the down low but I'm doing a movie this year with Remy Barreyat in Kyrgyzstan! Always guru Sparrow by my side and then Toni Kerkela was our third rider. This time it's not going to be a documentary but a short film. It is definitely going to be a lot more abstract which is all I can say. It's coming out in October so very soon!
Where else did you go last winter?
I filmed with boss Sami Luthanen and stayed mostly in Finland for that in the beginning and end of the season. Then went a little bit to Morocco but had a broken wrist so I took it a little bit easy before going on the trip to Kyrgyzstan. Then spent some time riding local mountains in France which was a nice change to going back straight to University like the previous years.
We're in the height of summer now, so I guess it makes sense to talk about what you're up to right now – your art show and painting. Have you found yourself with a little bit more time than usual?
Yeah man. What's really kind of cool is that if you're not into the competition side of snowboarding it's a seasonal job, even though you do it at a high level. You do seven months of the year and then you chill. You get some form of incentive so you don't really have to work but at the same time, it's not like you earn a lot of money so you should work and do other things. Everyone does something else to keep busy and get some cash you know. You don't want to feel like you're cheating the system.
I never really thought about it because I was at University. Since I couldn't go in the winter semester (as an international student you need to finish at least eight courses over the year) so I'd do five in the fall, one or two online over the winter and two in the summer to complete a full year. I was busy all the time and wasn't really trying to find something else to fill my time with. I didn't feel guilty. Now I've finished, with my Bachelor's under my belt, I have way more time.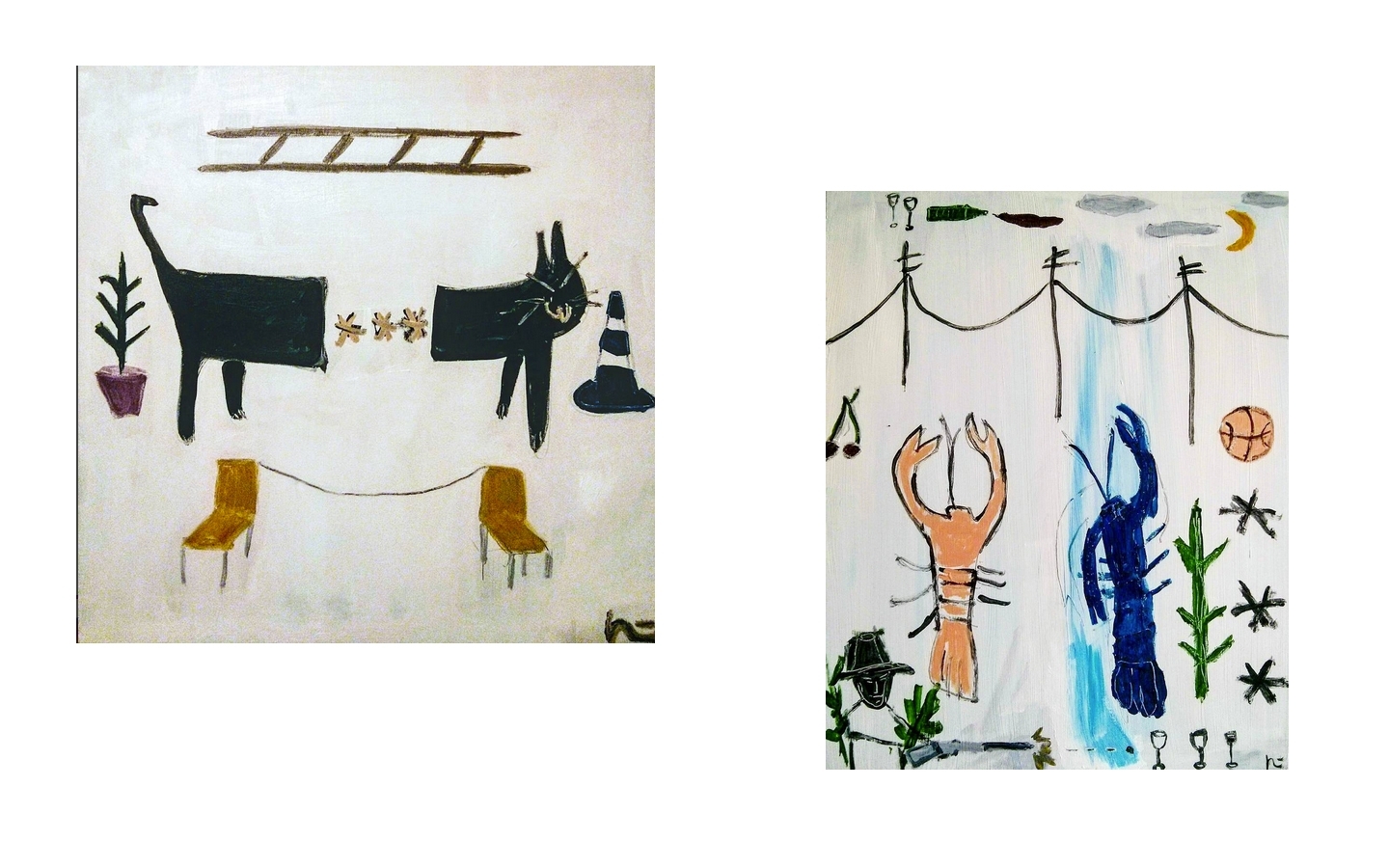 For sure. Let's talk about your upcoming show then. How do you know Lucas Beaufort?
I had never met Lucas before but we had talked online a lot, just being supportive of each other, that's how social media is so interesting. He's a fucking inspiration. Then there was a point when he was in New York for a show with Sebo, and he was like 'yo come down you can stay at my place', always so generous and nice out of nowhere but I couldn't even go because I had problems with my visa. And then in July, he came through in Montreal and we kicked it. It was like we already knew each other.
He was painting the whole "am getting paid" park and I showed him around the city. We ate good food, skated and I just helped him a little when I could. He spent 3 days straight drawing all his characters and everything. He decided that if they were going to pay his whole flight he might as well paint the whole park, rather than just the one wall which was he was originally commissioned for.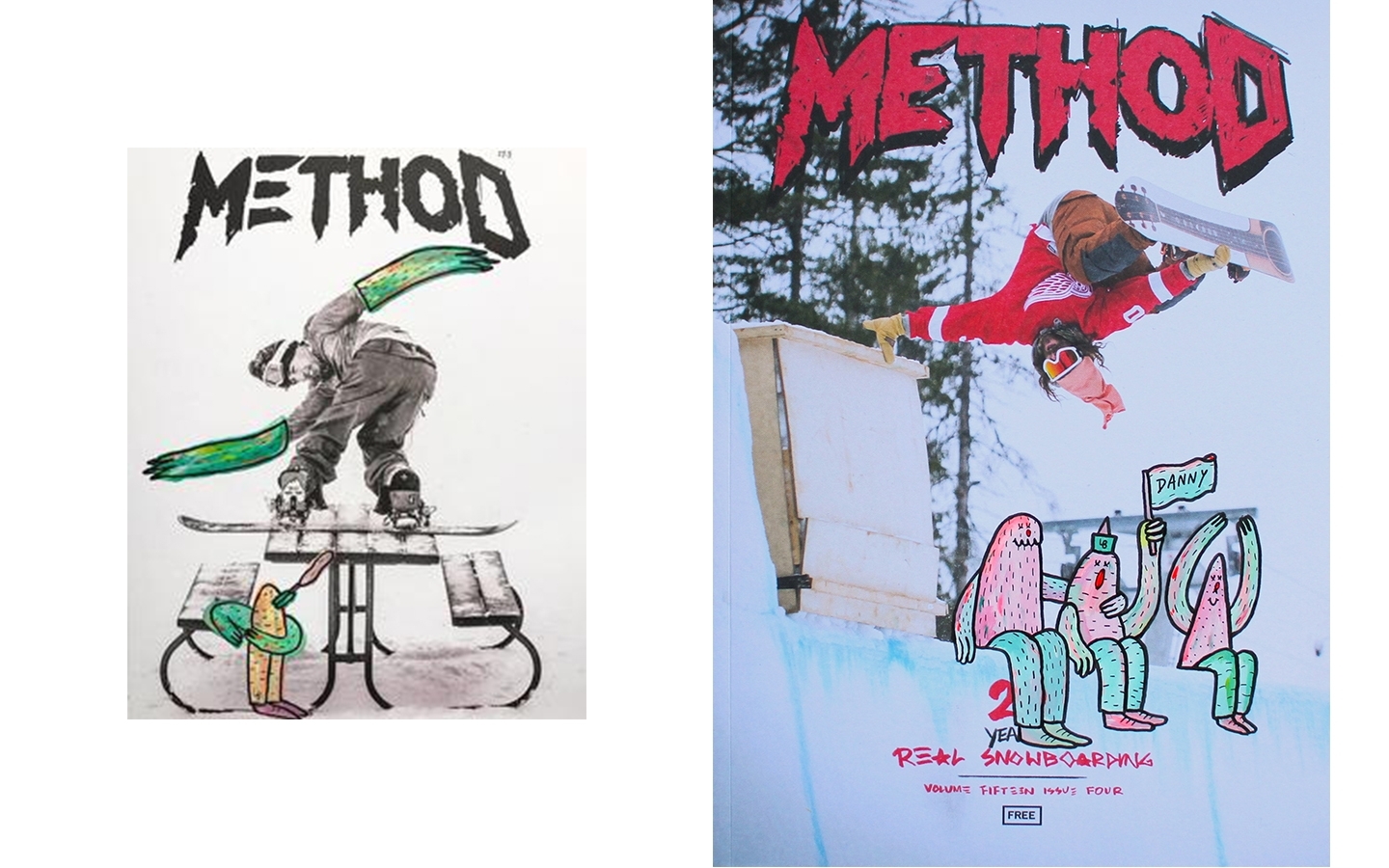 It got me wondering what it was to be a 'painter' you know. Maybe you think they have the moustache, 'oh la la', but what does it actually mean? What do you do when you're an artist? I have no idea. So I see Lucas being commissioned to do all this work. Even though his artwork looks simple, he puts so much attention into it and so much work into it. That's why it comes out so strong, those characters – he has worked on them for so long. It made me think that I wanted to be passionate about a certain style, or be able to have that level of attention to detail. That kind of vibe. It made me realise what it means to be a painter, where you can share your work and do something more than staying inside.
You have to work so carefully to develop your own style and niche and then just push that really hard, it seems.
Lucas is the only 'artist' artist, that I really know, who can live off it. He's also very smart. He's a very smart business man which, I don't know if that's the direction I'll take, but it's a really great example to follow.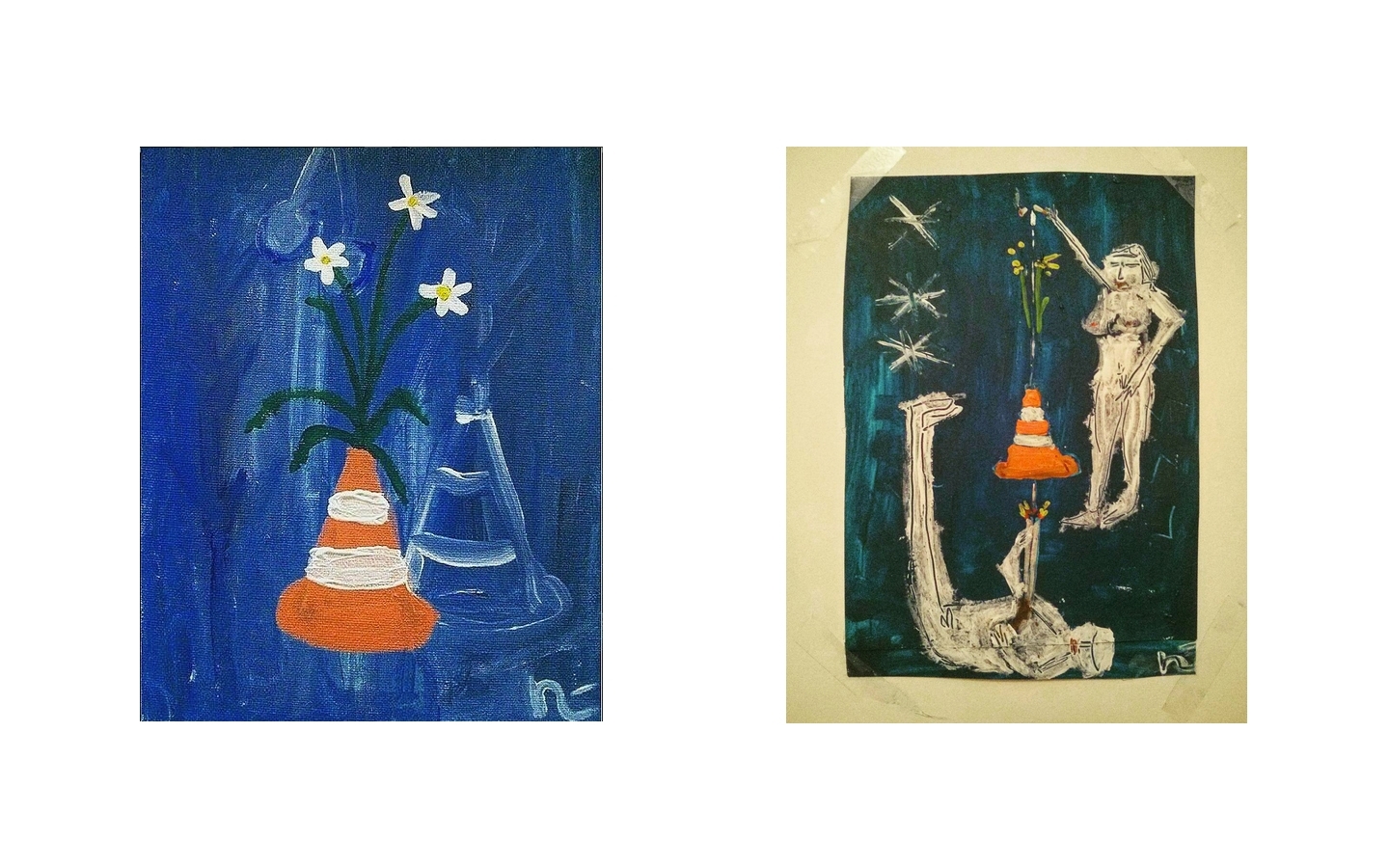 It's very important for young guys like ourselves to have someone to look up to and learn from. It's hard to find though.
I wouldn't be here doing this gallery if it wasn't for him. He has his style and he is darn good at it, and people around him are hyped just because he always shares his work. Really a humble guy and so it made me just want to find my own style and have some fun. I was stuck doing all these black and white drawings that were just what I thought was cool but I didn't enjoy it all. I guess he made me enjoy and find a new hobby, which is wicked.
So you're painting a lot more now. What's your favourite medium to use and how did you get into it?
For now, I really stick to acrylic. I've used other mediums such as pastels, gouaches, oils and pens but acrylic is the one that works for me just because it's relatively cheap and easier to use. I used to paint a lot when I was a kid, so it's not like it was a brand new thing.
It's psychologically pleasing, instead of being home and having nothing to do. If I do nothing else but paint a canvas, eat well and go skating – it sounds kinda simple but – it feels like I've done something productive that day. But then, you worry about all the other things, I guess that's what it is to be a human being. Sometimes you worry, sometimes everything just flows. It's really nice to have that escape. And then people tell me it's rad, which gets you so hyped and encourages you. It's been slow, exactly how I wanted it. I didn't want it to become snowboarding. I didn't want it to become work. It's gradually become more and more part of my life. In the end, no one really cares if I paint or not. But I care. If I put it out there it's great, if I don't it doesn't matter. That's what it is to find a passion.
Going back to what you say about finding an escape. Especially in summer. For me, it really helps with any anxiety I might be feeling. It's important to do something a bit more creative and different, whether that be skating or shooting photos – for you, maybe it's painting and skating. Better than sitting inside and stressing out. Do you ever feel similar feelings to that?
I find it really interesting that depression in a lot of different forms is so taboo. People don't talk about it. And then, every time that you do talk about it, you realise that you're very similar to everyone else.
You're allowed to be all of these things that you feel. But then you find a couple of things that you know feel good and are right, so just go for those things because it's not like life is fucking easy all the time. If you have good friends, enjoy their company and care about them. If you like running up a mountain every day, good for you do that. I mean we found skating and snowboarding, we are the luckiest kids because the community and all the outlets that come from it: style; art; music; gatherings, events; we're so lucky we got into that, it's one of the coolest thriving communities there is.
My art was just a way for me to realise that everything is ok right now.
So if you want to come to this new movie I made this year it talks about this a lot. It deals with youth anxieties and what it is to be an old man, what it is to grow up. It's so funny that you ask me this because no one talks about it. Especially in snowboarding where people see their life as a clock. When they're 30 thinking they won't be able to snowboard anymore, they're all thinking my life is over! But that's why people are taking care of themselves now, you can't be a thirty-year-old and have hangovers and still ride, so people just stop drinking so much.
Let's go back to your art show with Lucas. What was the concept and theme behind the show?
So we brainstormed a little but we quickly found the theme "Gueules de Bois" which literally means a head of wood but the expression means to be hungover.
And what did you personally produce for it?
So, since there was wood in the theme we all decided to use wood as a medium but then it was pretty much to each artist to do his own version of it. What I did was put all my object's, animals and heroines in a way so that from far it looks like a huge canvas but each piece can also stand its own.
Do you have any special space you can paint in or do you just do it anywhere you can?
That really depends I've had some really amazing times in my family summer house in Denmark where Tom Guillmard and I stayed there for a while as a creative cabin and that felt like a real studio. Otherwise, I just have not much in my room and keep a large space to organise like a mini studio. It works! Definitely looking into a place with high ceilings and a space that I can use just to paint, which I'm trying to organise for this September.
Have you got a sketchbook with you right now, show us a couple of pages!
Yes! I plan out most of my painting in sketchbooks just to get the geometry right and then pull out some real ideas from my head. Either being a setting, people or juxtaposing objects I try to tell a story.
Any particular artists that really inspire you?
Yeah, of course, Matisse, Basquiat, Miro, Miyasaki.. also music really helps and all other forms of art. Somehow you take all different aspect and try and practice and sometimes copy just so learn. Then slowly you don't look at artist anymore and you do you for a while till your stuck again and then it's another cycle of learning other style and technique. It's a pretty interesting process.