12 Mar 2023
Words by Theo Acworth
Photos by Theo Acworth
Felt Almost Like Family - Vans Hi Standard Brighton
My plane doesn't have blinds on the window. Instead, it has a button that somehow dims the glass. Or plastic, whatever plane windows are made out of these days. I opted not to have the wifi on the flight, so I'm left to ponder how this mysterious window functions for most of the 10-hour flight from Munich to Denver. I come to no solid conclusions.
I have mixed feelings as I gaze out at the landscapes below me. Excitement that I'm going somewhere I've never been. Nervousness at stepping into a scene that I've never connected with in person. Excitement that Utah is having the best winter in 20 years and I get to ride pow. Nervousness that no one has liked anything I've written in Method for the last four volumes and won't want to hang out with me because they think I'm an idiot. An invitation from Vans to the relaunch of the Hi-Standard, though? I'm not saying no to that, so I do my best to wrangle my emotions into place and watch a rather sad movie about Elvis Presley.
I briefly converse with the border agent in Denver, who, when hearing that I'm going snowboarding, leaves me with the parting words, 'Cut it up, buddy!' I forgot his name, but I tell him that I will, and his words propel me through the endless corridors of the terminal. It feels as if I've walked halfway across the state, and I debate hopping on the back of a golf buggy as it passes, but images of being forcibly detained flash before my eyes, and I decide to keep walking. A short flight later, and I'm in Salt Lake City.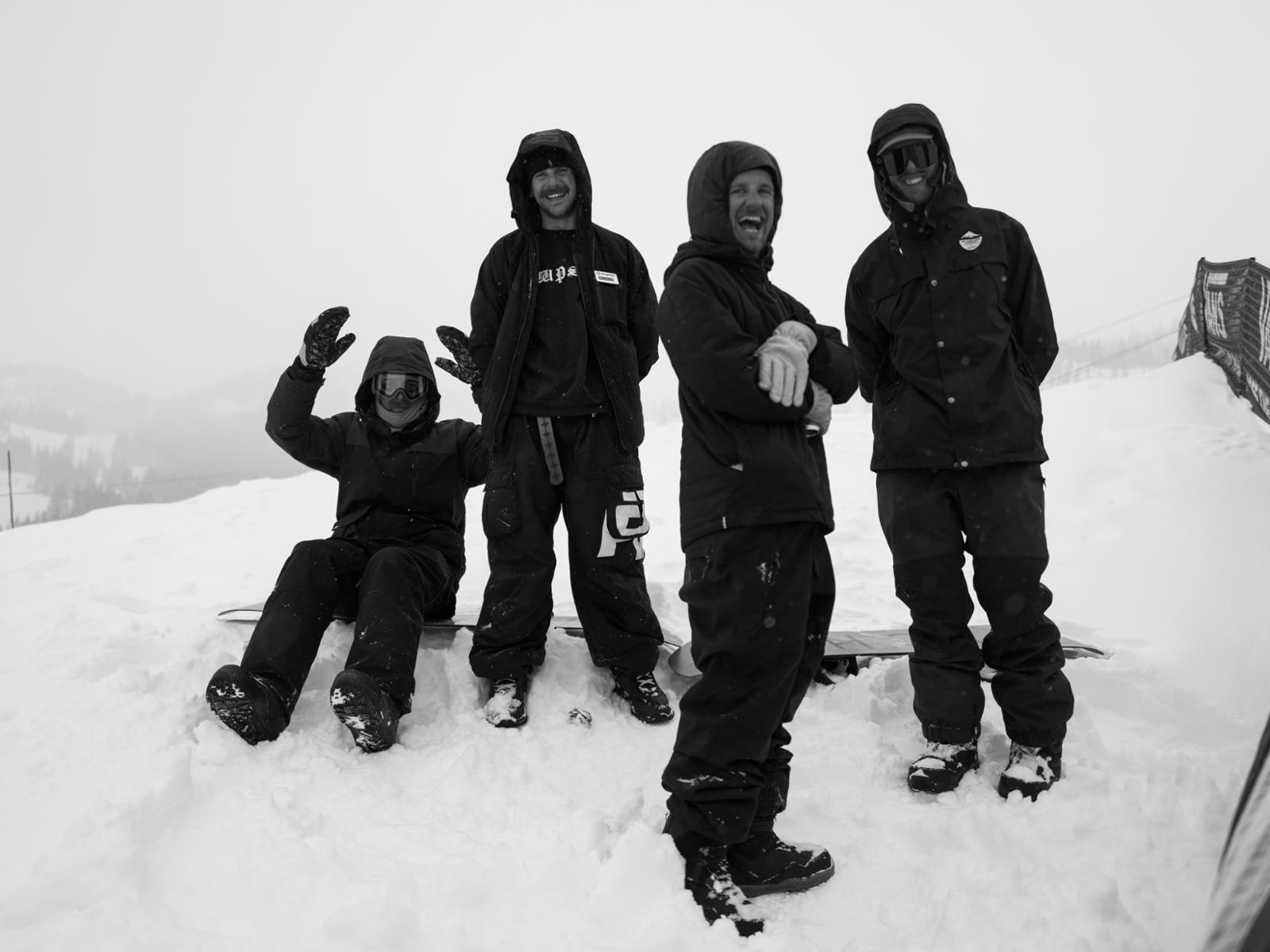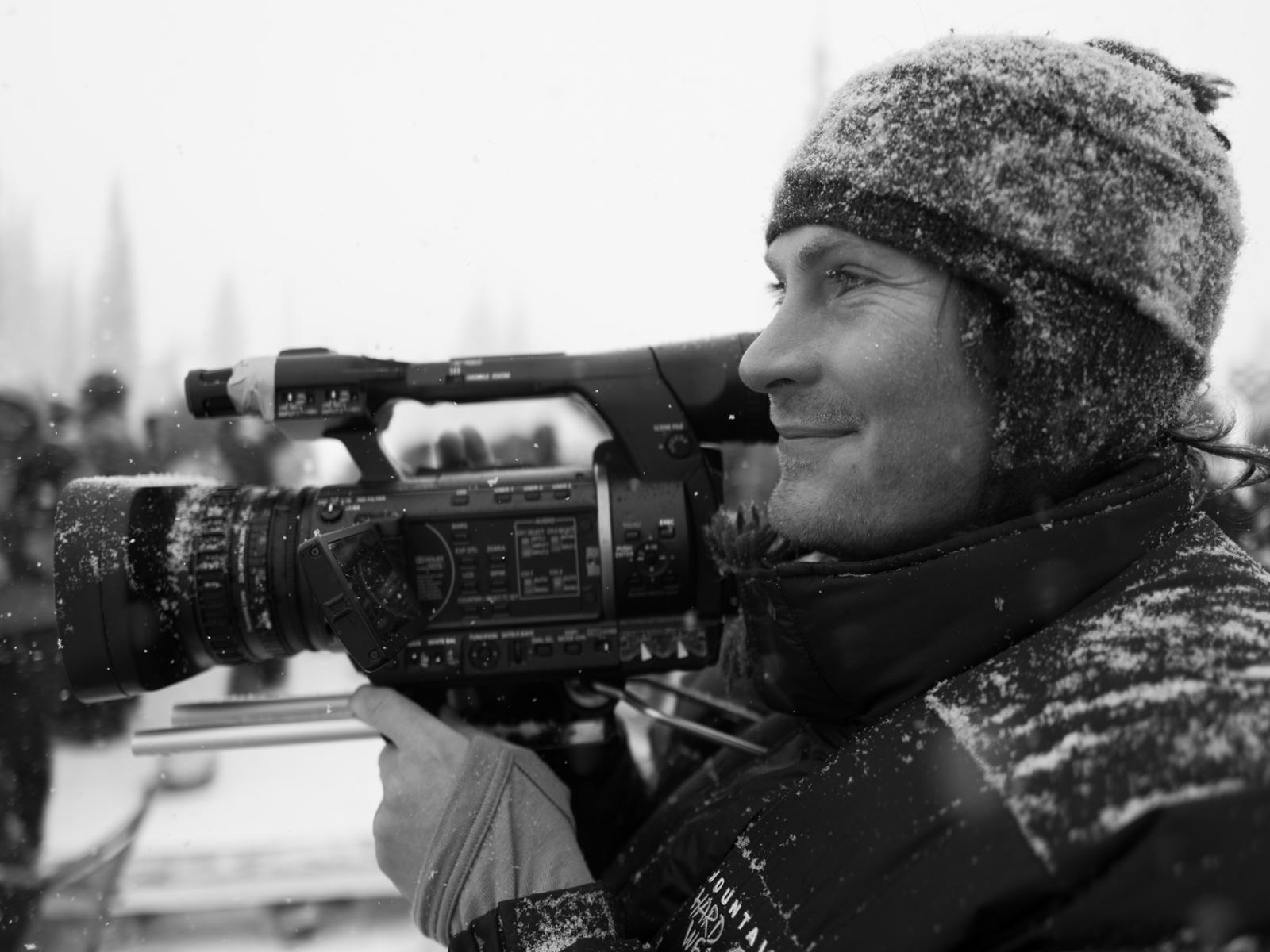 I step into a room filled with people who I know but who don't know me. Jed Anderson is eating tacos with Ben Kadow. I see John Cardiel and Mikey Leblanc queuing for the food truck. Danimals, Jake Kuzyk, Cole Navin, and Harry Hagan are at a table drinking margaritas. Danny Kass and his dog move easily through the crowd. Spencer Schubert's head is clearly visible over everyone else's. A truly legendary crew has gathered, and the room hums with conversation. I spend time near the walls and briefly converse with Desiree Melancon, and she advises me that it's sometimes better to tell someone that it's nice to see them instead of asking how they're doing. She leaves in a hurry, leaving me alone to converse with my drink. I meet Casey Pflipfsen, Alexa McCarthy, Matt Coughlin and Naima Antolin, four snowboarders who I greatly admire, and I am happy that I can tell them that in person. I learn that alcohol laws in Utah are confusing and then discover that the window in our Evo hotel room overlooks the indoor climbing gym. I opt to keep the blind down for the night.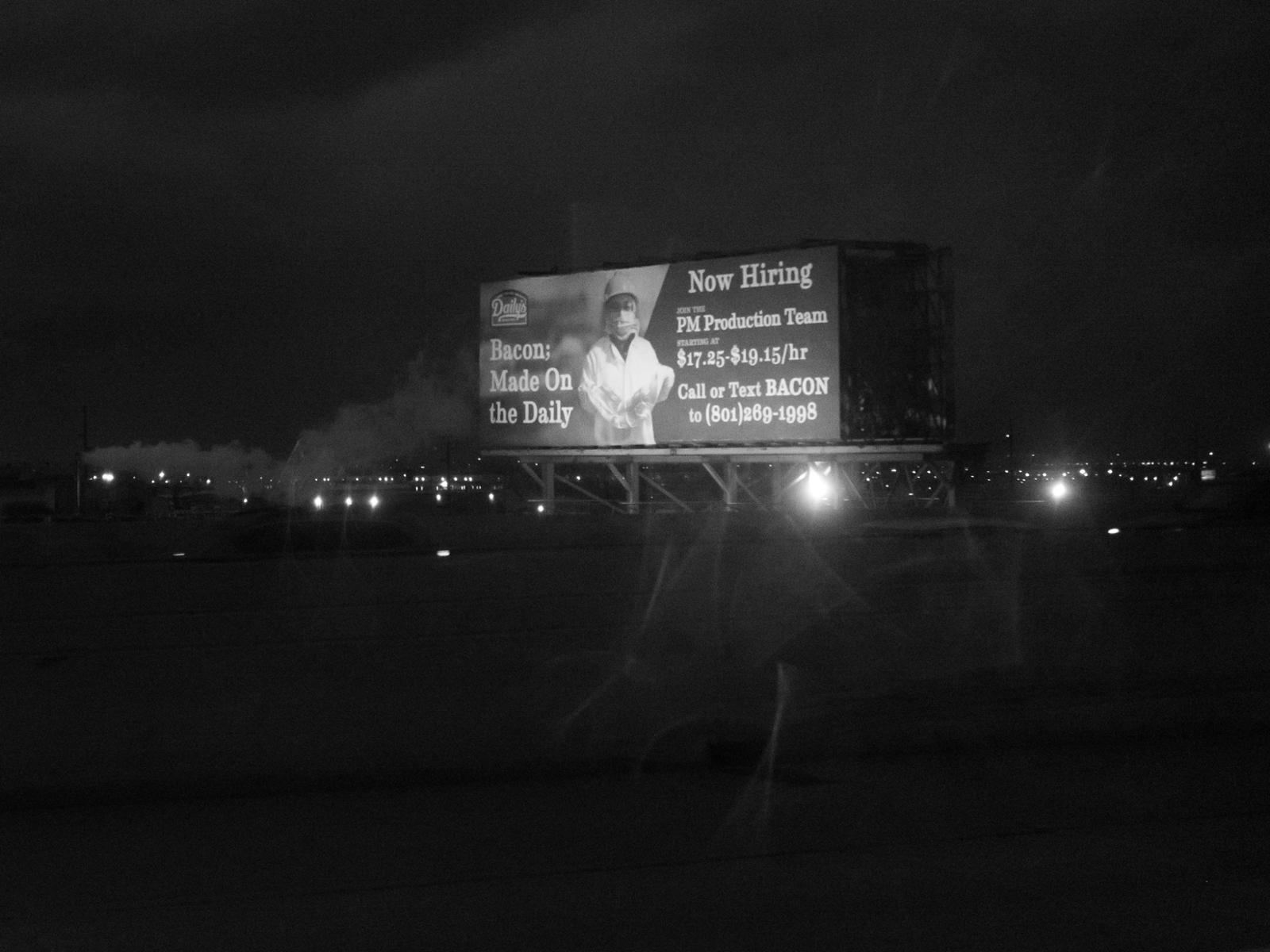 MIKE BOGS, BRYDEN BOWLEY & SIERRA FORCHHEIMER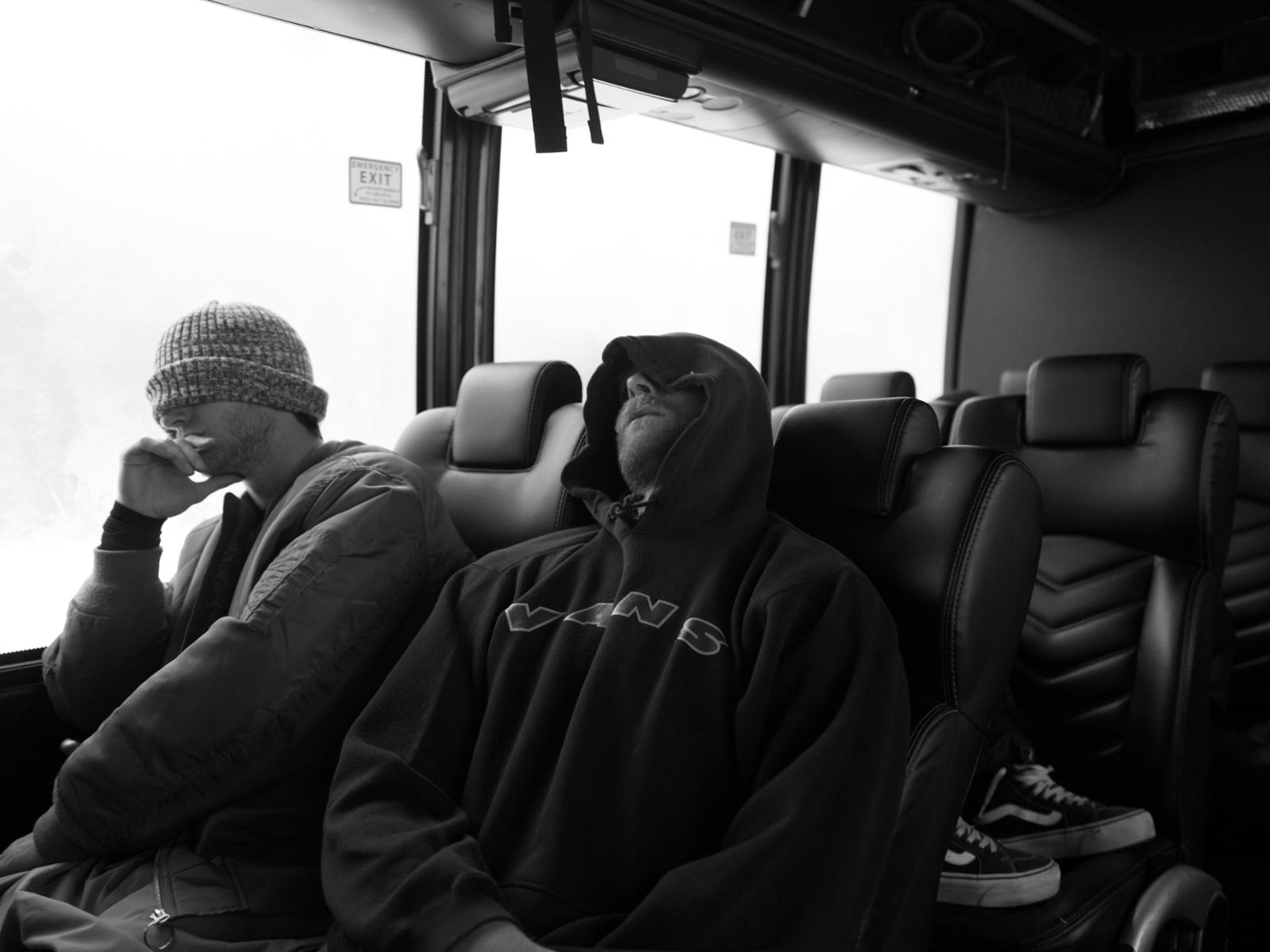 A bus driver called Ron picks us up and, when asked, informs us that he had tuna with French fries for dinner. He doesn't offer further information on this curious combination, and we don't push him for it. The bus joins the freeway where floodlit billboards offer to freeze our fat, guaranteed auto loans, Korean bbqs, and botox lips. The glittering promises give me an ominous feeling, and I'm happy to leave them behind as we turn into Big Cottonwood Canyon and weave our way up to Brighton Resort and the Milly Express chairlift.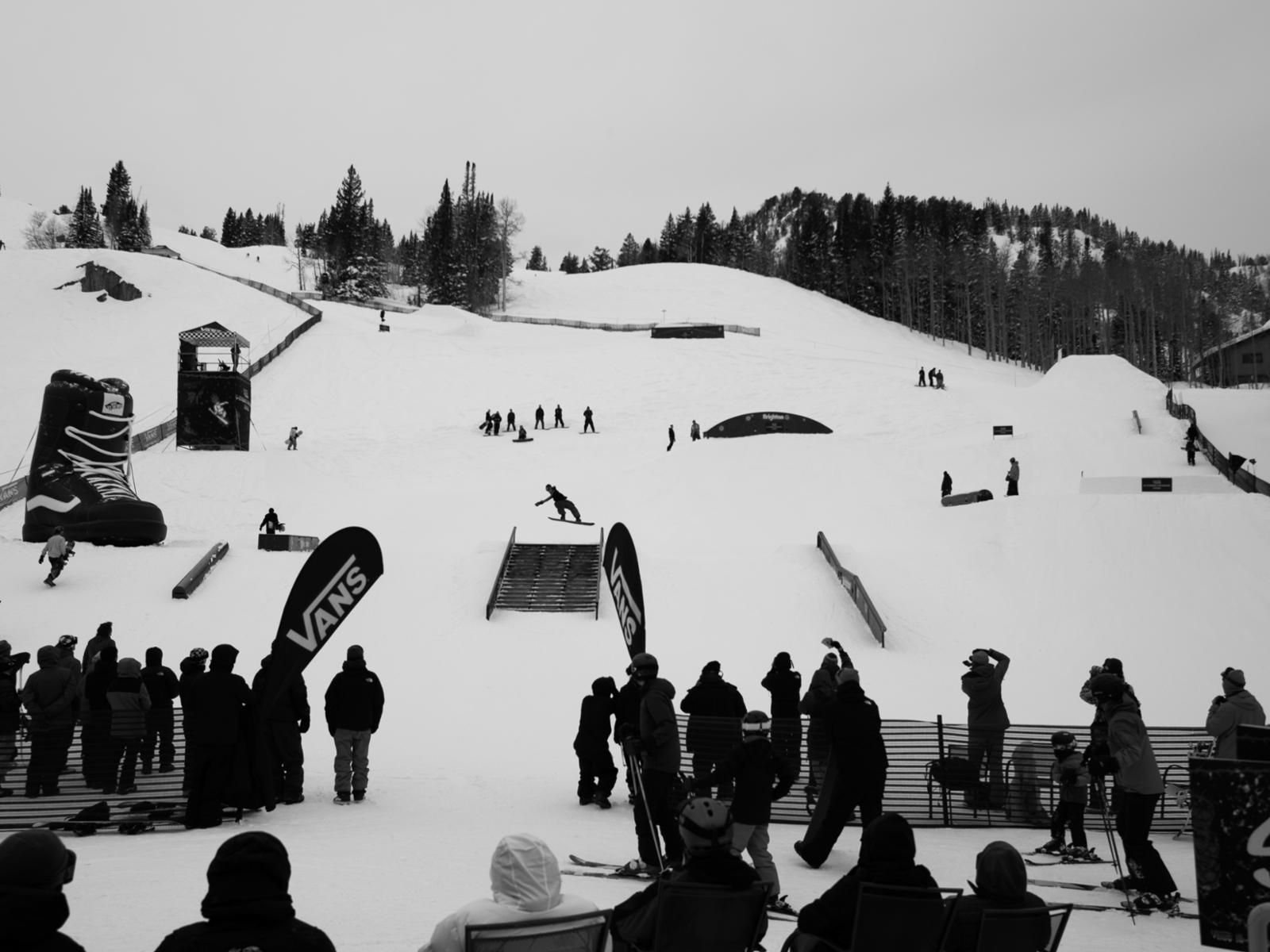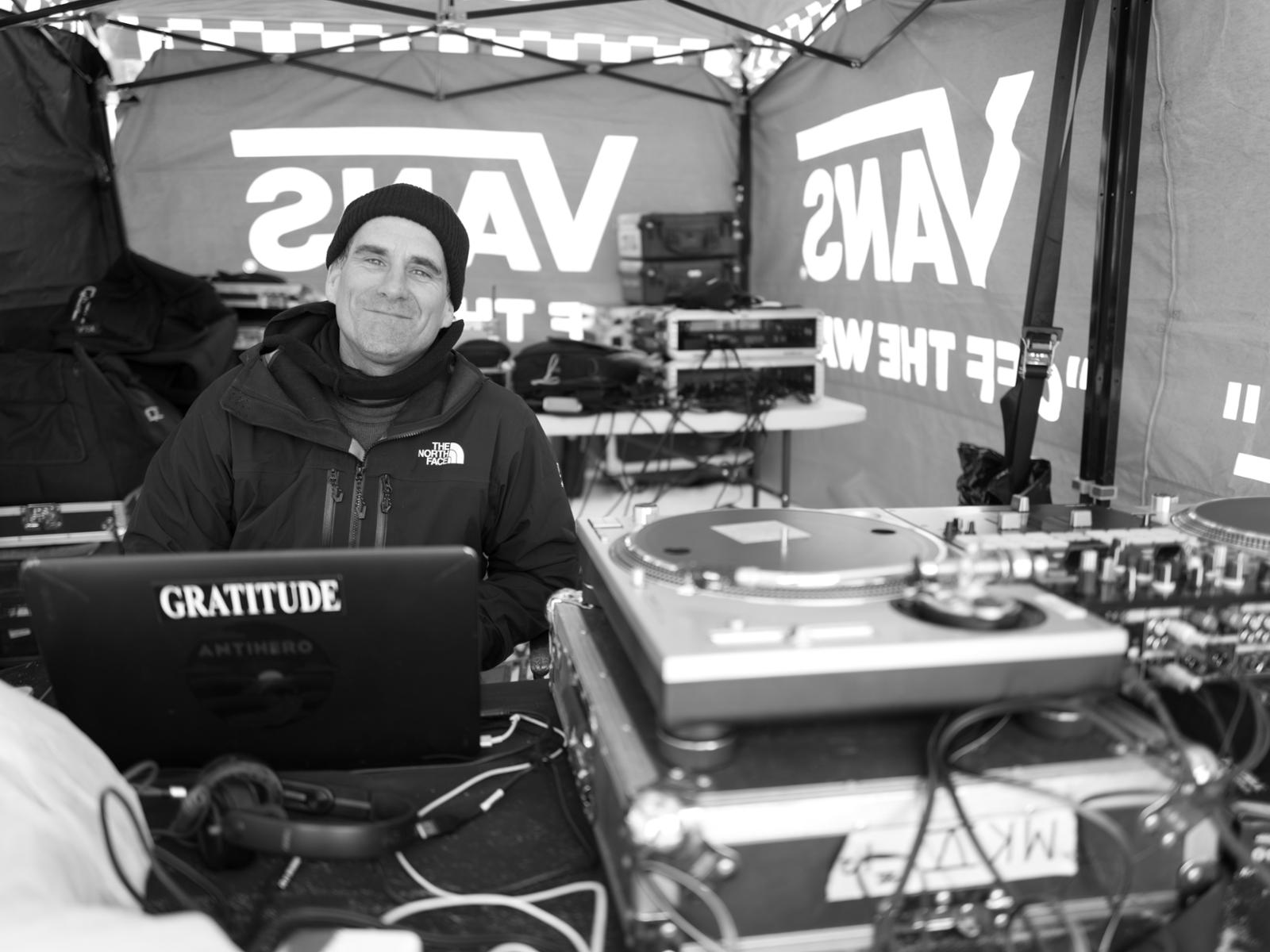 The Hi Standard course features two bike jumps, a quarterpipe, rainbow box, several rails, a kicker, and a giant inflatable boot. The boot is my favourite, and I am delighted when several people start to ride it. Egan Wint negotiates her way over the toes, and Casey Pflipsen laces a backlip (technically more on the toes of the boot than the laces, but we're not splitting hairs here). I wonder how tough the boot is and what would happen to anyone who would rip it. It briefly deflates, but then returns to life. More likely a pulled socket than a material failure. The open session runs, Salt Lake shows its talent, and Steve Van Doren is spotted clearing tables inside the lodge. Kass, Leblanc, Melancon and Bogs give judgement from the fence. As snow falls, we bomb hills with Pedro Delfino and John Cardiel, a surreal experience. E-Stone snores on the bus on the way home, his pocket supplies of candy long since eaten.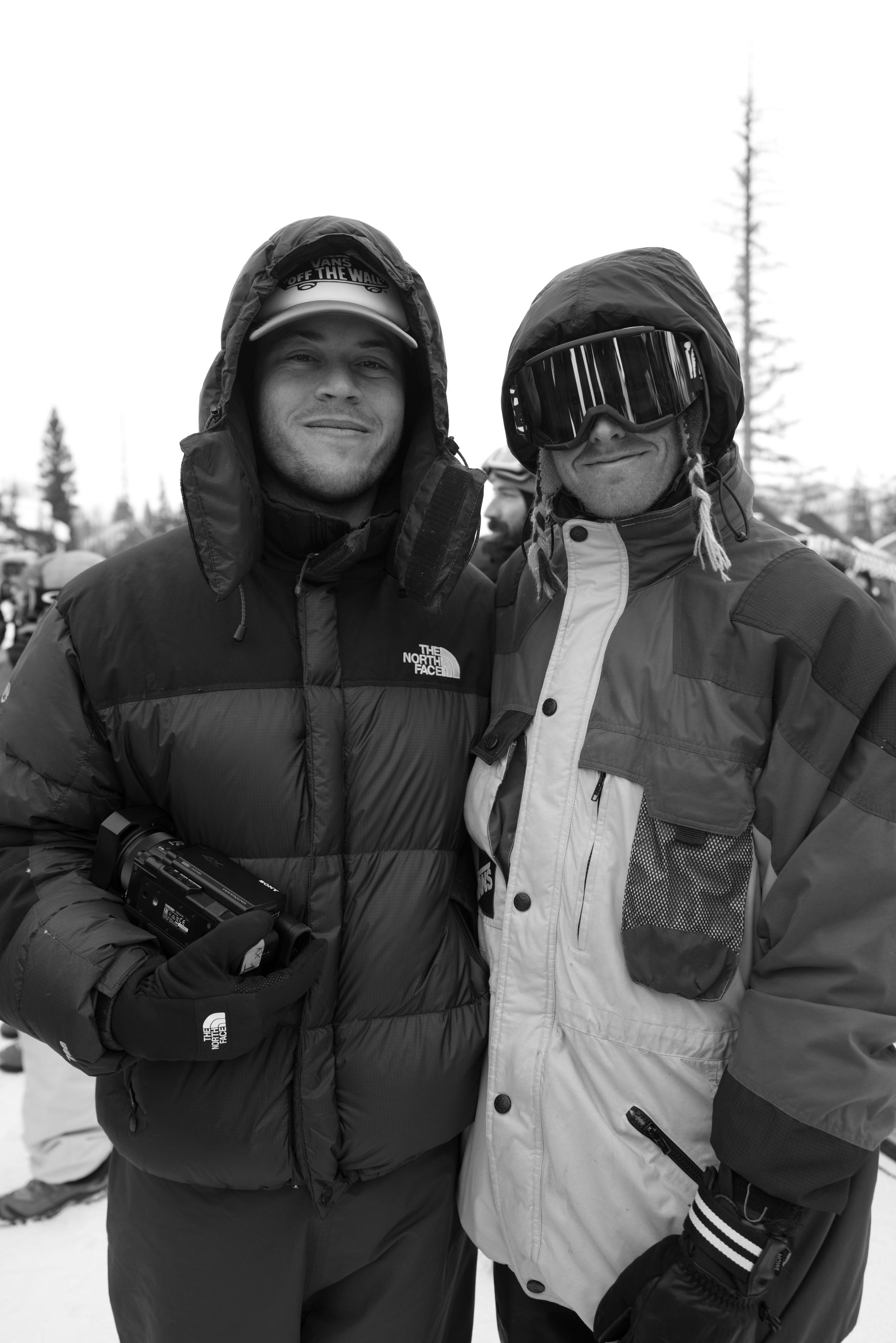 No sooner than we are down, we seem to be heading up again. There is a special energy in the air, and the audience is treated to a masterclass in style as the pro jam begins. The best riders in the world, sessioning together in front of our eyes. I sit back and soak it in. Sure, there's some money on the line, but the session would be firing just as hard even if there wasn't. These are the best to do it, and they're not holding back. During an interlude, a skinny wooden pathway is constructed, and Taylor Kirby is coaxed up the hill. After several attempts, he puts down a full-throttle boardslide. Pedro Delfino, sporting a pair of goggles and a cap, attempts a 50-50, but chooses to walk away intact. Krugs pukes and then feels better. Collective energy levels are high.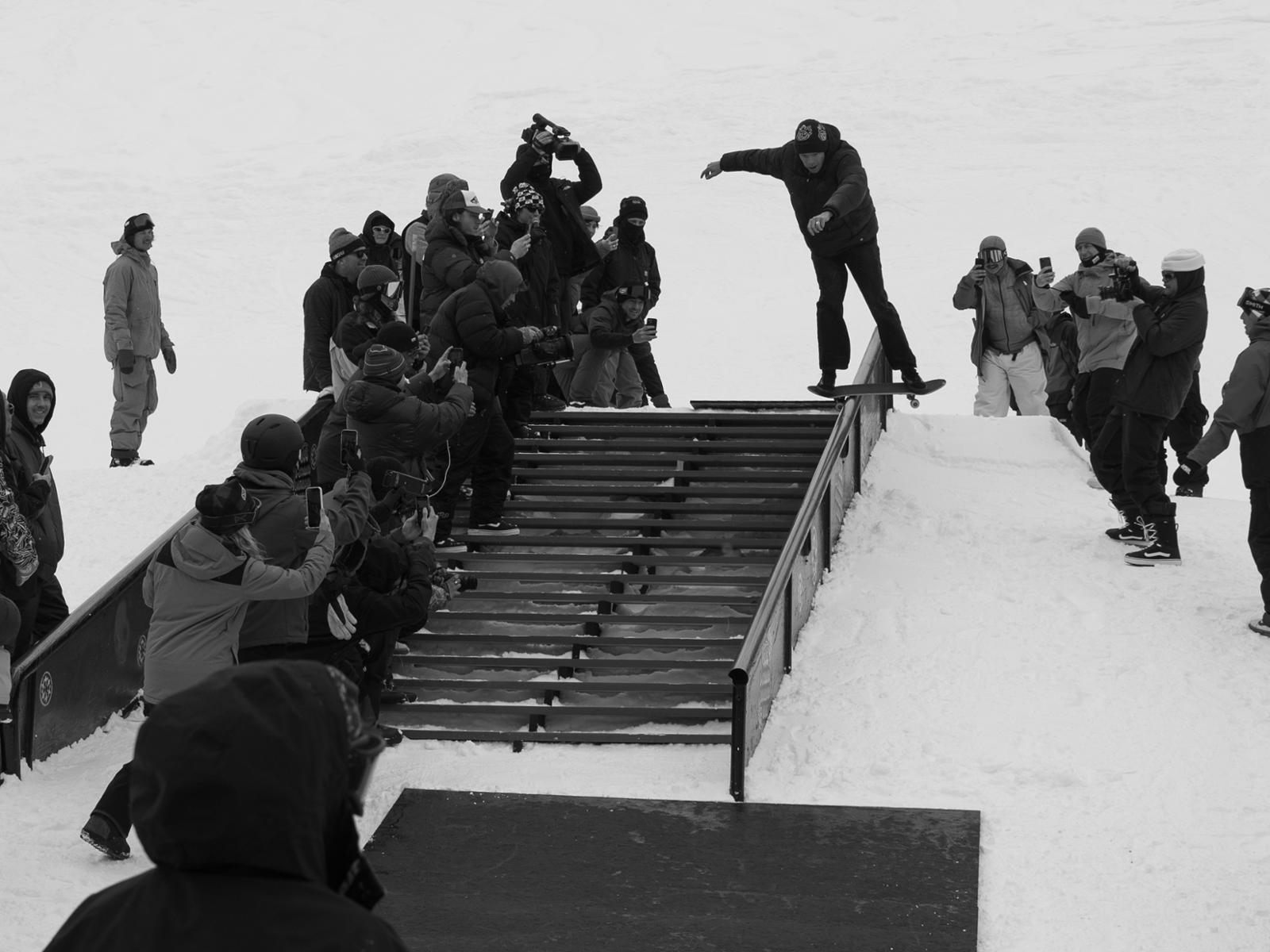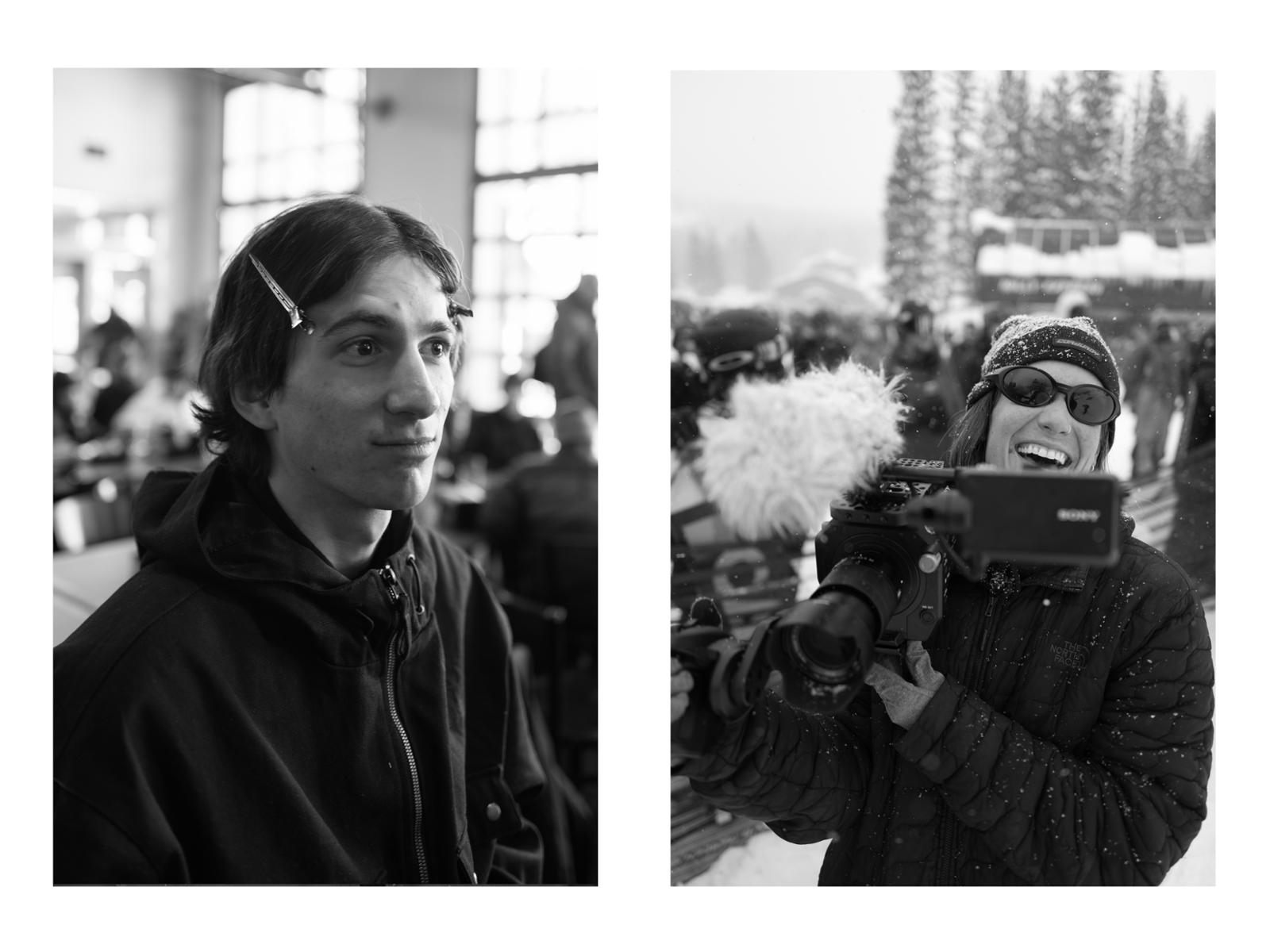 ROBBY MEEHAN & MIA LAMBSON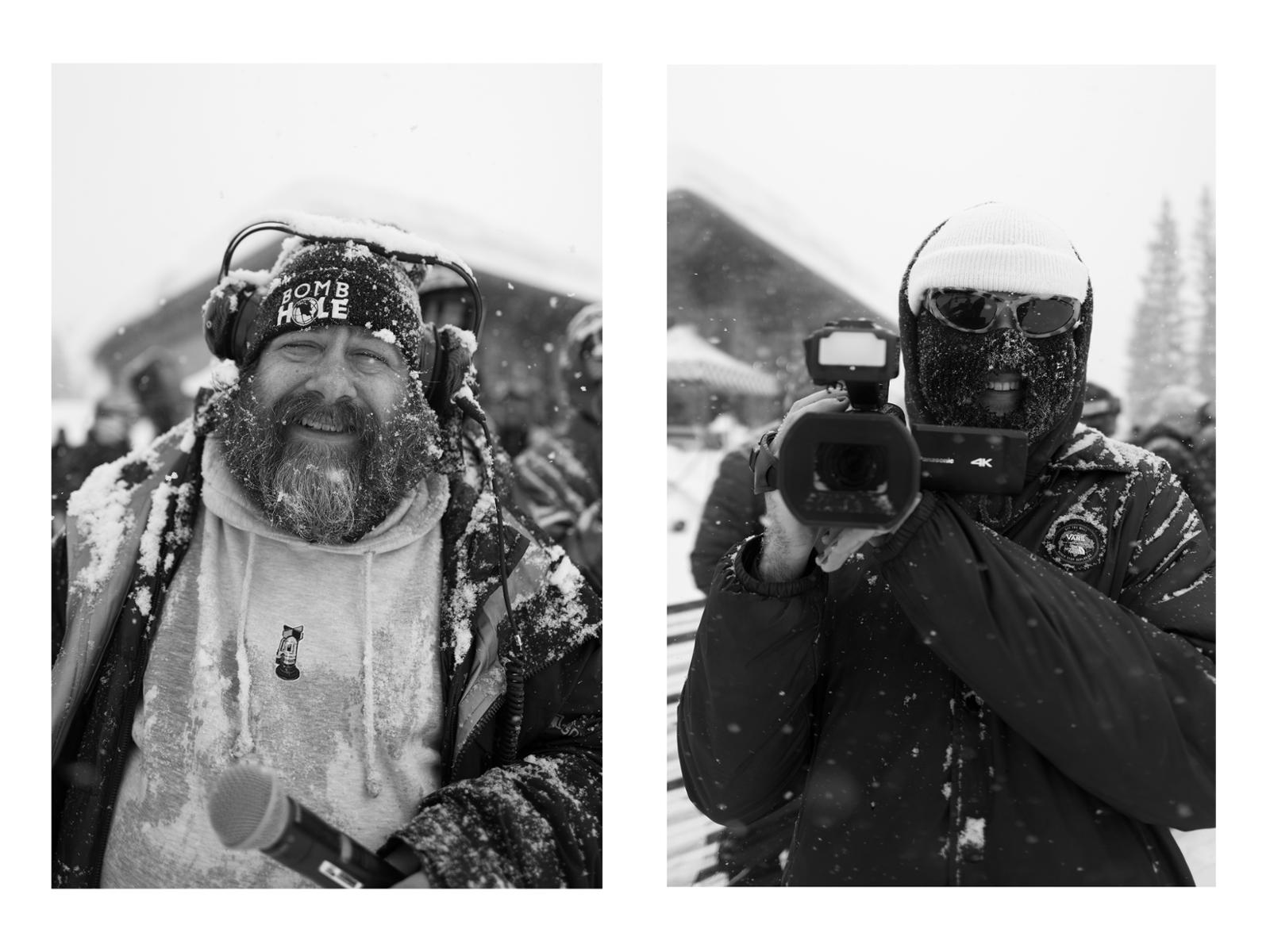 E-STONE AND JULIAN MATOCQ
The snowfall thickens, and the sound of heavy metal rages over the hill as Ben Kadow takes over the decks, followed by Cardiel's more soothing reggae tunes. Mike Rav weaves beautiful patterns through the course, although the lines become somewhat erratic as the day goes on. Substance intake is suspected. Jill Perkins methodically takes down feature after feature. Louif works flawlessly. Spencer Schubert one-and-a-half-flips the boot. Tommy Gesme blends power and grace. Joey Fava doesn't stop. Benny Urban briefly disagrees with the ground, before settling the score with German precision. Melissa Riitano is the only rider cranking methods. Reid Smith's teeth flash through his facemask. Ivika Jürgenson and Kennedi Deck take down the double kink. Jed Anderson gets airborne with Oil Gagnon documenting on the deck. The snowfall thickens, and Rav is spotted kicking over chairs and moshing on his own in front of the DJ tent. Bryden Bowley and Mia Lambson keep the cameras rolling. Jed Anderson and Jill Perkins take home 10K each, and Spencer Schubert takes the Ojo award, wearing the perfect, if stained, shirt.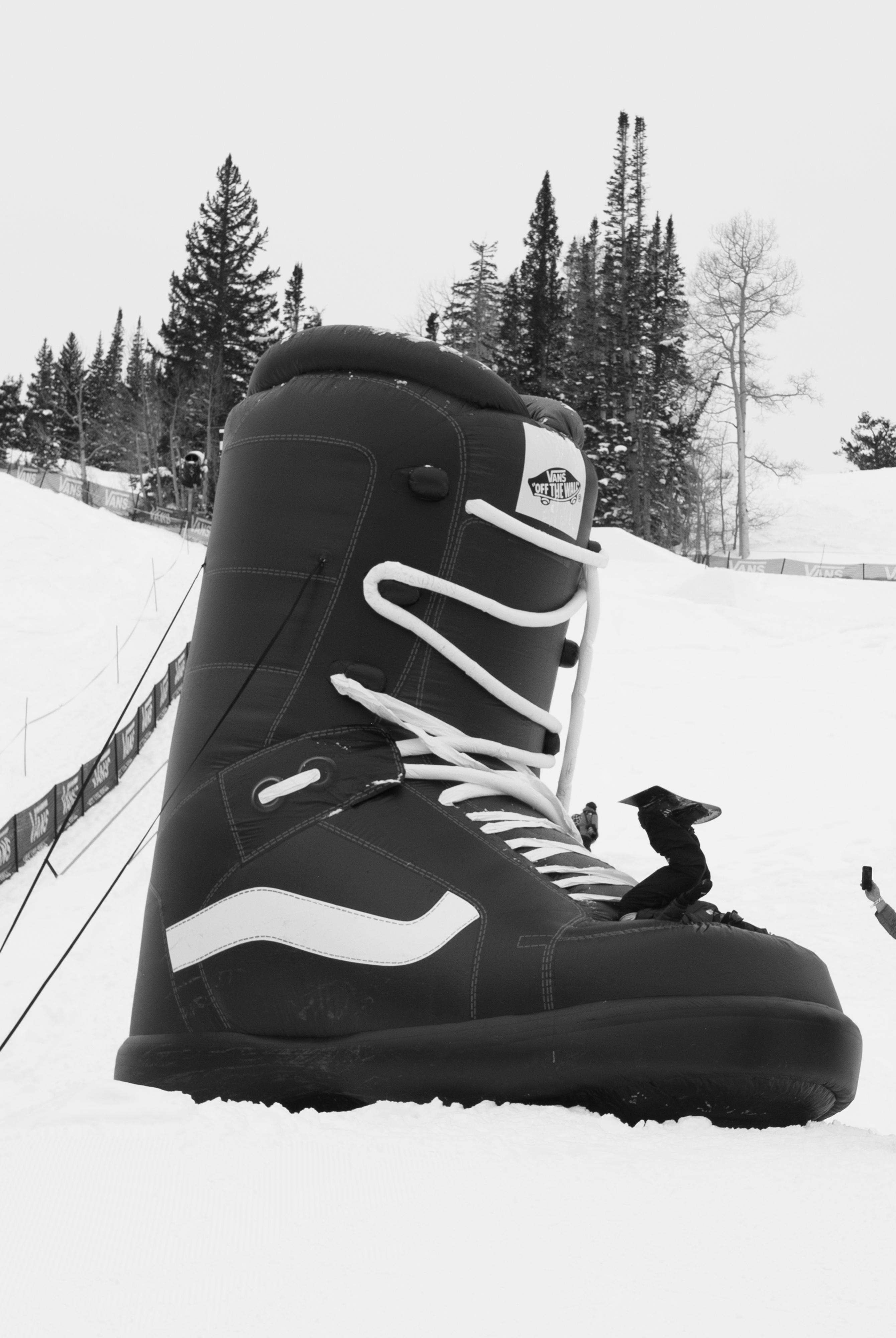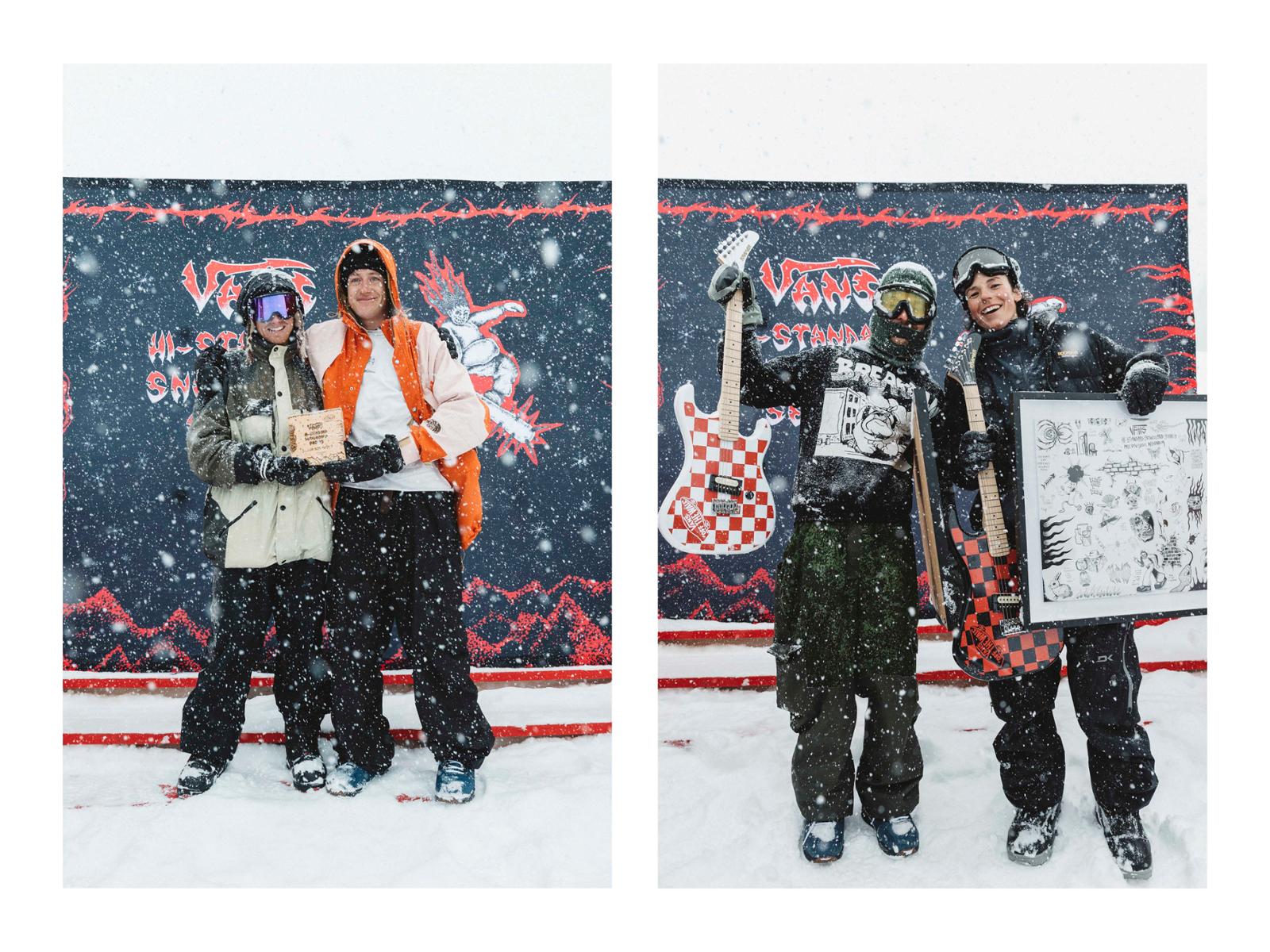 SPENCER SCHUBERT, JED ANDERSON & JILL PERKINS : PHOTO - OLI GAGNON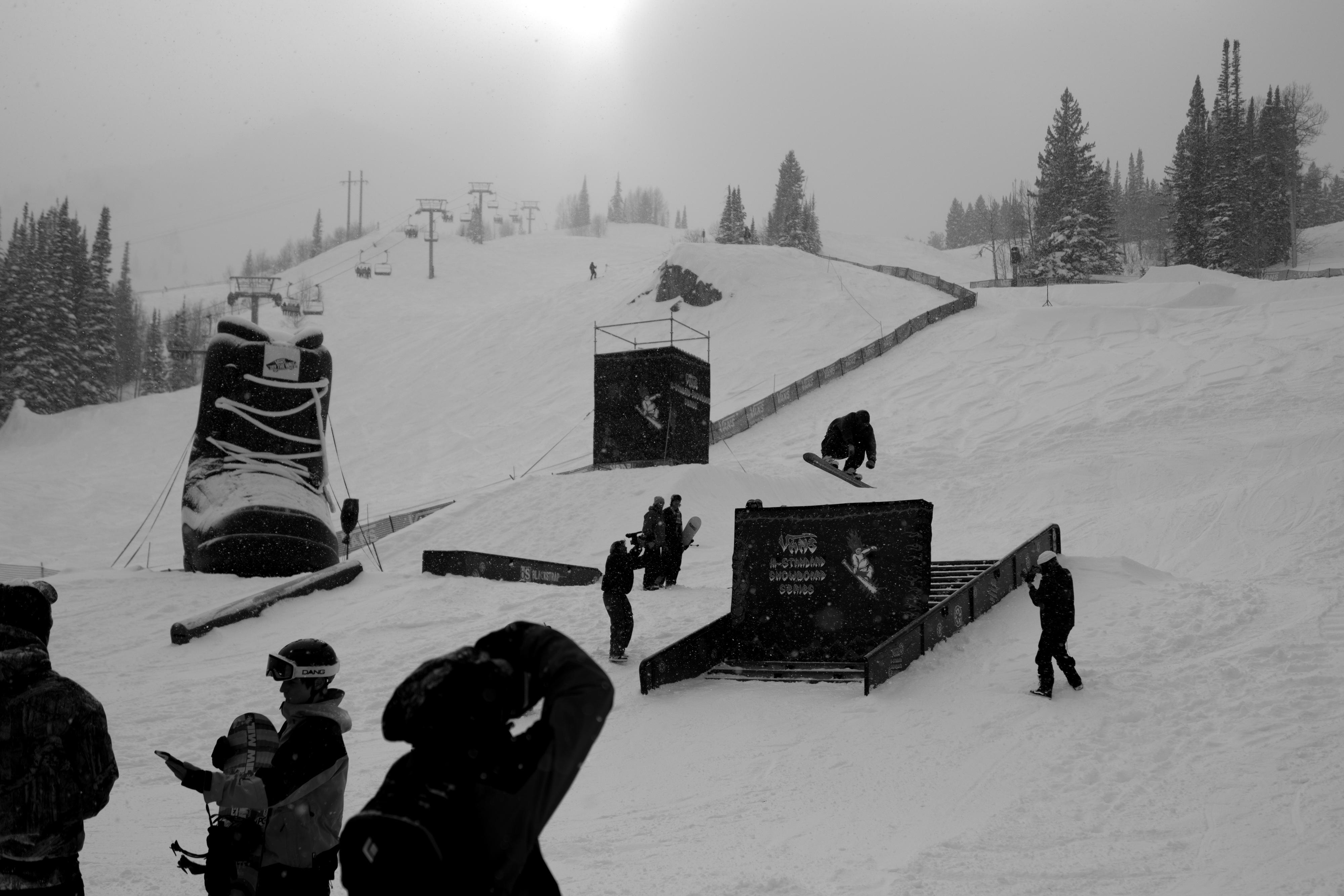 Multiple eyewitnesses report Steve Van Doren blasting an ollie over the Hi Standard podium artwork, but he was unavailable for comment, having vanished from the scene. Van Doren was last spotted bombing into the woods off the Great Western chairlift, pursued by ski patrol for ducking the rope.
My gratitude goes out to Vans and everyone else who gave us their time, energy, and friendship in SLC. On the flight out, as I work my way through an oversized and overpriced bag of smoked almonds, I see the Northern Lights over the wing of the plane. This was my first time to Utah, but definitely not the last.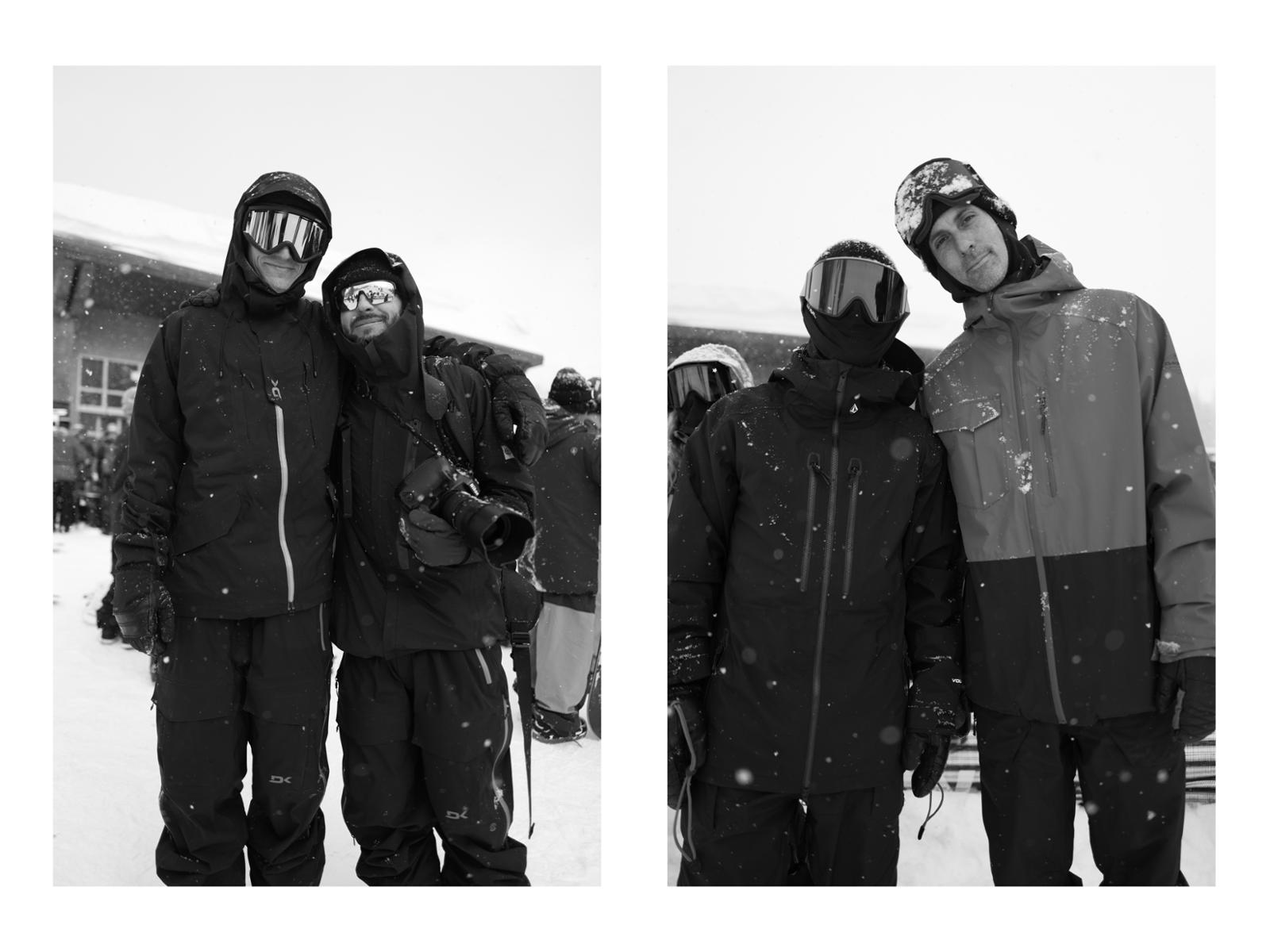 LOUIF PARADIS, OLI GAGNON, KEVIN CASILLO & JUSTIN VILLANO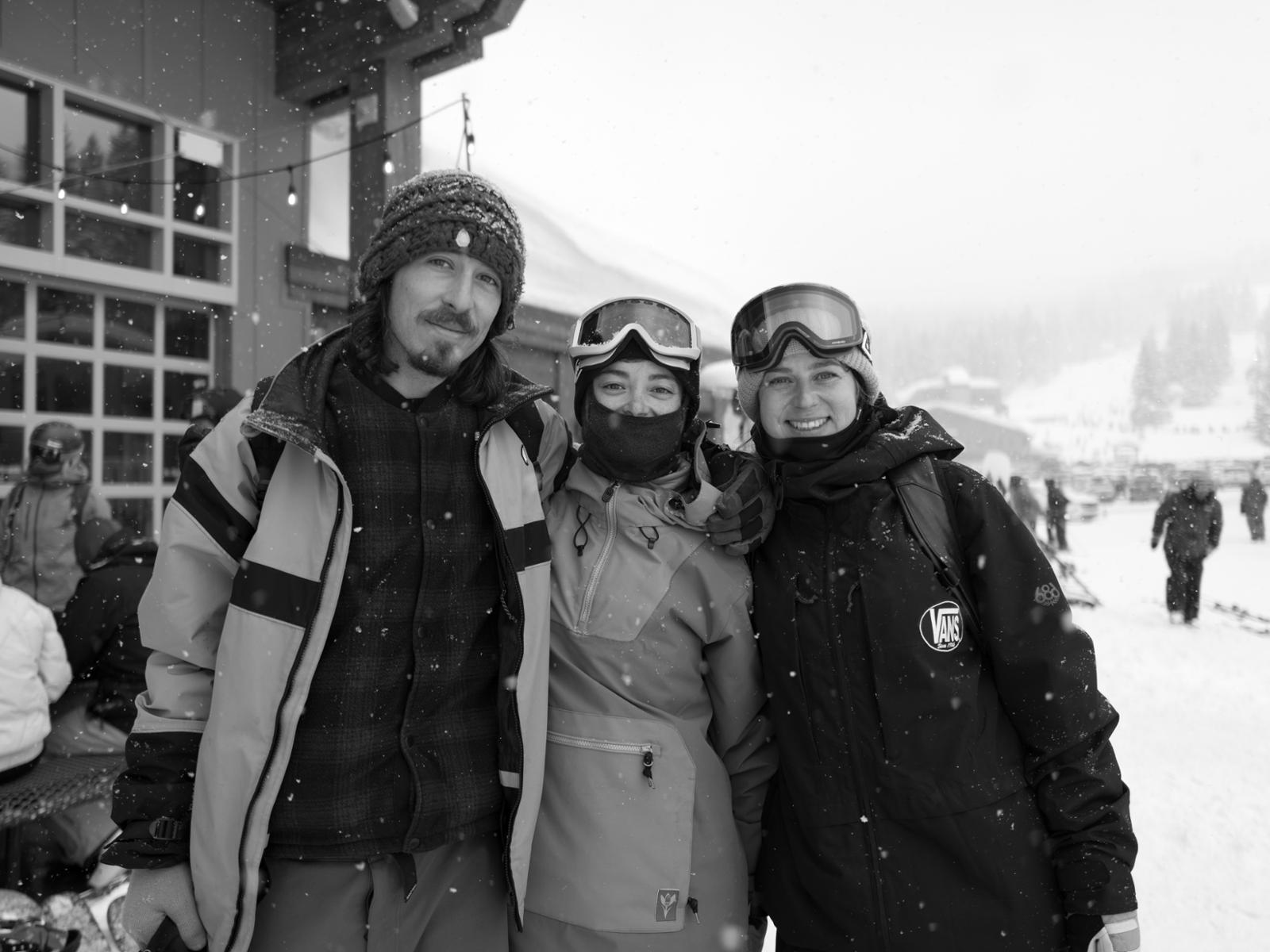 MIKE RAV, NAIMA ANTOLIN & IVIKA JÜRGENSON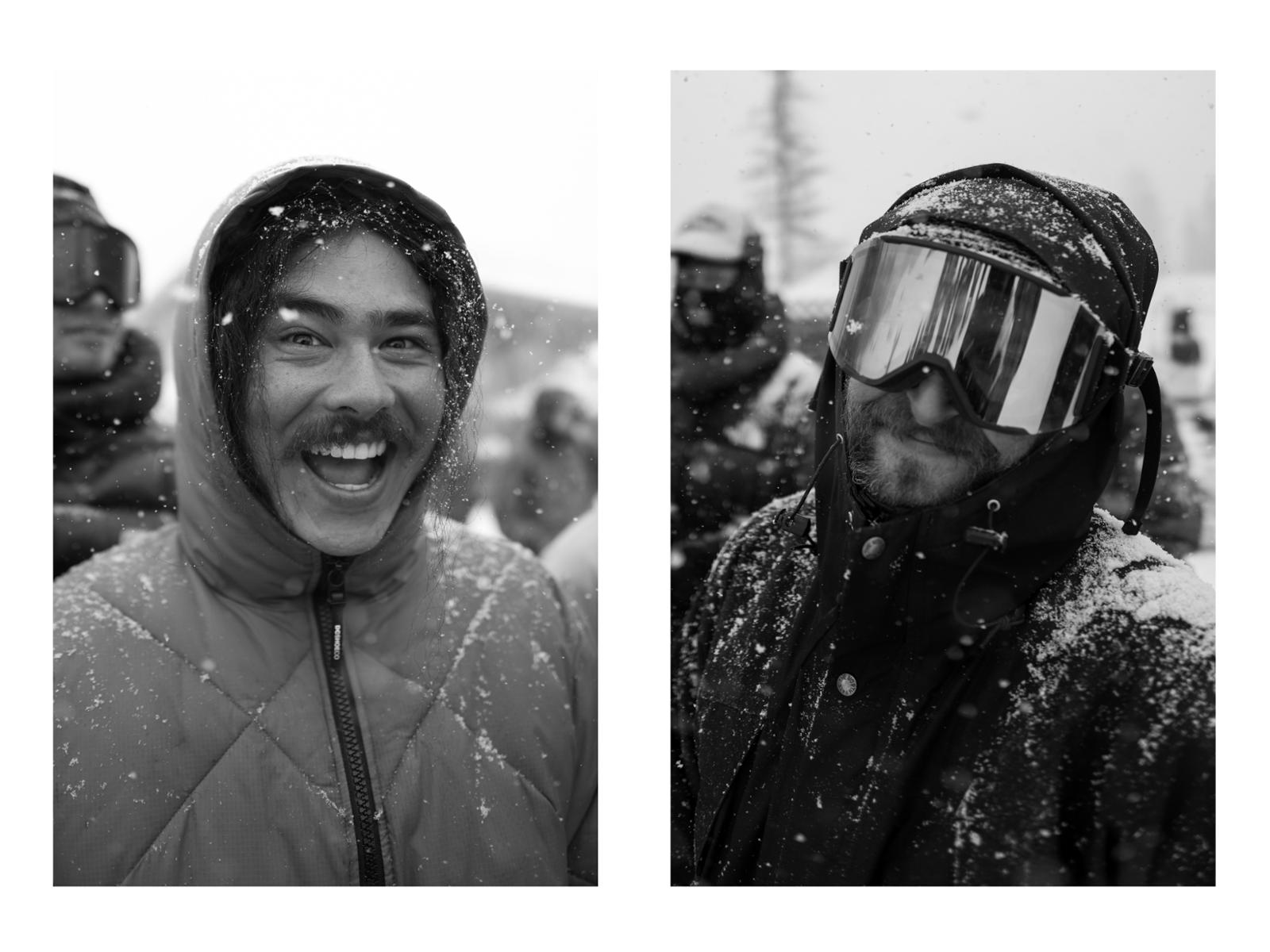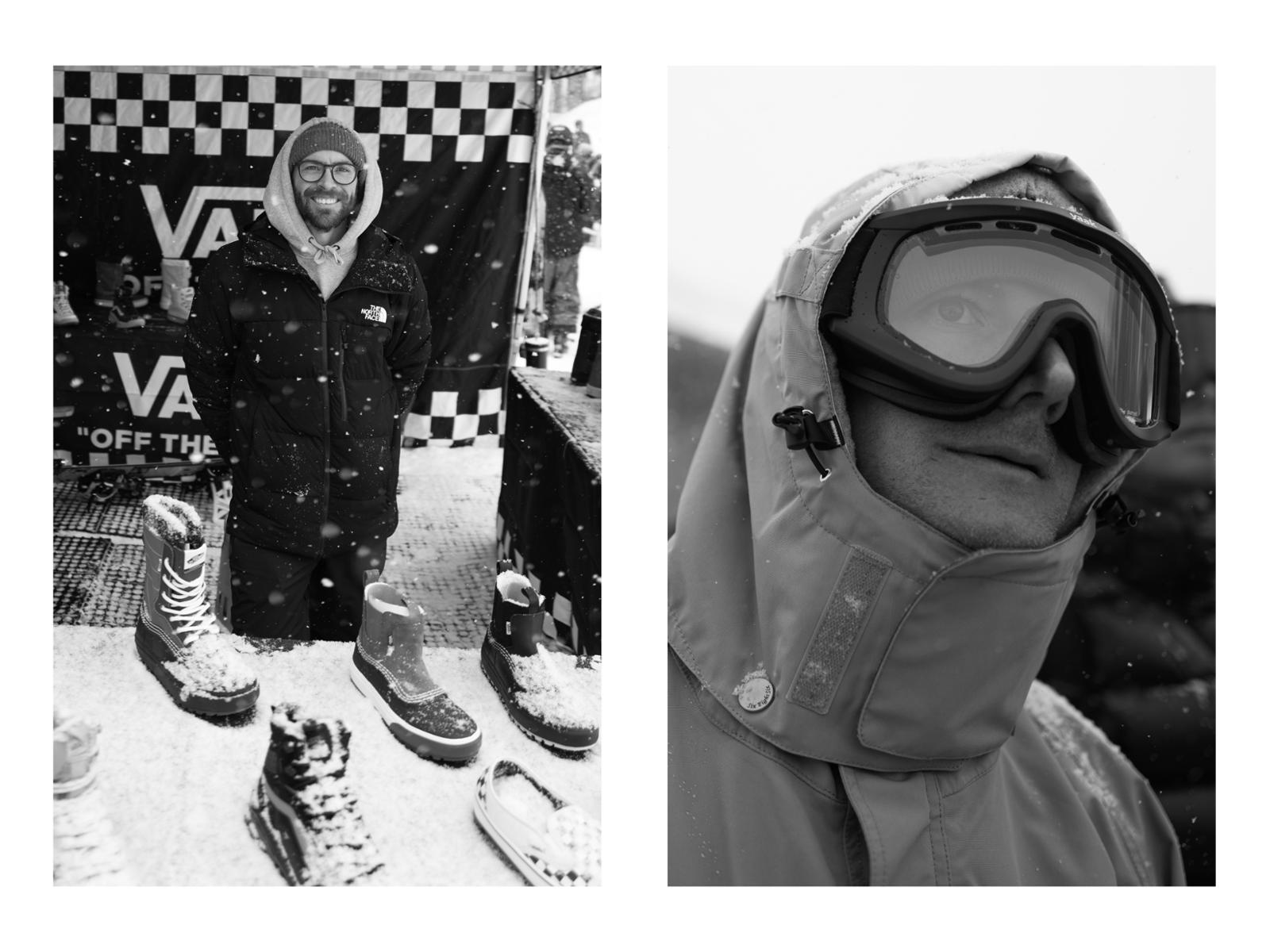 NELSON WORMSTEAD & RILEY NICKERSON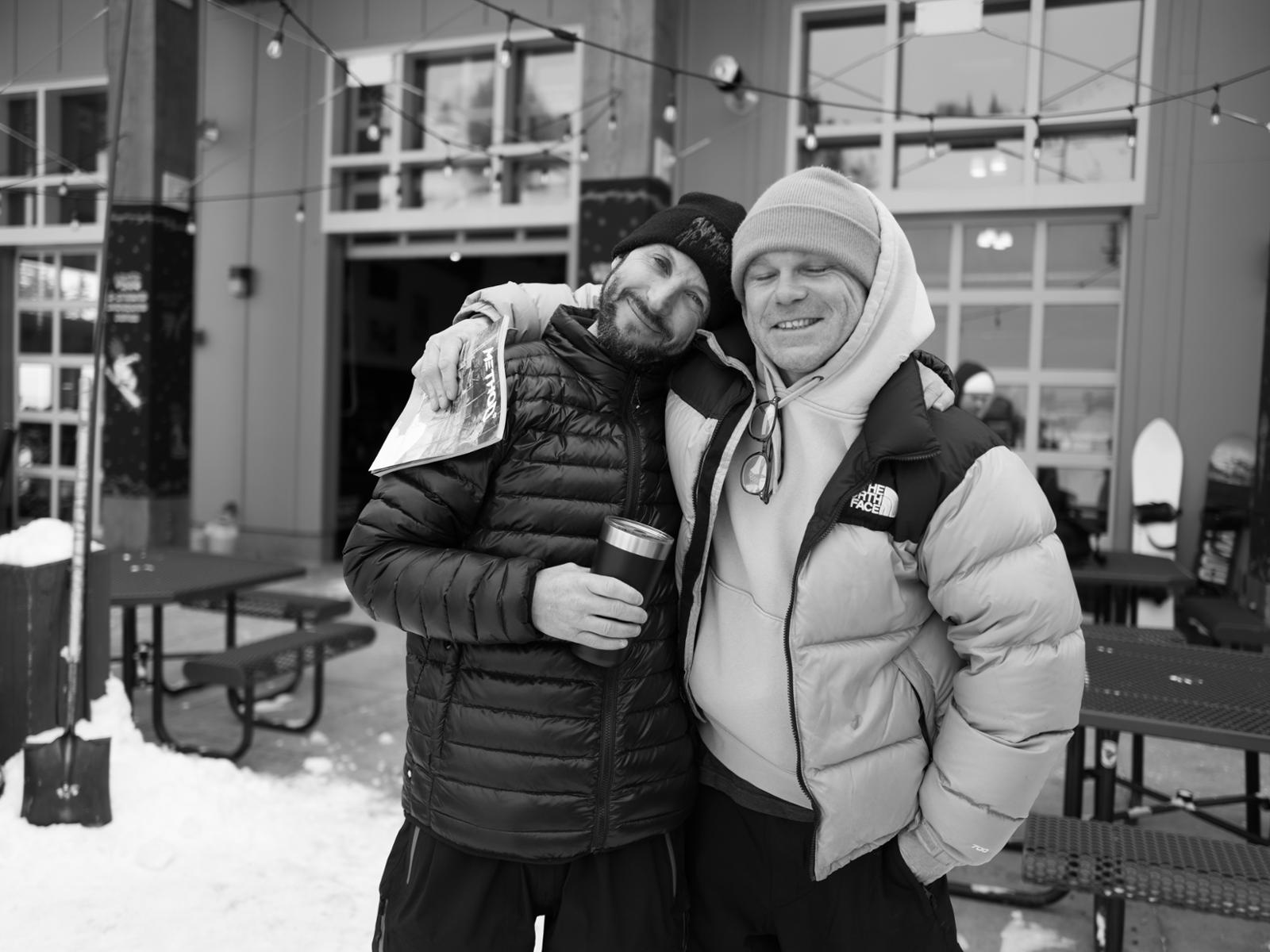 OLI GAGNON & MIKEY LEBLANC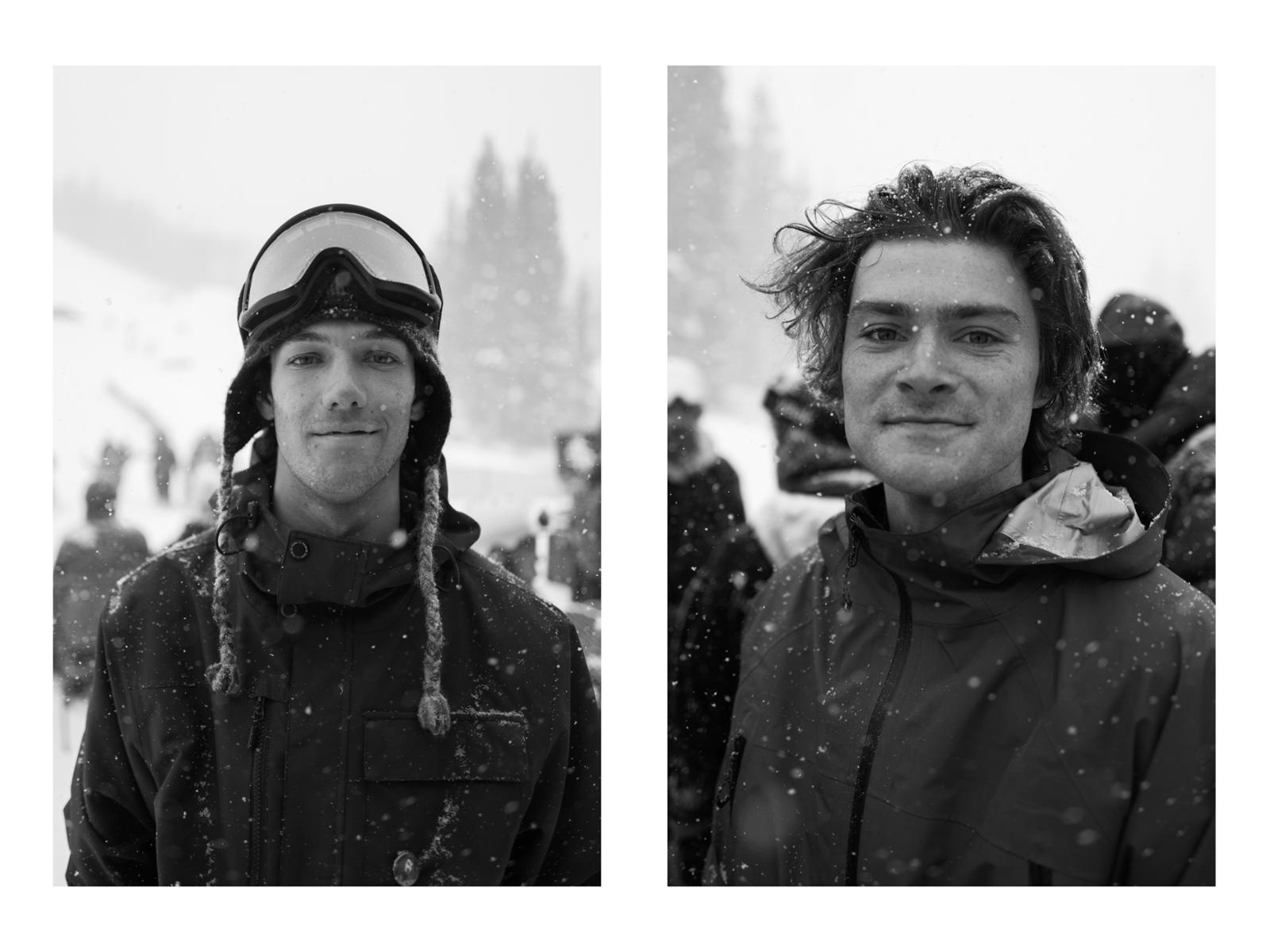 JUSTIN PHIPPS & TOMMY GESME